3 minute read with link to full report
Manufacturers begin year with foot hard on the pedal
Britain's manufacturers have begun 2018 in the same upbeat manner they left last year on the back of the continued improvement in global demand together with a pick-up in the UK market, according to a major survey published today by EEF, the manufacturers' organisation and accountancy and business advisory firm BDO LLP.
According to the EEF/BDO Manufacturing Outlook Q1 survey, manufacturers are continuing to ignore the ongoing political uncertainty at home as improved global demand, from European and capital equipment markets in particular, continues to feed growth across most of the manufacturing supply chain.
Two thirds of manufacturers saw the EU as offering good prospects for growth (59% in Q4 2018) with the next best markets of Asia and North America seen as supportive by around a quarter of companies.
As talks on Brexit loom, the clear and substantial importance of European markets to UK manufacturers, backs EEF's view that it is essential the Government seeks an agreement with the EU which maintains trading arrangements as close as possible to those which currently exist.
The survey shows some balances have come off the multi-year highs seen in the second half of last year but output, orders, investment and recruitment all remain significantly above their long-run average. This strong performance, has led EEF to upgrade growth forecasts for manufacturing for this year with new forecasts for 2019 also indicating further expansion for manufacturing.
While 2017 saw good growth across manufacturing sub-sectors, with only a few exceptions (pharmaceuticals and rubber & plastics) a few clouds are appearing on the horizon for some industry segments. There are some signs that automotive and construction supply chains are seeing signs of weaker demand, leading to greater sector variation in performance this year and next.
Commenting, Ms Lee Hopley, EEF Chief Economist, said: "Manufacturing activity stepped up a gear through 2017 providing industry with some decent momentum coming into this year. The importance of a buoyant global economy to export-focused manufacturing sectors is again reinforced, with growing overseas demand encouraging international manufacturers to ramp up their investment which in turn is spurring particularly strong activity in UK capital goods sectors.
"While this will help top line growth in UK industry and the wider economy it's also important that the global race to increase investment and adopt new technology is not one in which the UK is left behind. As the Chancellor sets out some thinking about longer term economic priorities in his Spring statement next week, manufacturers will want to see a focus on how the new industrial strategy can help cut through Brexit uncertainty and turbo-charge investment ambitions right across manufacturing supply chains."
Tom Lawton, Partner and Head, BDO Manufacturing, added: "Throughout 2017, the UK manufacturing sector proved itself to be remarkably resilient and delivered a strong overall performance and it is promising to see this is being continued into the first quarter of 2018. With healthy output and order balances and growing export demand, manufacturers are continuing to recruit and invest – providing a much needed boost to the UK economy.
"These results do indicate continued and growing opportunities in the EU and around the world but the sector also faces the challenges of the uncertainty of Brexit and the increasing use of automation and Industry 4.0. Therefore, it is more important than ever for the Government to provide real clarity on its plans for a working and effective Industrial Strategy and Brexit. Manufacturers will need this clarity if they are to continue to commit to the significant capital investments required to support long-term growth."
According to the survey, both output and total orders remained in very positive territory at +30% (+34% in 2017 Q4) and +30% (30% in Q4) respectively. Looking forward, manufacturers are expecting this level of growth to be sustained on the back of an impressive global economy.
This growth in world trade has been matched, after a period of consumer-related weakness and uncertainty in 2017, with a large improvement in the UK orders balance at the start of this year. Export orders eased slightly to +29% (+33% in Q4) but domestic order balances almost doubled to +21% from +12%.
Nevertheless, longer-term confidence amongst manufacturers about their own firm-level fortunes continues to place growing pressure on capacity, leading manufacturers to further up their recruitment and investment plans. Investment balances remain positive, but eased slightly to +18% (20% in Q4), whilst manufacturers continue to recruit heavily with the balance of +21% close to the three year peak seen in the second half of last year.
The survey also shows a picture of continued increases in prices which appear likely to be sustained given companies are pencilling in further increases for the next three months. Given the focus of the Bank of England on prospects for inflation, this pattern could feed into the policy mix for further increases in interest rates this year.
As a result of the strong performance by manufacturing through 2017 and the positive outlook for 2018 EEF has upgraded its forecasts for the sector to +2.0% from 1.4% previously. This is faster than the UK economy overall where EEF is forecasting growth of 1.5% in 2018. Next we see growth slower growth across the economy and manufacturing with expansion of 1.3% and 0.6% respectively.
Key findings from the Q1 survey:
• Output and order balances remain healthy
• Exports still strong, especially capital equipment, but UK market picks up
• European markets continue to drive export growth
• Manufacturers continue to recruit to meet capacity requirements
• Investment plans in positive territory
• Price increases take hold as companies rebuild margins
• Confidence indicators point to continued growth ahead
• Manufacturing forecasts upgraded for 2018
Click the link below to read the full report (opens new tab)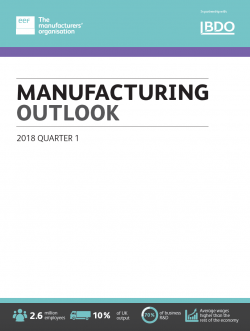 SaveSave