The Friday Roundup – 08/06/2018

Every Friday, we round up our top 5 most popular reads from the week, along with sharing some of our favourite finds from around the web.
This week's roundup includes 30th anniversary celebrations for Nissan's R&D Centre, a £17 million investment boost for Scottish food processing, plus why mobile meeting rooms and private offices on-the-go may be the answer to the future of modern commuting
Our top 5 most read this week
1. UK overtakes USA as the global centre for engineering startups
Research carried out to mark the fifth annual showcase of the Royal Academy of Engineering's Enterprise Hub, indicates that the UK may have overtaken the USA as the global centre for engineering startups. 63% of London-based engineers have founded their own business, while for the UK as a whole the figures stand at 34% compared to 27% in the US. The research also finds that a generation gap has opened up between young graduate and academic entrepreneurs and those over the age of 40. Just one in ten of those over 40 have started or even considered starting a business, in contrast to a third of those aged 21-30, rising to half of 31-40 year olds. The findings will prove encouraging reading for the UK Government, as engineering enterprises will be essential to delivering the innovation and technological advances at the centre of the Industrial Strategy. Ian Shott CBE FREng, Chair, Royal Academy of Engineering Enterprise Committee, said: "The UK has lagged behind the US in commercialising its world-class research, so I am encouraged to see that a new generation of engineering entrepreneurs is rising to the challenge." Attitudes toward enterprise appear to be changing, with fewer engineers now believing a "light bulb" moment is essential for a business to succeed. For those aged 21-40, hard work and outstanding engineering skills were seen as most important factor, pushing the "light bulb moment" into third place.
Read more
2. Nissan's European R&D Centre celebrates 30th anniversary
The Nissan Technical Centre Europe (NTCE) – Nissan's European R&D centre – has celebrated 30 years of engineering excellence. First founded on 27th May 1988, NTCE evolved from providing technical support to Nissan Motor Manufacturing UK into one of Nissan's global development centres. Headquartered at the Cranfield Technology Park in Bedfordshire, NTCE has been responsible for launching 32 models in Europe in its lifetime, including the Nissan Qashqai, which was designed and tested across its R&D sites in Europe. NTCE has most recently been integral in bringing the new all-electric Nissan LEAF to market; from implementing the European customer requirements through to launching the European production at Nissan's UK manufacturing plant earlier this year. Since its launch in autumn last year, orders for the LEAF have exceeded 35,000, making it the fastest-selling electric vehicle in Europe.
Read more
3. ABP Food Group to invest £17 million in Scotland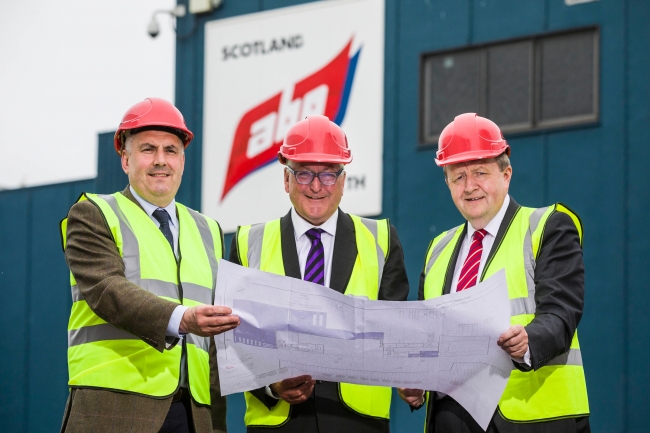 One of Europe's leading food processors, ABP Food Group, has announced an investment of £17 million for the planned redevelopment of its Perth processing plant in Scotland. The redevelopment which was announced by Fergus Ewing, Cabinet Secretary for the Rural Economy and Connectivity, includes an extension and upgrade of the facilities chilled storage area, dry goods storage, maturation and meat production facilities and staff amenities. On completion, the project which is supported by the Scottish Government's Food Processing, Marketing and Co-operation grant scheme will create eighty new jobs. The announcement follows a further £3 million investment in cold storage and refrigeration facilities on the site over the past year. ABP has had a presence in Scotland since 1982 and acquired the Perth facility in 1997. ABP Perth employs 280 staff and works with 1,600 farmers from across Scotland and has recently started to source all of its electricity from renewable sources
Read more
4. Growth picks up in the quarter to May '18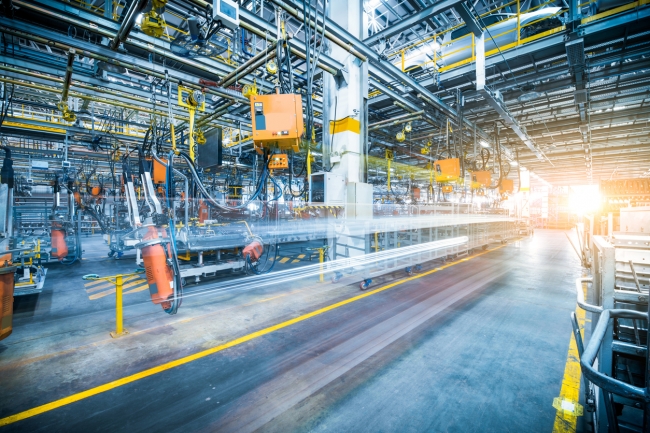 Growth in the UK's private sector picked up in the three months to May, according to the latest CBI Growth Indicator. The composite measure, based on 731 respondents across the distribution, manufacturing and service sectors, showed the balance of firms reporting a rise in output at +10%, up from +3% in the three months to April. The increase in growth was driven by stronger activity in business and professional services and distribution. This contrasts with consumer services, where volumes continued to fall, and manufacturing output, which flatlined following a lengthy period of solid growth. During this year and next, the CBI expects conditions to remain challenging for consumer-facing companies and retailers, as elevated inflation and slow wage growth continue to squeeze household budgets, alongside ongoing cost pressures. Meanwhile, manufacturers should continue to benefit from the lower level of sterling and solid global economic growth.
Read more
5. Industry 4.0 vs the Skills Shortage – or why that bloody robot needs to work!

So we've all been talking a lot about IR4 and the changes it will bring to manufacturing; it's rather taken the focus away from the topic of the manufacturing skills shortage we've been so engrossed in for the preceding few years. Dan Burrows from Business & IT consultancy Waterstons, is wholeheartedly of the belief that IR4 brings a new kind of skills shortage, one that may actually increase the pressure on our education systems to attract and retain students of related disciplines such as engineering, product design and the like. Because someone's got to design and build the robots… And he's pretty much convinced that alongside that skills gap there will be a new one to address. Who's going to oil the wheels (or bearings, pivots, sliding surfaces…) of all these new pieces of physical kit? Who's going to assemble them, mount them, connect them, configure, train and test them? Who's going to maintain their calibration, fix them when they break, monitor the quality of their work or interpret the data they produce? For me, this is the IR4 challenge we're NOT talking about. We could end up in a situation where on Friday afternoon we're making half the workforce redundant, and on the Monday morning wondering where the clever person who can Fix the Bloody Robot is. In this article, Dan shares his thoughts on Industry 4.0, the manufacturing skills shortage and why manufacturers should be looking at the talent of the future once they complete their IR4 projects.
Read more
---
Our favourite #GBmfg & #UKmfg tweets of the week
Sheffield Forgemasters to launch largest recruitment programme for apprentices in its history https://t.co/9JIxnLntgF #Sheffield #STEM #GBmfg🇬🇧 pic.twitter.com/u2RkRrus3n

— Jefferson Group (@Jefferson_MFG) 4 June 2018
Here's it is! Grant & Josh with Jill' #MBE what a fantastic day, celebrating Jill' dedication to the #manufacturing sector. #ukmfg #investiture #buckinghampalace pic.twitter.com/yyMp4ms8rj

— Frank Dudley Ltd (@Frankdudleyltd) 6 June 2018
150tonne #crane currently being manufacturered at #streetcrane #ukmfg #gbmfg #manufacturing #cranespotting pic.twitter.com/xpZNnjoHMi

— Street Crane Co Ltd 🇬🇧 (@StreetCrane) 6 June 2018
NEW FACTORY: Food manufacturer Village Bakery to invest £12m establishing a new production facility in Wrexham, North Wales https://t.co/UvQYB6PySZ #ukmfg #Wales #GBmfg🇬🇧 pic.twitter.com/ejjbBllq39

— Jefferson Group (@Jefferson_MFG) 7 June 2018
Why #manufacturing SMEs struggle to adopt new technology. 1. Too busy, 2. Lack #digital skills 3. Spend 21.5 hours per person per week on non value add activities. https://t.co/hZSTWswnqZ #fobmi #ukmfg #gbmfg pic.twitter.com/Yxjc9hzSKv

— Asif Moghal (@mfg_moghal) 31 May 2018
---
Recommendation roundup
Our picks of the best manufacturing and business related content that caught our attention this week.
1. 6 rules I live by as a challenger to conventional thinking / via @linkedin
From challenging the status quo and taking risks, to creating a team of challengers and taking it personally, Ian Callum shares 6 rules he lives by as Director of Design at Jaguar.
Read more
2. Why we no longer love department stores / via @BBCNews
Department stores were once the main attraction on many high streets, but these days shoppers appear increasingly able to resist their charms. House of Fraser has announced it intends to close 31 shops, Debenhams are planning to shut stores as profits fall – and BHS spectacularly collapsed in 2016, putting 11,000 people out of work. Yet some chains continue to prosper. John Lewis is an example of a group that has adapted well in changing times by ramping up its online presence and investing in its store experience. Selfridges and Harrods, which target well-heeled shoppers, are also doing well. For the year to January, sales at Selfridges rose 16% to £1.6bn, while Harrods posted a 23% surge to £2.1bn. So where have the weaker performers gone wrong?
Read more
3. Ikea commits to phase out single-use plastic products by 2020 / via @guardian
Ikea is to phase out all single-use plastic products from its stores and restaurants by 2020 amid growing concern about the effects of plastic on the environment. Ikea said plastic straws, plates, cups, freezer bags, bin bags, and plastic-coated paper plates and cups would all be phased out and where possible replaced by alternatives. The Swedish furniture chain is already committed to phasing out oil-based plastics and is aiming to ensure all its plastic products are made using recycled materials by August 2020. It has invested in a plastics recycling plant to help push the plan forward. The retailer, which has more than 363 stores worldwide, says it also wants to help its customers live more sustainably by offering products such as a tap nozzle that could save more than 90% of water used. Ikea's commitment on plastic comes after Iceland, the grocery chain, said it would ditch plastic packaging on its own brand products by 2023. Tesco has told suppliers it wants to stop using non-recyclable plastic packaging from next year, while Waitrose is phasing out black plastic trays that are hard to recycle.
Read more
---
And finally, some bonus picks to add to your reading list this weekend:
1. How musicMagpie turned old CDs into a £125 million a year business / via @WiredUK
Every month, the Stockport-based reseller shifts two million pre-owned books, CDs, DVDs and games and buys in another two million to replace them. In 2017, it started buying pre-owned books; it now receives 10,000 every day. In the 2017-2018 financial year, musicMagpie sold an estimated £125 million worth of used goods, an increase of almost 26 per cent from the previous year. Their stock is maintained by an algorithm that sets prices by analysing the rate at which an item is sold, its cost and what it sells for on other platforms. It also takes into account other factors that might bump up the price, such as an artist's upcoming release. But with physical media and entertainment in decline, this article looks further at exactly how and where it sells your unwanted items for a profit, and where its long-term future lies beyond pre-owned entertainment items.
Read more 
2. Your commute sucks. Here's how it will get way better in the future / via@WiredUK
Since we spend roughly one-third of our lifetimes working, exploring how we make the most of our time 'at work' is a ripe area for innovation. In the last few years, we've seen more and more companies introducing remote working and flexible hours, in the hopes of improving employee satisfaction and productivity by giving employees more control over where and when they work. These changes mean that more than 50 per cent of workers now report that they work outside the main office at least 2.5 days a week. Research shows that those who feel more positive about their commutes are the people who are able to use the time they're travelling effectively, whether it's working, reading or winding down. So, there are certainly opportunities for improving the daily commuter grind. So how could future transport services help commuters achieve their desired state of mind or task, while still getting to where they need to go? From sleep pods, private offices on public transport and mobile meeting rooms on-the-go, this article looks at the potential future and direction of modern commuting.
Read more
Spot something you think we should see? Share with us! Email hello@zenoot.com and we may feature it in an upcoming post.
SaveSave