The Friday Roundup – 06/10/2017

Every Friday, we round up our top 5 most popular reads from the week, along with sharing some of our favourite finds from around the web.
This week includes STEM initiatives, a £10m paint plant and why we may never have heard of Bruce Springsteen…
Our top 5 most read this week
1. UK manufacturing still on the up
UK manufacturing figures from the latest IHS Markit/CIPS Manufacturing Purchasing Managers' Index (PMI) showed steady growth for September, with increasing production, new orders and jobs for the sector. The index posted a figure of 55.9 in September 2017, as expansion in the UK manufacturing sector continues. This is a little lower than the 56.7 from August, as growth slowed somewhat for September, but results for the sector are still above average, and both domestic and international demand remains strong.
Read more
2. Brose UK opens £10m paint plant in Coventry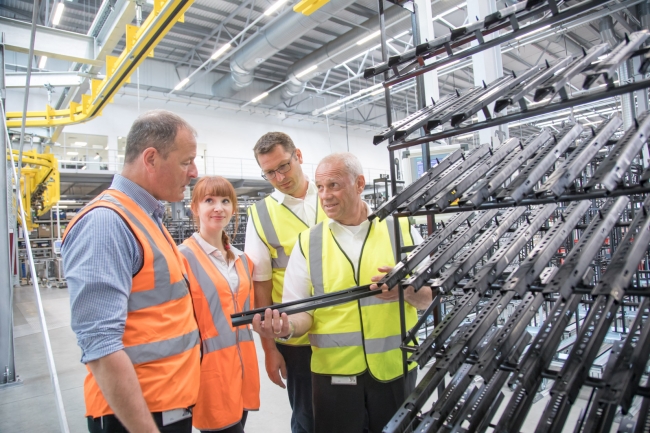 More than 30 new jobs have been created at Brose UK, one of the West Midlands' fastest growing automotive suppliers, following the completion of its £10m paint plant.
Brose, which employs nearly 1,000 people at its two factories in Coventry, has signed off the installation of its state-of-the-art e-coat line, giving it the capacity to paint more than 3.5 million seat structures every year for UK customers. Over the last 12 months, Brose UK sales have increased by 23% and this has included new contracts to supply seats and window regulators to customers such as Jaguar Land Rover, Nissan and Toyota.
Read more
3. Naylor Industries open new £5m factory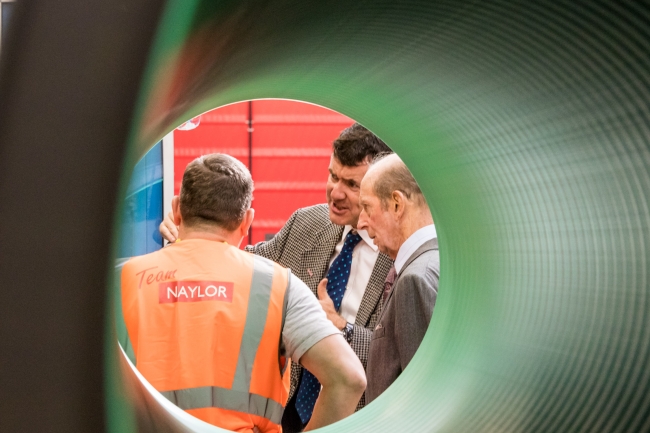 HRH the Duke of Kent has formally opened a new factory extension for Naylor Industries. The £5m investment will allow the construction products company to make larger diameter pipes to carry big volumes of surface water, helping protect Britain against flooding from extreme weather.
Read more
4. Ford partners with Primary Engineer to inspire next generation of engineers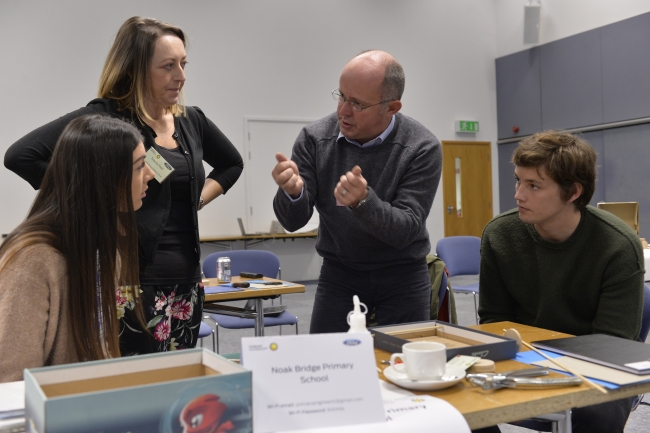 Ford Motor Company and Primary Engineer are launching a Science, Technology, Engineering and Math (STEM) initiative for primary school children in 20 schools across Essex. The objective of the courses is to make engineering fun and exciting, to help inspire the next generation of engineers. Primary Engineer links Ford engineers with local schools so they can raise awareness of STEM related professions and support teachers and students in the practical aspects of the courses.
Read more
5. Industry 4.0 insight – the role of smarter energy management
Industry 4.0 or '4IR' is shaping the way we think about our plants and factories, our processes and workforce, and about the long-term future of manufacturing itself. This change is both a challenge and an opportunity for manufacturers – but exactly what it means to your business right now will vary depending on various factors – as this article explores.
Read more
---
Our favourite #GBmfg & #UKmfg tweets of the week
#EEF2018 Poll 3: What one thing should manufacturers prioritise to future-proof their workforce? #ukmfg #ukemplaw #HR #manufacturing

— EEF Insights (@EEF_Insights) October 2, 2017
Green light for £100m automotive supply park in #Wales expected to create 1,500 jobs https://t.co/K14ciJrXcc #Wales #motorhour #GBmfg🇬🇧 pic.twitter.com/jSDuVZo6uZ

— Jefferson Group (@Jefferson_MFG) October 2, 2017
BREAKING #battery news: new national £65 million battery #research programme announced @EPSRC @innovateuk @theapcuk https://t.co/zRC8t3g3js pic.twitter.com/MxdI2Hv8EW

— WMG (@wmgwarwick) October 4, 2017
@BBCNews coverage of politics often so cliquey and Oxbridge ego game. More on #ukmfg and big subjects, less on Boris & personas please

— Will Stirling (@WRStirling) October 4, 2017lpol
15 components of the smart factory of the future courtesy of @AnalyticsIoT #ukmfg #IoT #GBmfg #4IR pic.twitter.com/uOUtzXMabY

— Lynsey Berwick (@LynseyBerwick) October 4, 2017
---
Recommendation roundup
Our picks of the best manufacturing and business related content that caught our attention this week.
1. If we want to build the Factory of the Future, we need to go beyond Industry 4.0 / via @LinkedIn
The Factory of the Future is a promising concept, yet it is still having a hard time being accepted in today's plants. So far, plants that are fully equipped with sensors and where computers have replaced humans are very scarce. A great many initiatives conducted by large and mid-sized businesses are failing to fulfil their promises. Not because industry has nothing to gain from digital technology, but because some of those promises have not been realistic enough. So what are the 'myths' about industry 4.0 that manufacturers need to understand?
Read more
2. Happy, healthy and productive – the benefits of workplace wellbeing / via @EEF_Insights
Workplace wellbeing, both physical and mental is inextricably linked to employees' performance. To many businesses, wellbeing was a perk that manifested itself in office massages, aromatherapy treatments and duvet days. Today these perks aren't quite enough. They're things that are nice to have but they don't reflect the needs of today's employees. Employers are now looking for ways of helping their employees stay fit and contribute to improvements in productivity. EEF's Mike Denison looks at the important benefits of workplace happiness.
Read more
3. How are UK businesses driving the future of mobility? / via @LinkedIn
Amid the plethora of connected and autonomous vehicle (CAV) announcements made over the past 18 months, it's all too easy to forget the incredible role the UK is playing within this rapidly advancing space. Almost every one of the world's automotive manufacturers has declared an intention to embrace CAV, hybrid, electric or all three; and at the centre of such widespread disruption sits the UK. CAV vehicles are set to add £51bn a year to the UK economy by 2030, in addition to creating 320,000 new jobs, 25,000 of which specifically in automotive manufacturing. This article summarises a sample of the recent developments, investments and IP projects taking place across the UK.
Read more
---
And finally, some bonus light hearted picks to add to your reading list this weekend:
1. Five times Clive Davis changed the course of music / via @BBCNews
If it wasn't for Clive Davis, you might never have heard of Bruce Springsteen. For most of us, discovering one superstar would be enough – but over the last four decades, Davis has steered the likes of Aretha Franklin, Billy Joel, Aerosmith, Barry Manilow and Alicia Keys towards the top 40. Now aged 85, Davis is the chief creative officer of Sony Music, and revered as one of the dons of the music industry. Along the way, his gut has guided him towards surprising, often tough, decisions. Many of them have changed the course of pop music and here are just five examples:
Read more
2. What's the ultimate way to improve both physical and mental health? / via @guardian
Are you sitting comfortably? Bad idea. Stand up and walk around the house. Leave your desk and jog down the office stairs. Even better – jog up the stairs. We have the sitting disease. According to a report by Public Health England (PHE) in March, physical inactivity is one of the top 10 causes of disease and disability in England. It is responsible for one in six deaths in the UK, which is the same as smoking. Here's an interesting look at why we should all sit less and move more.
Read more
3. Includes video: The secret behind riding a bike / via @BBCNews
A fascinating BBC three-part series, The Human Body: Secrets Of Your Life Revealed, is uncovering the latest secrets of our bodies. In this clip, mountain biker Danny MacAskill shows how we effortlessly manage to stay on two wheels. The full episode airs on BBC Two on Monday at 9pm.
Through a combination of experiments, cutting-edge research and ground-breaking graphics this series reveals the extraordinary stories hidden within each and everyone of us; the story of how we survive, how we learn and how we grow. Two episodes have already aired and they're well worth a watch for those fascinated with science and the human body.
Read more
Spot something you think we should see? Share with us! Email hello@zenoot.com and we may feature it in an upcoming post.