The Friday Roundup – 27/07/2018

Every Friday, we round up our top 5 most popular reads from the week, along with sharing some of our favourite finds from around the web.
This week's roundup includes a major new jobs boost for engineering firm Mallaghan, bulging order books at the Farnborough Airshow, plus can Tesco really rival German discounters Aldi and Lidl…?
Our top 5 most read this week
1. Manufacturing growth accelerates to its strongest pace in a year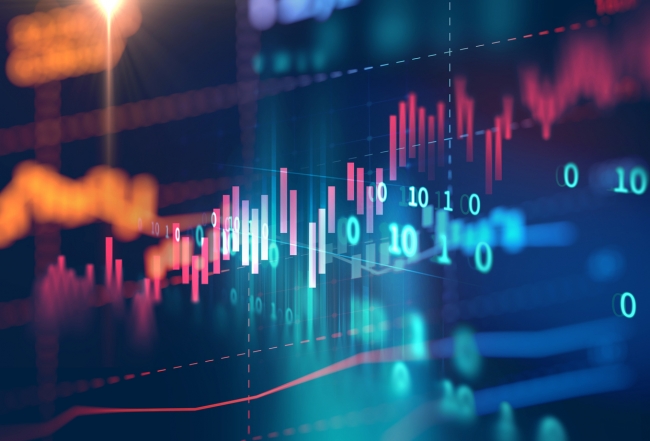 Manufacturing growth accelerated to its strongest pace in a year, according to the latest quarterly CBI Industrial Trends Survey. The survey of 357 manufacturers revealed that new orders continued to expand at a brisk pace, with a pick-up in the domestic market offsetting a slight slowdown in new export orders. Sentiment about general business conditions was unchanged for a second consecutive quarter, but optimism regarding export prospects stalled, having increased steadily for much of the past two years. Growth in output and total orders are expected to slow moderately in the three months to October. Investment wise, firms are planning to keep spending on plant and machinery broadly stable over the year ahead and expect to cut back on investment in buildings at a pace that is broadly in line with the historical average. However, firms have dialled down on investment in "intangible" assets – product & process innovation and training & re-training – with spending in both categories expected to fall at a pace unseen since the global financial crisis. Tom Crotty, Group Director of Ineos and Chair of CBI Manufacturing Council, said: "It's great to see the manufacturing sector firing on all cylinders, with production revving up again after the slowdown earlier this year. But rising trade tensions and ongoing uncertainty over our future trade and customs arrangements are clearly taking their toll on manufacturers' confidence and investment."
Read more
2. Farnborough 2018 orders worth $28bn to UK aerospace
Final figures for aircraft and engine deals at the 2018 Farnborough International Airshow came close to record levels as the global industry sees sustained high demand. UK aerospace companies are expected to see an estimated $28.8bn (£22bn) in value from orders and commitments for engines and more than 1,400 aircraft. Announcements by the Prime Minister Theresa May and senior cabinet ministers on the first days of the show included R&D and innovation projects worth £343m, a new Combat Air Strategy, and the site of a new UK spaceport in Sutherland, as well as development funding for horizontal launch sites in Cornwall, Wales and Prestwick. ADS Chief Executive Paul Everitt said: "This has been a fantastic Farnborough International Airshow, where we have seen great confidence in the global aerospace industry and important announcements that will support future investment in the UK's high value aerospace, defence and space industries. This has been the most international show in our history and the best place for both UK exhibitors and our overseas visitors to showcase their capability and plans for the future at the most important aerospace event of the year."
Read more
3. Mallaghan to create 210 new jobs with multi-million investment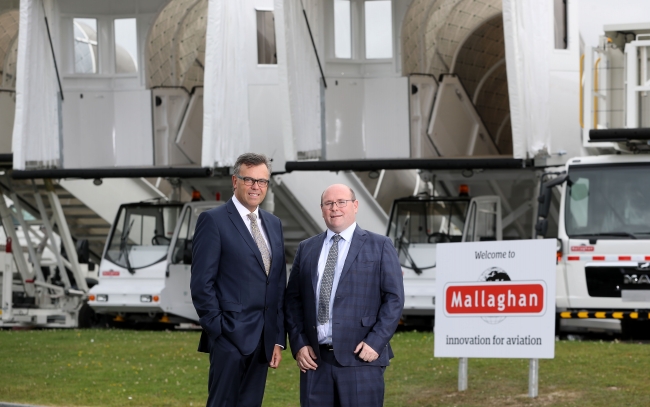 Advanced manufacturing firm, Mallaghan Engineering, is embarking on a multi-million-pound investment and recruiting over 200 additional staff, to secure the future growth of the business. The plans include significant new product development, underpinning the need for capital investment in factory capacity and leading edge manufacturing equipment. Mallaghan will also implement an extensive training programme to develop the skills of the workforce. Mallaghan Engineering designs, manufactures and supplies ground support equipment for the global aviation industry, primarily to service commercial aircraft. Its principal products are high lift trucks for catering, cabin cleaning and facilitating restricted movement passengers as well as de-icing rigs, water and waste trucks, baggage conveyors and various forms of passenger stairs. Mallaghan Engineering has been offered over £3 million of Invest NI support towards its R&D, capital and skills investments. This offer will leverage the creation of a range of additional jobs at the business, predominately in engineering and manufacturing positions.
Read more
4. Carlisle Fluid Technologies invests £2m in new facility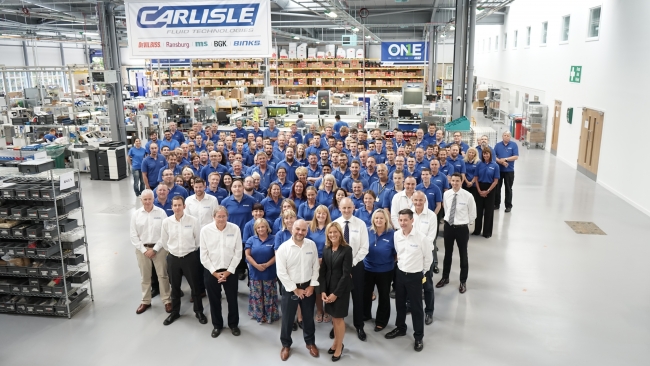 Carlisle Fluid Technologies (CFT), a global manufacturer of equipment for the supply, application, and curing of sprayed paints, coatings, powders, mastics and bonding materials, has opened a new manufacturing facility following a £2 million investment. This latest investment takes Carlisle's overall capital spending in the last 18 months to £5.8 million and has also resulted in 29 new permanent jobs and 21 new temporary positions being created. Alex Norris, Bournemouth Site Manager, said: "From 1961, Bournemouth has been a critical manufacturing site, for what was once DeVilbiss, to who we are now as Carlisle Fluid Technologies. CFT Bournemouth has served as the hub for cutting-edge research, design, and production of key products and solutions within our business. Having worked with this Manufacturing Footprint Optimisation project from inception, I am delighted to see Carlisle's continued investment in this site and the local community. It's a vote of confidence in the team here, and cements the site in Bournemouth as a cornerstone of Carlisle Fluid Technologies' growth plans."
Read more
5. Strong year for manufacturers as outlook concerns highlighted

Britain's manufacturers have enjoyed a strong performance across all parts of the UK in the last year on the back of buoyant world markets, according to new analysis published by EEF and BDO LLP. However, there are concerns whether this uniformly positive picture will be maintained in the coming year, with three factors potentially driving greater divergence in regional manufacturing performance. These include the risk of a disorderly Brexit, the emergence of global trade tensions and the relatively weak investment picture, which could compound regional productivity differences. The annual EEF/BDO Regional Manufacturing Outlook illustrates the diverse contribution of the regional manufacturing economies to exports and, as such, their exposure to risks from Brexit and possible tariff increases. By destination, a number of regions have strong exposure to the EU making them potentially vulnerable to a hard Brexit. These include Wales where two thirds of all manufacturing exports go to Europe (60% to the EU), the North East (59% to the EU) and East of England, (52.5% to the EU). By contrast other regions have greater exposure elsewhere, with the North West being the biggest exporter to the Middle East and North Africa, and the West Midlands being the biggest exporter to Asia, Oceania and the United States. This illustrates the potentially disproportionate effects a hard Brexit outcome could have across manufacturers in different regions. Further findings and the full report can be read on the link below.
Read more
---
Our favourite #GBmfg & #UKmfg tweets of the week
Derby's Rolls-Royce wins major Taiwanese export order worth 'hundreds of millions of pounds' https://t.co/aMRYixSXUv #ukmfg #GBmfg🇬🇧 pic.twitter.com/TuKlFykT5l

— Jefferson Group (@Jefferson_MFG) 19 July 2018
Construction has started! We are all very excited and ready for the challenge. Our employees and customers alike are really looking forward to a beautiful new factory scheduled to be finished in May 2019.https://t.co/ynbfPR0TER#UKMfg #GBMfg #UKEng pic.twitter.com/WIYbG5H5jP

— Stroud Metal (@StroudMetal) 23 July 2018
We've received the green light to build our new head office in Smethwick, on the site of the former West Midlands Fire Service training academy. The manufacturing centre will ensure our products continue to be made in the Midlands for years to come! https://t.co/NMlQrUgv7X pic.twitter.com/eE2b9gCYR4

— Hadley Group (@Hadley_Group) 24 July 2018
Kansas-headquartered Spirit AeroSystems, the world's largest first-tier aerostructures manufacturer, to build new 70,000 sq ft R&D facility in Prestwick, Scotland https://t.co/GsUrQQxqvI #ukmfg #GBmfg🇬🇧 pic.twitter.com/wFQ5Aj3V8K

— Jefferson Group (@Jefferson_MFG) 23 July 2018
**OPEN DAY** We're proud of what we do at Street Crane so we're opening our doors to the General Public. You and your family are welcome to take a behind the scenes tour round our factory to see the inside workings of Street Crane #highpeak #cranes https://t.co/JYJvWQU1wn pic.twitter.com/eAbuyfvFSD

— Street Crane Co Ltd 🇬🇧 (@StreetCrane) 24 July 2018
---
Recommendation roundup
Our picks of the best manufacturing and business related content that caught our attention this week.
1. Birmingham family firm wins £11m military medals deal / via @BBCNews
A family-run firm has won an £11m contract to produce military medals. Under the two-year deal, Worcestershire Medal Service (WMS) in Birmingham will make every military medal, award and badge, except the Victoria Cross – which is made by London jewellers, Hancocks. The contract, worth about 40,000 medals a year according to the business, will secure jobs for its 50-strong workforce in the Jewellery Quarter. WMS, which started with £120 worth of stock in 1988, beat The Royal Mint to secure the deal. Managing Director Phil McDermott, who started WMS 30 years ago, said: "It was an exciting moment for us, something that I didn't believe would ever happen. I'm thrilled it has." The company, which also has a site in Bromsgrove, has also previously worked on the 2012 Diamond Jubilee Medal, the Ebola Medal and the Elizabeth Cross. Defence Secretary Gavin Williamson said: "Medals symbolise the bravery, courage, and dedication of our service personnel. I am delighted that we have awarded this contract to a family-run business in the West Midlands, supporting local jobs, helping to develop specialist skills and manufacturing, and boosting the local economy."
Read more
2. BelugaXL 'flying whale' takes to the skies for its maiden flight / via @IntEngineering
Airbus's BelugaXL cargo aircraft has successfully completed its first flight test which lasted for 4 hours and 11 minutes. On July 19th, the BelugaXL took off for its maiden flight from Toulouse Airport in France. The test flight was a huge success, giving the green light for further development of the Beluga series. The team believes that the BelugaXL will be fully operational and open for service by mid-2019. The name Beluga represents a species of white whales and if you see the aircraft; it literally looks like a whale that can fly! The front of BelugaXL is painted with a smiling whale face which adds a distinct appeal. The engineers at Airbus got inspiration from a whale because of the relative ease with which it moves underwater even while weighing tons and having a large body. Hence, they incorporated the whale's body structure and ran aerodynamic simulations. Result? A cargo aircraft that has a maximum takeoff weight of 227 tons that can carry 53 tons off the ground with ease. When it comes to the overall dimensions of the BelugaXL, the massive aircraft is 63.1m-long and 18.9m-high, with a wingspan of 60.3m. Powering this mammoth of an aircraft, is the Rolls Royce Trent 700 turbofan engines. The vision of BelugaXL first had its inception in 2014 and went to the developmental stage in 2015. The giant airplane is yet to undergo 600 hours of flight test before entering into actual service. Airbus plans to build five such aircraft by 2023, which will operate from 11 different destinations to transport oversized aircraft components.
Read more
3. Bacton gas terminal: Keeping the UK warm since 1968 / via @BBCNews
As thousands celebrate the inaugural #NorfolkDay, a seaside complex that handles a third of the UK's gas supply is celebrating its 50th anniversary. North Sea gas first started to arrive ashore at the Bacton terminal on the Norfolk coast in July 1968. It is one of National Grid's eight gas terminals, helping to distribute supplies across the country, and can also send and receive gas to and from Zeebrugge in Belgium and receive gas from the Netherlands. The company said the site, 20 miles (32km) from Great Yarmouth, is of "strategic national importance". The terminal took about a year to build and was officially opened by the Duke of Edinburgh in 1969. At the time, homes and businesses were being converted to natural gas – a process that would take until 1977 to complete. Domestic cookers and other appliances needed to be converted because "pure" North Sea gas had a higher energy value than manufactured town gas. Phil Sheppard, National Grid's director of gas transmission, said: "This is a landmark month for us. 50 years ago, Bacton opened to start taking the first flows from the North Sea gas fields. They were fed into a 36-inch diameter gas pipeline which ran 140 miles from the coast to Rugby. Gas flowing through Bacton has played an important role in keeping homes warm and production lines running over the past 50 years."
Read more
---
And finally, some bonus picks to add to your reading list this weekend:
1. The complicated truth about a cat's purr / via @BBC_Future
Cat lovers unite. We think we know what a cat's purr means. It is arguably the most recognisable sign of animal contentment: a pleasurable rasp that erupts whenever a cat is tickled or petted. But that's not quite the full story. There is a lot more going on with the cat's purr than you might reasonably expect. Even the 'how' has long been a subject of debate. But in recent years more light has been shed on the purr. "We're just beginning to understand it and there are more unanswered questions than answered," says Gary Weitzman, a veterinarian and CEO of the San Diego Humane Society. "While the purr does generally represent contentment for cats, it can also express nervousness, fear and stress." Cats begin purring when they are a few days old, which helps their mothers locate them for feeding time. This may persist with some adult cats who purr as they feed – or who purr beforehand as they try and convince a human it's dinner time. Some will purr loudly when they are cautiously investigating new environments, whilst some may also purr after they've been startled, or after stressful episodes like being chased by a dog, with the purr seen as a powerful healing action. It's thought that the vibrations from the activity are physically rejuvenating – a way for the cat to 'heal' itself after stress. And the purr may not just be of benefit to the cats themselves. Petting a cat has long been seen as a form of stress relief – cat ownership could cut the risk of stroke or heart disease by as much one-third. So, our cats may purr when we pet and tickle them, but it seems to be a much more complicated form of communication than we first assumed!
Read more
2. How Tesco's new discount chain can compete with Aldi and Lidl / via @MarketingWeekEd
Tesco is reportedly set to launch its own discount supermarket chain in the UK as early as September, as it looks to rival the German discounters Aldi and Lidl and shore up its market share. Speculation arose after it was discovered this week that the retailer is currently advertising for staff for a new format at a number of locations in the UK. It then surfaced that it had recently registered the chain 'Jack's' as a retail trademark, after Tesco's founder Jack Cohen. At first sight this might seem like a strange move for the UK's biggest supermarket chain. Why distract its staff and send customers to another brand? But while it is the UK's largest supermarket with a 27.6% market share, according to Kantar Worldpanel, there are areas where it has work to do. Figures from YouGov BrandIndex, show it ranks fifth in terms of value with a score of 16.4. That is some way behind Aldi on 49.4 and Lidl on 43.5, as well as Asda and Morrisons. The data shows Tesco has its work cut out to improve its value perceptions among the UK population, meaning its own discount brand could fill the hole. But can it build a brand from scratch to truly rival the already well-established German discounters?
Read more
Spot something you think we should see? Share with us! Email hello@zenoot.com and we may feature it in an upcoming post.