2 minute read
Inspiring, innovating, connecting – get ready for MACH 2020
The UK's national manufacturing show, MACH 2020, might still be five months away, but the event is already set to be one of the industry's highlights of the year.
Packed with major suppliers across six halls of the NEC Birmingham – and with 95% of exhibition space already sold – visitor registration for this year's event is now open.
Running since 1912, MACH remains the largest and longest-running manufacturing and engineering exhibition in the UK.
Showcasing the largest variety of manufacturing technology solutions in the country, all under one roof, MACH 2020 will be home to a huge array of live working machinery, meaning visitors will be able to experience first-hand the power and capabilities of the latest technology.
In 2018, the exhibition attracted more than 25,000 visitors during the five-day exhibition and has so far been credited with generating over £200m worth of business for exhibitors – proof that MACH attracts visitors with real buying power.
James Fudge, head of events and member services at the Manufacturing Technologies Association (MTA), which organises the exhibition, said: "MACH 2020 is the UK's national event for inspiring, innovating and connecting manufacturing and will provide real value for our visitors. We will have all the latest manufacturing technology solutions available under one roof, giving visitors an unrivalled overview of our sector in the UK."
He continued "With our exhibitors, we work hard to provide meaningful engagement points and are pleased to announce HS2 will be exhibiting at the show, looking to connect and work with the UK supply chain. We also have several Catapult Centres and the Made Smarter programme showing what they can offer, to assist companies with the transition into the digital age."
Technology is changing the way we live and the way we work, transforming the way data is gathered, information is analysed and how businesses operate. MACH 2020 will show how this is happening, providing the knowledge and the solutions to enable your business to grow.
The expansion of the Annual Investment Allowance in the 2018 budget from £200,000 to £1,000,000, was a specific 'ask' from the MTA and will make investing in new equipment at MACH 2020 more cost-effective for most visitors.
James Selka, chief executive of the MTA, said: "The continued development of manufacturing technologies is enabling faster, more responsive, and more efficient processes to be implemented in businesses. Inspire your workforce by bringing them to the show and ensure your team are technically up to date with the latest technology available."
He continued "With the increase of the Annual Investment Allowance available and impartial support available on site from finance companies, there really has never been a better time to invest in your business and your staff."
MACH 2020 includes a lively and focused seminar programme, as well as an education and development zone – set to help attract the next generation of engineers into the sector.
Visitor registration is now open for MACH 2020, which takes place between 20 – 24 April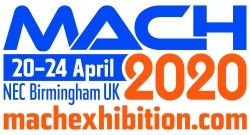 ---
This content is copyright of Zenoot Ltd and its originator. You can use extracts, share or link to this page and you may draw the attention of others to content posted on our site. Bulk copying of text is not permitted. You can view our Terms of Use here.