2 minute read
Made Smarter to highlight SME support at MACH 2020
The Made Smarter programme will be exhibiting at MACH 2020, where it will look to help SMEs across the UK take the first steps in their digital journey.
The Made Smarter North West pilot is already working with SMEs to help them introduce digital tools and technologies to boost productivity and growth. So far, 300 North Western small and medium-sized manufacturers have secured support, including specialised advice and £1.6m of funding, in the first year of the programme.
The North West pilot is being overseen by the Made Smarter Commission – a partnership between the Department for Business, Energy & Industrial Strategy (BEIS) and industry leaders.
The programme aims to kick start a new industrial revolution for the manufacturing sector and turn the country into a world leader in digital technologies. These technologies can help close the productivity gap in the UK and cost-effectively boost production.
The Made Smarter team are looking to implement what they have learnt in the North West pilot to help roll the scheme out to other areas and regions of the UK. Made Smarter is bringing this help and support to MACH 2020 in order to reach even more makers and signpost them towards taking their first steps into Industry 4.0.
James Selka, DL, CEO of the Manufacturing Technologies Association, said "We are delighted to welcome Made Smarter to MACH 2020, we have been a huge supporter of the initial review and subsequent launch of the North West pilot. Our members and exhibitors create the technology that will power this new industrial revolution.
"MACH 2020 is the perfect platform to reach out to manufacturing and engineering firms, with a ready made audience who are set to benefit from the advice and support the Made Smarter programme has to offer. We know the benefits SMEs across the UK will get from adopting cutting edge digital technology to help them boost productivity and take manufacturing forward in this county."
Donna Edwards, director of the North West Made Smarter pilot, said: "In its first year, Made Smarter has helped 300 SME manufacturers and we are keen to build on that success.
"MACH 2020 provides the perfect opportunity to showcase these achievements and encourage other SMEs to start their digital journey. Our stand will illustrate what technology has done for hundreds of manufacturing businesses and what it can do for you. Our specialist advisers can talk through your business challenge, help you understand the opportunities, and talk through the next steps."
MACH 2020 will take place from 20 – 24 April 2020 at the NEC in Birmingham. You can find out more via the link below: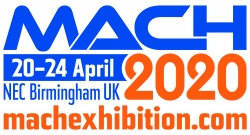 ---
This content is copyright of Zenoot Ltd and its originator. You can use extracts, share or link to this page and you may draw the attention of others to content posted on our site. Bulk copying of text is not permitted. You can view our Terms of Use here.