2 minute read - 22nd May 2023
Aerospace, defence, security and space sectors added £37bn of value to the UK economy in 2022
New research published by ADS Group has revealed that the aerospace, defence, security and space sectors delivered £37bn of value added to the UK economy in 2022. The figures also show that businesses delivering world-class products and services generated £82bn in turnover, with UK exports from the sectors worth £36bn.
The ADS data further highlights the employment of 20,200 apprentices in the sector's workforce of 417,000. This represents a record high and ADS says it is reflective of its members' commitment to developing the workforces of tomorrow.
The ADS Aerospace Outlook also found that 90 per cent of the 108,000 jobs in the aerospace sector are located outside of London and the South East. In addition, with £101,000 output per worker, aerospace sector productivity is 56% higher than the economy average, delivering strategic advantage for the UK.
Never miss the latest manufacturing news by signing up to our newsletter here
Aimie Stone, chief economist at ADS Group, said: "Our 2023 Facts & Figures provide a snapshot of the vital contributions our sectors made to the UK economy in 2022. Participants in the supply chain and major manufacturers have been reporting rising costs and challenges to increasing output, but at the same time, sentiment and outlook across the industries is positive, with expectations of improvements this year in output and investment terms."
Kevin Craven, chief executive of ADS, added: "Our unique, proprietary and robust data is a vital part of the work ADS does, underpinning our conversations with political and industry stakeholders. Our members span the entirety of the UK, and their contributions continue to underpin a resilient UK economy.
"Throughout 2023, it remains an ADS priority to support our members, and secure long-term UK advantage. Through our outlooks, we highlight the role of individual sectors to the UK as well as the significant business and trade opportunities available to businesses in the UK. Our ability to identify the strengths of our sectors is essential for the UK's future successes and participation in international projects and programs such as AUKUS and GCAP."
You can download the full report below: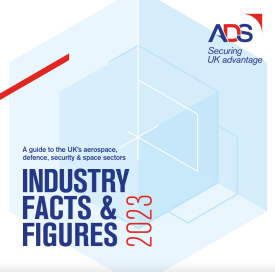 ---
This content is copyright of Zenoot Ltd and its originator. You can use extracts, share or link to this page and you may draw the attention of others to content posted on our site. Bulk copying of text is not permitted. You can view our Terms of Use here.