3 minute read • published in partnership with Irwin Mitchell
Insight: Survey reveals latest office occupier trends within manufacturing sector
A new survey by Irwin Mitchell into occupier trends has revealed that the office is still very much alive within the manufacturing sector, with many businesses preferring their employees to not be working from home.
The YouGov survey of property decision makers has revealed that over half (51%) of those working in manufacturing think their people work better in an office. This was higher than the national figure of 40%.
The survey also highlighted that 33% of businesses in the sector think the office is a collaborative space for exchanging ideas. Sixteen percent think it is a good place for experienced staff to mentor younger staff with a similar proportion (15%) saying it nurtures employees in a way that embodies an organisation's culture.
Dorrien Peters, partner and Head of Manufacturing at Irwin Mitchell, said: "Manufacturers typically occupy factories with ancillary office space, these businesses rely on efficient interaction between the shop floor and the office for effective and successful business operations.
"It's thus no surprise that this survey shows that manufacturing businesses prefer their office based employees to be in the working in the office, rather than at home. Just under half think the office is a place to exchange ideas, collaborate, inspire, train and mentor. The office is far from dead – in fact it is certainly alive and kicking amongst manufacturers."
The Irwin Mitchell study also revealed some interesting findings in relation to property and the environment. For example, 25% of manufacturing businesses admitted to currently doing nothing to tackle the environmental impact of their office buildings. This compares to the national figure of 19%.
The survey asked property decision makers who work in manufacturing if they are prepared to pay higher rent in order to reduce impact their office is having on the environment. Six percent say they would – the same as the national figure – with a further 13% claiming they will but only if they see benefits in service charges/ energy bills. Over half (55%) say they wouldn't which was higher than the national figure of 52%.
Despite the lack of some action from some quarters of the manufacturing sector, there were certainly signs that some organisations wanted to take a more proactive stance when it comes to the office and the environment. Here, 59% say they are turning off electronics, lighting and heat when no one is in the office. This was higher than the national average of 54%.
However, when asked how employment laws compared to other threats affecting their business at the moment, only 18% said they were concerned whilst almost half (48%) said recruiting and retaining good staff remained a significant issue.
The survey also revealed:
• 28% manufacturing businesses plan to change their office requirements by upsizing (14%), downsizing (9%) or relocating (6%).
• Half (50%) said that a modern high quality office space was the main thing that employees will expect an office in the future. 39% highlighted the importance of being easy accessible to home. Being near to good public transport and shops and leisure conveniences was less important at 14%.
• 66% of businesses in the manufacturing industry say they are not considering  using 'proptech' however 18% say they would use it to support their ESG agenda.
• 45% of manufacturers said compliance with the Government's Disability Strategy was important when deciding on office space. This was slightly down on the national figure of 49%.
Download the full UK Office Occupiers' Survey below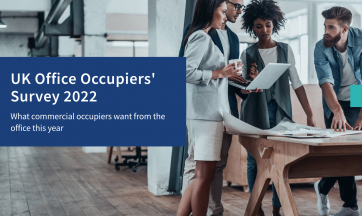 **All figures, unless otherwise stated, are from YouGov Plc.  Total sample size was 503 senior decision makers who have a responsibility for office occupancy decisions, 'Facilities/ premises/ health & safety' in private sector businesses (excluding sole traders). 88 of respondents worked in the manufacturing sector. Fieldwork was undertaken between 25 January and 9 February 2022.  The survey was carried out online.