4 minute read with link to full report
Latest Manufacturing Outlook survey shows challenges facing the sector are starting to bite
Britain's manufacturers have scaled down their growth forecasts for 2023 in response to the escalating economic crisis and the expected impact on consumers and major markets.
The revision comes in the Q3 Make UK/BDO Manufacturing Outlook survey which is forecasting growth for manufacturing of 0.6% in 2023, down from 1.7% being forecast as recently as June. Make UK has also reduced its GDP forecasts from 3.6% this year to just 0.3% in 2023.
In response, given the potential for the economic situation to deteriorate further, Make UK has reiterated its call for government to bring forward, on Friday 23 September, a package of policy measures on a scale in line with those seen during the worst points of the pandemic. Make UK says this is essential to prevent permanent scarring of the economy, help protect viable companies and avert significant job losses.
As well as short-term measures, Make UK also reiterated its call for a long-term National Manufacturing Plan which sets out a longer-term vision for the sector and its impact on the economy. The measures in the statement on Friday must build on the actions to help business deal with escalating energy costs, with a range of measures to aid cashflow, provide greater access to labour and encourage investment, especially in energy efficiency technologies.
In a worst-case scenario of companies being asked to stop production or, a reduced working week, government should also introduce an energy furlough scheme similar to that introduced during the pandemic.
Stephen Phipson, chief executive of Make UK, said: "Whilst industry has recovered strongly over the last year, the storm clouds are gathering in the face of eyewatering costs and a very difficult international environment. This threatens to shatter expectations of a sustained recovery from the pandemic and put many perfectly viable businesses at risk. As a result, urgent and decisive action is needed by the Chancellor to help shield the economy and protect companies and jobs, otherwise we risk a permanent scarring of the economy."
Richard Austin, head of manufacturing at BDO, added: "Manufacturers continue to see activity slow, with growing inflationary pressure resulting in uncertainty for the sector. We are seeing input prices at near record levels for the second quarter in a row as profit margins continue to fall. There is great uncertainty across all business sectors, and we welcome government support to help with soaring energy prices.
"We hope the government recognises the particularly uncertain and vulnerable position manufacturers and other energy-intensive industries find themselves in with respect to energy bills, which could stall momentum at a time when the sector needs investment. Substantial investment and ongoing government support are needed to avoid the loss of viable manufacturing businesses and job losses across industries. A commitment to enhance tax incentives to encourage investment in energy-saving plant and machinery would be helpful in the current circumstances."
The measures being proposed by Make UK:
• Reverse the decision to increase NICs that came into force in April 2022
• Extend the business rates relief for retail, hospitality and leisure to include manufacturing and extend to the end of 2023
• Simultaneously undertake a full and fundamental reform of business rates
• Maximise incentives to enable businesses to be less reliant of the grid, including extending the 100% business rates exemption for plant and machinery from 12 months to three years
• Reform of the wholesale electricity market by urgently resetting the current marginal price model in the electricity market
• Expand the current tax exemption for work-related training into a Training Investment Allowance, providing a tax rebate on investment in training for existing employees
• Introduce apprenticeship standard premiums for apprenticeship training where there are shortages and commit to a full review of the Apprenticeship Levy
• Enable full expensing on capital equipment for up to two years then make the increase to the Annual Investment Allowance permanent
According to the survey, the balance on output fell from +10% in Q2 to +5% (Q1 was +24%) with total orders falling from +20% to +15% (+42% in Q1). The domestic market with a balance of +12% (+16% in Q2) continues to outpace the export market which has almost ground to a halt at +3% (+4% in Q2).
Recruitment intentions held up at +10% (9% in Q2) while investment intentions remain flat at +7% (5% in Q2) as companies cut or postpone their plans in response to rapidly escalating costs. The situation on energy costs remains especially acute with 60% of companies in a recent Make UK survey saying the increases were business threatening, with over half saying they expect to see their energy bills double in the next year.
The survey also showed these costs are still being passed on, although the survey suggests this is becoming harder to do. UK prices fell very slightly (+53% from +54%) with export prices falling from +52% to +51%. Significantly, looking forward, both UK and export prices are expected to continue falling to +48% and +42% respectively. While these figures remain high by historical standards, they are a significant reduction on the figures seen over the last year.
You can download the full report below: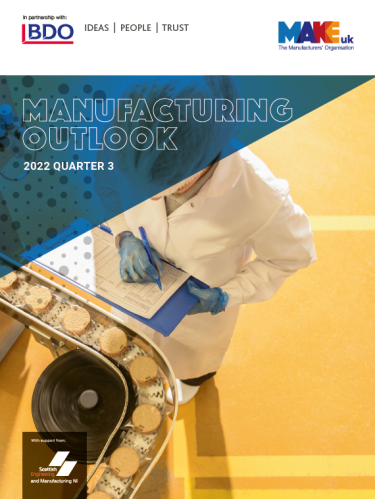 ---
This content is copyright of Zenoot Ltd and its originator. You can use extracts, share or link to this page and you may draw the attention of others to content posted on our site. Bulk copying of text is not permitted. You can view our Terms of Use here.