2 minute read • published in partnership with BDO
Manufacturers rank automation among biggest priorities in 2020
Automation investment ranks among one of the biggest business priorities for manufacturers in 2020, according to a new survey of 200 CFOs and financial directors led by accountancy and business advisory firm BDO.
The new report, New Economy: Investing in Automation, found that senior leaders across the UK expect automation to be pivotal to their businesses and employees' development in the coming year. Overall, 87% of those surveyed have automated a key business process during the last year and one in five (21%) CFOs view automation as their most important investment priority during the next five years.
In the manufacturing sector, senior leaders see automation as a key area for investment, both in the short and long term. While manufacturers are already investing 9% of their turnover in automation, nearly a quarter (24%) see automation as a priority area for investment within the next year compared to a national average of 11%. This figure rises to 34% when looking at the next five years.
93% of manufacturers have automated a key process in the last year – more than any other sector. Computer-aided design and automated machinery are the most popular forms of automation, with half of all manufacturing businesses implementing either forms of technology into their business. 
Importantly, manufacturers are not seeing automation as a replacement to jobs and skills but as an aid to support them, improve efficiencies and increase productivity. According to the survey, 40% of manufacturers say they will spend more money on training their employees because of automation, with 19% seeing their staff as a priority area for investment within the next year.
Tom Lawton, Head of Manufacturing at BDO, said: "UK manufacturing is facing a digital revolution on a global scale. The sector is uniquely positioned with regards to automation, which may explain why it has been such an early adopter of technology compared to other industries.
"It's important to recognise that major investment in robotics and AI will not necessarily represent the best value for money for the typical manufacturer seeking to digitalise their business. I'm not surprised that more than nine in ten firms have already automated a key process in the last year – starting small is often where the value proposition is clearer.
"While manufacturing and automation are natural bedfellows, investment in staff and training is key. It's positive to see the steps being taken in this area."  
You can download the full report below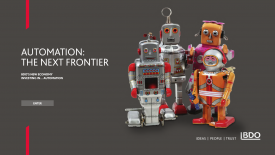 ---
This content is copyright of Zenoot Ltd and its originator. You can use extracts, share or link to this page and you may draw the attention of others to content posted on our site. Bulk copying of text is not permitted. You can view our Terms of Use here.