2 minute read with link to full report
New report highlights value of the UK's space sector to the economy
A new Space Sector Outlook report has provided an overview of the space sector in the UK and its growing contribution to the prosperity of the country and value to the UK economy.
The outlook has been produced by ADS (the UK trade association for aerospace, defence, security, and space organisations), with input from UKspace and support from the UK Space Agency.
The outlook highlights that in 2021, the UK space sector's contribution to the United Kingdom was:
• £16.5 billion in turnover
• £5.3 billion in exports
• £6.9 billion in value add
• 47,000 direct employees
• 2,300 apprentices
As well as capturing the space sector's contribution to the United Kingdom, the outlook identifies new business opportunities for 2022 and beyond which include: in-orbit servicing and manufacturing, earth observation, and UK launch. We also highlight the most important policy priorities for the sector, noting several key government strategies launched in the last two years including the National Space Strategy and its ten-point plan, the UK Defence Space Strategy and the Government's plan for Space Sustainability.
The outlook shows how ADS, UKspace, and industry are working with government stakeholders to represent the views of members and ensure space remains a key strategic focus for the UK and the exciting strategies launched over the last two years are implemented to fully utilise and leverage the UK's innovative capabilities.
ADS chief executive, Kevin Craven, said: "The UK's space sector continues to flourish with many exciting opportunities for UK businesses. The UK is recognised as a world-leader in the space arena consistently using its space capabilities to improve everyday lives and better understand our planet.
"Working collaboratively with UKspace and the UK Space Agency, the 2022 Space Sector Outlook captures not only the important contribution of the UK, but also its strengths and opportunities as it continues to develop. ADS looks forward to working with government stakeholders and industry partners to ensure space remains a key strategic focus of the UK."
UKspace chair, John Hanley, added: "UKspace was pleased to work with ADS to produce this outlook report which clearly demonstrates the vibrancy of the UK space sector, and covers some of the significant priority business opportunities spanning In-Orbit Servicing and Manufacturing, Earth Observation and Launch, supported by a policy landscape that should facilitate further growth around the entire United Kingdom.
"As an organisation, UKspace is working closely with all our members, as well as with stakeholders in government and academia, to ensure the whole sector's value is recognised and invested in, allowing further strengthening of our position as a global leader in space."
You could download the full Space Sector Outlook below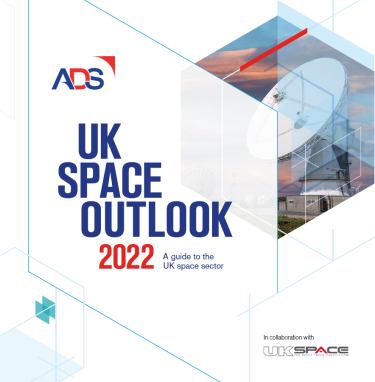 ---
This content is copyright of Zenoot Ltd and its originator. You can use extracts, share or link to this page and you may draw the attention of others to content posted on our site. Bulk copying of text is not permitted. You can view our Terms of Use here.