2 minute read with link to full report
New report urges focus on skills to support manufacturing post-Covid
A new report on manufacturing skills post-Covid recommends that government empowers industry and education provider partnerships to ensure a manufacturing workforce fit for the future.
Produced by Policy Connect and the All-Party Parliamentary Manufacturing Group, the report – Supporting UK manufacturing skills in a post Covid-19 world – outlines how the government can support the development of UK manufacturing skills to ensure an adaptable, capable and diverse workforce, ready to put manufacturing at the heart of tackling urgent societal challenges, including Covid-19 recovery, levelling up through job creation and business growth, and paving the way to a net zero and digitalised society.
For the business department to deliver its priorities of enterprise, net zero and innovation, it must empower employer and education provider partnerships, along with regional bodies to drive the delivery of skills, to ensure that skills are replenished at a local level and to fit local needs. Government and the manufacturing sector must also jointly fund this regional approach to skills improvement policy.
Any successful sector needs to combine inclusivity and diversity to actively draw on the strengths and talents of the whole population. This report also recommends that government needs to drive forward the equality objectives published in July 2021, to create a more inclusive, accessible and diverse manufacturing sector actively drawing on all talents.
Report co-author, Shiza Naveed, from Policy Connect, said: "Covid-19 has presented an opportunity for the sector to reflect on its skills needs going forward and to create an environment where manufacturing professionals reskill and upskill in line with demand. The examples of existing good practice the inquiry found shows that we can do this, but that there is more the government needs to do to support the sector across the board, in order for it to support society's transition to net zero."
You can download the report by clicking the image below: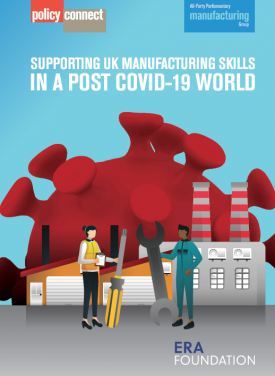 ---
This content is copyright of Zenoot Ltd and its originator. You can use extracts, share or link to this page and you may draw the attention of others to content posted on our site. Bulk copying of text is not permitted. You can view our Terms of Use here.