3 minute read with link to full report
Report calls for the super-deduction tax relief to be extended and made greener
A new report from Policy Connect, the All-Party Parliamentary Group for Manufacturing, and the Institution of Engineering and Technology is calling for the super-deduction tax incentive to be extended until 2030 to help drive green investment and help achieve zero carbon manufacturing.
The government's industrial decarbonisation and net zero strategies have set out a roadmap to net zero by 2050, including the commitment to reduce greenhouse gas emissions from heavy industry by 78% in 2035, compared to 1990 levels. Policy Connect says supporting the manufacturing sector as it tackles the net zero challenge is an important part of this effort as it currently counts for 15% of the UK's emissions.
The Delivering Net Zero Through Digital report says existing tools can be better targeted to help businesses embed net zero practices and that the government should use capital allowances in their various forms to ensure businesses are investing in green technologies.
The super-deduction, R&D tax credits and other existing incentives offer great opportunities for manufacturers to revitalise their assets and plants, but without the right targeting, the UK will miss a once-in-a-lifetime opportunity to ensure that any new capital investment is low carbon. The report highlights that the government should:
1 – Extend the existing super deduction tax relief from 2023 to 2030, to give businesses time to use these allowances strategically to meet the potentially higher initial cost of greener technologies.
2 – Introduce a low-carbon eligibility criterion for all tax reliefs and allowances, to create the culture to introduce and exploit low- or zero-carbon technologies.
As plant machinery and assets can have a lifespan of up to 25 years, and if the 2035 and 2050 targets are to be met, the report also highlights that there is no time to lose to drive investment in low-carbon technologies. The return on investment can be three-fold: generating income on low-carbon technologies, creating a culture of introducing and exploiting low-carbon technologies and preparing the sector well in advance of the net zero targets.
A good example of targeted investment is the Made Smarter Innovation Challenge. According to the Made Smarter Pilot review, over 80% of SMEs working with Made Smarter have seen a boost in productivity, and more than 25% reduced their carbon emissions – all without a specific net zero target. The inquiry found that Made Smarter and other networks of expertise could, however, be better focussed on targeting SMEs that are not directly engaged through the Knowledge Transfer Networks. The latest funding round for Made Smarter Innovation is an opportunity to drive targeted reduction in carbon consumption and emissions.
One example was a manufacturer that was able to achieve a £12.5m reduction in energy costs, by harnessing the power of data to significantly improve resource efficiency – this shows that digitalisation is a key tool to help businesses understand their energy use and deliver both decarbonisation and cost reduction. Digital technologies fall under the definition of capital assets, so there is scope for considerable investment to be made here while making use of capital allowances.
Floriane Fidegnon, head of industry, technology and innovation at Policy Connect, said: "Now more than ever, manufacturers need the tools to ensure that their businesses are sustainable in the long term. Digital technologies can support this; however, business leaders need government's support to be able to invest and deploy technology at scale. This report highlights the potential alignment between environmental and industrial policy, calling for key action now."
Steve Evans, chair of the IET's Manufacturing Policy Panel, added: "Together, digitalisation and sustainability are the two most powerful forces that we are going to see in manufacturing over the next decade. Joint and synergistic action on both is now urgent and vital. We can't afford to have separate digital and sustainability strategies. To deliver the ambitious C02 reduction target of 12MT as set out in the government's decarbonisation strategy, will require a gigantic effort from both digital and sustainability problem-solvers, on an industrial scale. Politicians and policymakers can help too by ensuring manufacturers have the business and financial support they need."
You can download the report by clicking the image below: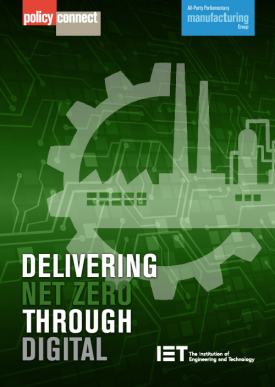 ---
This content is copyright of Zenoot Ltd and its originator. You can use extracts, share or link to this page and you may draw the attention of others to content posted on our site. Bulk copying of text is not permitted. You can view our Terms of Use here.