3 minute read - 4th July 2023
Research reveals the extent BAE Systems and defence sector contributes to the UK economy
Newly-released research carried out by Oxford Economics shows the extent of BAE Systems' contribution to the UK economy, including creating highly skilled jobs, funding world-leading research and sustaining a vibrant national supply chain.
BAE Systems is delivering some of the world's most advanced defence programmes, from Dreadnought submarines to next-generation combat air systems. This critical work relies on the skill, expertise and dedication of employees, contractors, trade unions and suppliers across the country.
Last year, BAE Systems' operations supported 132,000 full-time equivalent jobs nationwide, benefiting every region of the UK, with the company contributing £11bn to GDP – equivalent to 0.4% of the domestic economy.
Never miss the latest manufacturing news by signing up to our newsletter here
Charles Woodburn, chief executive of BAE Systems, said: "As one of the UK's largest employers, we recognise our responsibility to help deliver economic prosperity as well as national security. Our continued investment in skills, technology and the communities where we live and work supports thousands of jobs and is creating opportunities for people to play an important role in helping to keep our country and our allies safe."
Lord Johnson, minister for investment, added: "Our defence sector is driving growth, investment and jobs in every corner of the UK, helping to grow the economy and keeping us at the cutting edge of innovation. BAE Systems' contribution to this cannot be overstated, and this new research underlines just how vital they are to our world-leading defence industry."
Data published in the BAE Systems' contribution to the UK economy report shows that since 2020, the company has grown its UK workforce by more than 10%. In 2022, BAE Systems directly employed almost 40,000 people and supported a further 49,000 jobs across the supply chain and thousands more in local communities.
Almost 40% of BAE Systems employees are based in the UK's most deprived areas, where long-term employment opportunities are crucial for local economies to grow. Last year, the company spent £730m with suppliers in these locations and provided mentorship and support for SMEs to help boost regional businesses.
Strong partnerships across industry, academia and SMEs are a vital part of BAE Systems' work and the company spent £4.1bn with around 6,000 suppliers in 2022, bringing investment and employment to every part of the UK from the Scottish Highlands to the Isle of Wight.
In addition, the company has grown its university partnerships and invested £1.4bn in research and development last year, both self-funded and on behalf of its customers, helping sustain the UK's valuable engineering and technology sectors.
Nearly three-quarters of BAE Systems' employees work in engineering-related roles. To maintain this pipeline of talent, the company spent £180m on education and skills last year, almost doubling its annual investment since the previous year.
As well as supporting educational outreach in its communities, this investment allows BAE Systems to provide lifelong development for its workforce and helps give its more than 4,300 apprentices and graduates the best start to their careers.
The company was again named one of the UK's top apprenticeship employers in the Department for Education's latest rankings and is hiring a record 2,600 apprentices and graduates in the UK in 2023, a more than 40% increase on last year.
BAE Systems has operations around the world and is one of Britain's leading exporters. In 2022, the company exported £3.7bn of goods and services from the UK – equivalent to almost 0.5% of all UK exports, making a significant contribution to global trade.
You can download the full report below:
(direct download)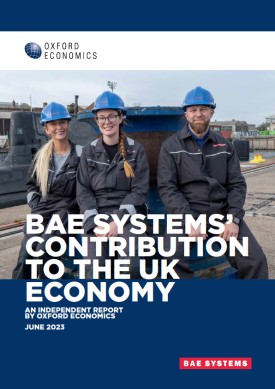 ---
This content is copyright of Zenoot Ltd and its originator. You can use extracts, share or link to this page and you may draw the attention of others to content posted on our site. Bulk copying of text is not permitted. You can view our Terms of Use here.