3 minute read - 28th September 2023
Survey shows public perception of British manufacturing currently very strong
A new study of 2,436 people shows the majority of the general public believe manufacturing is hugely important to the future of the UK economy, with over three-quarters seeing manufacturing as delivering solutions today to the challenges of tomorrow. Perceptions about pay, working conditions and career prospects have also undergone a massive transformative change for the better, according to the survey Perceptions vs Reality carried out by Savanta for Make UK and Sheffield Hallam University.
When Make UK last surveyed the British public five years ago, people cited negative media coverage, and an overall feeling that Britain didn't "make things any more". But now, 93% say they feel manufacturing is critical to growing the UK economy, compared with 70% five years ago.
Make UK believes the turning point was Covid. Automotive makers built ventilators for the NHS, clothing and textile companies repurposed to make medical gowns and face masks, while food and drink factories made hand sanitisers and ensured essential household needs were met. Britain's pharmaceutical companies led the way in producing the game-changing vaccines that let life return to normal.
Never miss the latest manufacturing news by signing up to our newsletter here
The positive press coverage generated during Covid shifted perceptions, leaving behind a realisation of the importance of Britain's industrial base. Now parents see manufacturing as a high skilled, high tech and high wage sector. The average food and drink quality manager in the South East typically earns £61k while a purchasing manager in Yorkshire and the Humber will take home an average of £51k, 9% above the national average.
Far from being in decline, the UK is home to two of the top ten global pharma companies (GSK and AstraZeneca), one in five jet engines in service across the world are made by Rolls Royce and manufactured in the UK, six out of ten of top Formula One teams have their advanced manufacturing base in the UK and it ranks third in the world for aerospace manufacturing by value. The UK is also the largest destination for space investment after the US, projected to account for 10% of the global space market by 2030.
The gender divide was stark in 2018 when nearly a quarter of parents (24%) would encourage their son to work in manufacturing, this fell to just 14% for daughters. But through innovative outreach work and campaigns by manufacturing companies to encourage girls into engineering and manufacturing, now 36% of parents would be happy for their daughters to work in the sector, while 44% of parents would encourage boys to work in manufacturing.
Five years ago, the public guessed the UK was 56th in the world ranking of manufacturing nations, the position occupied by Kazakhstan. This time they were a little more accurate putting Britain at 43rd spot, the position held by the UAE. The UK is actually ranked 8th in the world, up one place in from 9th in 2018.
Stephen Phipson, CEO of Make UK, said: "Manufacturing is the engine of economic growth and it is pleasing that the UK public shares our view that the sector is critical for the country's economy. Manufacturers have been working hard to reduce their energy use and slash carbon emissions – demonstrating their commitment to net zero. The hard work and resilience of manufacturers over the last few years has paid off and this is reflected in the uptick of perceptions among the British public. But there is still work to be done as over half of children surveyed had not even considered a job in manufacturing. National Manufacturing Day is an opportunity to showcase what the sector has to offer to the next generation of makers, creators and innovators."
Nusrat Ghani, Minister for Industry and Economic Security, added: "The manufacturing sector plays a vital role in the UK economy, contributing £224bn in gross value added in 2022, directly supporting 2.6 million jobs and helping to drive innovation and exports. We are determined to provide UK manufacturers with the cutting edge over our competitors which is why we have developed our Critical Minerals Refresh and upcoming Critical Imports and Supply Chains strategy to help stimulate growth and ensure we can continue to land investment wins."
You can download the full report below: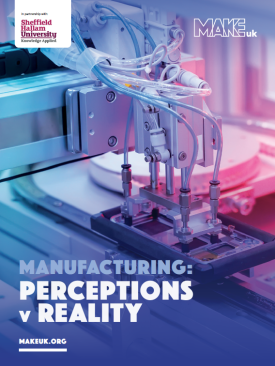 ---
This content is copyright of Zenoot Ltd and its originator. You can use extracts, share or link to this page and you may draw the attention of others to content posted on our site. Bulk copying of text is not permitted. You can view our Terms of Use here.