The best of British manufacturing | May 2019
Each month we will be summarising the very best of British manufacturing by showcasing the most popular content featured on our site during the previous month. An even more convenient way to read the best news and insight from the manufacturing sector.
Don't forget, you can sign up to our advert-free newsletter here to keep up to date with all the positivity from across the sector each week: Love Manufacturing?
Highlights in May 2019 included:
• yet more positive news from the aerospace sector
• big investments from Seagate and ExxonMobil
• a busy month in the automotive sector with McLaren producing its 10,000th car, Ricardo setting a new production volume record, Polestar announcing a new R&D centre right here in the UK and Triumph's announcement of a new partnership to develop an electric motorcycle.
• in the food sector, Cofresh said it will be investing £20m at a brand new facility in Nuneaton, KP snacks completed a £6m investment and Muntons confirmed it will invest £4.5 million at its Stowmarket maltings.
• BDO released its report on digital adoption and Terry Cheesman explained how manufacturers can avoid missing out on lucrative tax relief.
• other investment news included a new £8.5m factory announcement from Nexen and Huhtamaki opening its new production facility in Northern Ireland.
Some fantastic highlights and thanks as always for your support, let's keep sharing the positivity.
Top 10 manufacturing highlights in May 2019
1. Q1 2019 aircraft deliveries match the pace of 2018
Manufacturers in the aerospace sector have delivered 311 aircraft in the first quarter of 2019, including 88 wide-bodied aircraft to match a record set in 2015. The total deliveries from January to March this year are worth up to an estimated £6.5bn to UK industry, while the global industry's total order backlog of 14,107 aircraft could be worth up to £215bn to our economy as they are produced in the coming years. ADS, the UK trade organisation representing the aerospace, defence, security and space sector, said it has forecasted another new record being set this year, ahead of the production mark of 1,618 aircraft set in 2018. ADS Chief Executive, Paul Everitt, continued: "Production has so far kept pace with a record 2018, but global challenges are generating headwinds for the global aviation and aerospace industries. In Europe, Brexit uncertainty is increasing supply chain costs, international trade disputes risk new tariffs and cost-conscious travellers are challenging airline profitability. We expect another year of impressive aircraft production by historical standards, but the sector's ambitious targets for 2019 set a stiff test for the global industry."
Read more
2. Seagate announces £57m investment at Derry manufacturing plant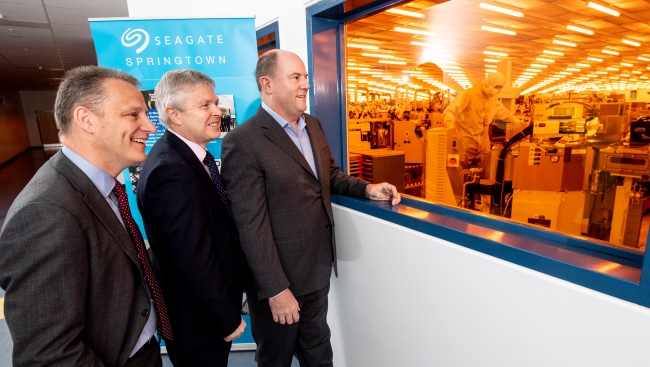 Electronics manufacturer Seagate Technology has announced a package of investments totalling approximately £57.4 million centred on its wafer manufacturing plant at Springtown in Londonderry. Seagate's investment of £47.4 million is being supported by Invest Northern Ireland with an offer of £9.95 million. The funding will be focused on enabling further research and development in nanophotonics, cementing Springtown's position as a leader in world class technology innovation, and creating 25 highly skilled new jobs. The investment announcement was made as Seagate Springtown celebrates 25 years in business. The facility employs over 1,400 staff and continues to develop leading community and academic partnerships. Seagate's Springtown facility is recognised as one of the foremost 200mm wafer fabrication plants in the world.
Read more
3. Polestar establishes new electric vehicle R&D centre in Coventry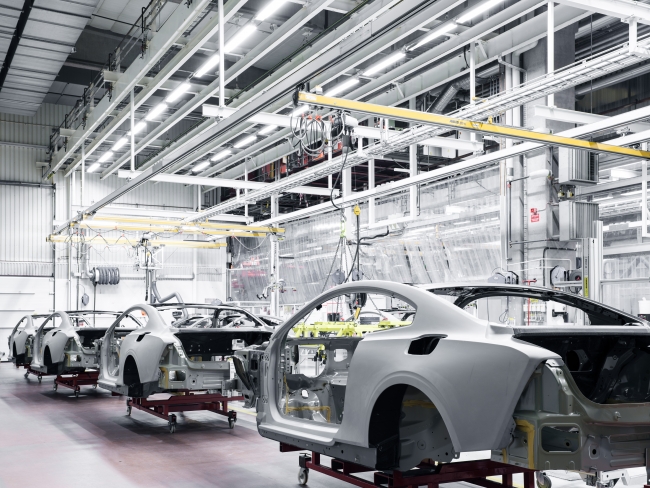 Polestar has significantly expanded its research and development capacity with the establishment of a new R&D centre in the UK. Situated in Coventry, the new facility will allow Polestar to increase its own R&D capabilities, and further strengthens the brand's ability to engineer its future electric performance vehicles. In one of the world's most prominent automotive engineering environments, Polestar's UK engineering operation will initially employ around 60 engineers, bringing a wealth of specialised skills to the company that will specifically support the development of future Polestar cars. Hans Pehrson, responsible for Research and Development at Polestar, said: "Polestar's role as a technology spearhead requires new and developing skills in low-volume, light-weight, multi-material performance car engineering, and the new UK operation will allow us to take the next steps towards our future cars. The team that will kick start the new UK R&D subsidiary is already well-versed in Polestar engineering philosophy, and we will expand the initial team further during the course of 2019. These engineers will be a great complement to our existing R&D team based in Sweden, and other supporting teams around the world."
Read more
4. Nexen Lift Trucks to invest £8.5m expanding factory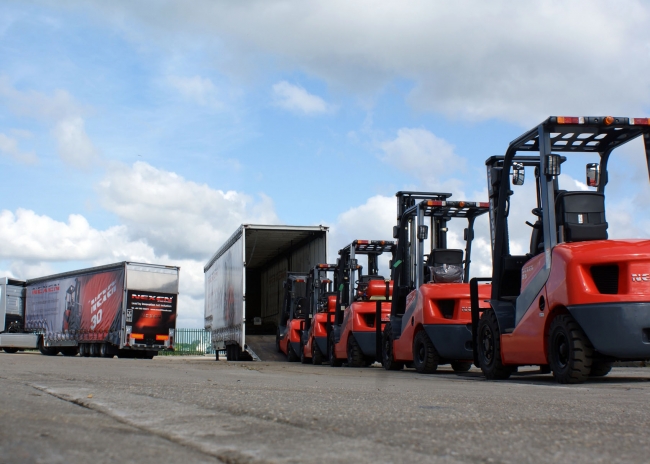 Lowestoft-based Nexen Lift Trucks – a leading designer, manufacturer and supplier of forklift trucks and warehouse equipment – has announced an £8.5m investment at its UK-based headquarters and manufacturing facility. The 48,000 sq. ft. purpose-built extension to the company's existing 55,000 sq. ft. factory will enable Nexen Lift Trucks to double the output of all models via new production and assembly lines, and see the manufacturer further invest in its state-of-the-art research and development facility. Nexen Lift Trucks currently employs 50 staff at its Lowestoft headquarters and, to help facilitate the doubling of output and an increasing export order book that equates to 70% of its products, the company also expects the planned investment to create 40 opportunities for new engineers, technicians and other staff. As part of Nexen's investment and expansion plans, the research, design, development and production of many of the company's forklifts, sideloaders and warehousing equipment will continue to be undertaken at its headquarters in Lowestoft.
Read more
5. Triumph announces partnership to develop an electric motorcycle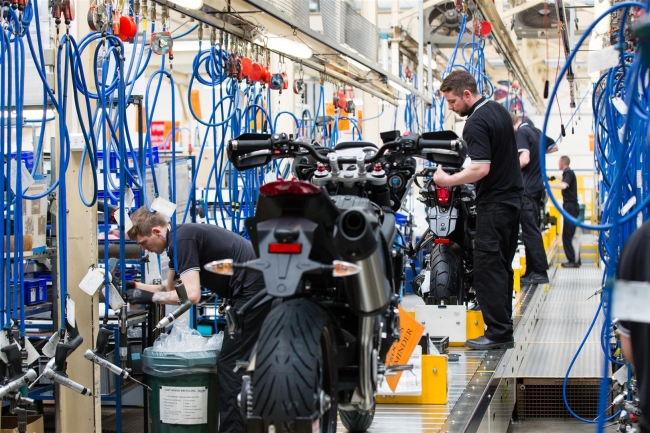 Triumph Motorcycles has announced a unique collaboration with UK industry experts, academic leaders and Innovate UK, to develop specialist electric motorcycle technology and innovative integrated solutions. The two-year project, in partnership with Williams Advanced Engineering, Integral Powertrain, and WMG, at the University of Warwick, will provide significant input into potential future electric motorcycle offers from Triumph. Nick Bloor, Triumph CEO, said: "This new collaboration represents an exciting opportunity for Triumph and its partners to be leaders in the technology that will enable the electrification of motorcycles, which is driven by customers striving to reduce their environmental impact, combined with the desire for more economical transportation, and changing legislation. Project Triumph TE-1 is one part of our electric motorcycle strategy, focused on delivering what riders want and expect from their Triumph, which is the perfect balance of handling, performance and usability."
Read more
6. McLaren Automotive marks building its 20,000th car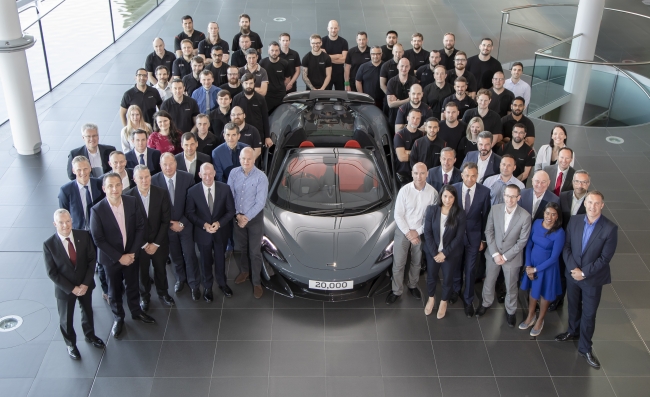 McLaren Automotive has celebrated the 20,000th car to be hand-assembled at its McLaren Production Centre (MPC) in Woking, Surrey. The 20,000th car built was a right-hand drive 600LT Spider in Chicane Grey from the brand's Sports Series line-up. Launched only last summer as the next chapter in the McLaren 'Longtail' story, all production slots for the Coupe variant have already been filled. This latest milestone represents a further significant achievement for the British marque and comes eight years after the first McLaren road car left the Production Centre in July 2011. While McLaren's production reached just over 4,800 cars in 2018 to meet rising global demand, output will be maintained at around 5,000 a year into the next decade. McLaren Automotive now employs over 2,300 people and contributed a significant proportion of McLaren Group's overall £1.2bn of revenue in 2018. The introduction of a second production shift in 2016 to meet rising global demand for McLaren vehicles has seen production double from around 10 cars to over 20 a day. Over 90 per cent of vehicles built in Woking are exported to more than 32 markets around the world.
Read more
7. Cofresh Snack Foods to invest £20m in new factory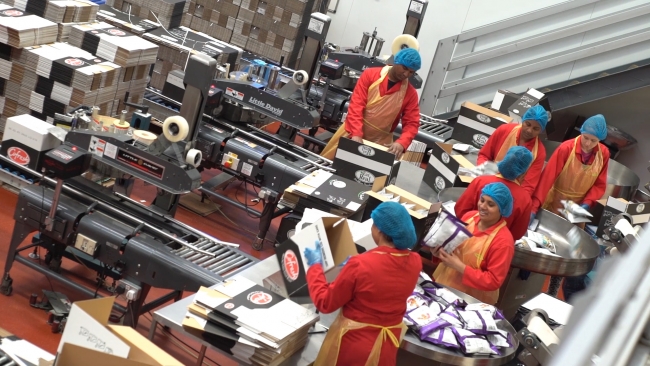 Leicester-based Cofresh Snack Foods has announced the acquisition of an additional food production and warehousing facility to cater for significant growth and expansion. An investment of approximately £20m over the next 18 months will enable Cofresh to split its snack production between two sites and increase annual turnover to more than £100m. The company's current site in Leicester will continue to specialise in traditional Indian snacks while the new facility, on a seven-acre site in Nuneaton, will be dedicated to the manufacture of its Eat Real 'healthier snacking' brand to cater for the growing demand for 'free from' snacks. Cofresh is planning to extend its Nuneaton site from 140,000 to 180,000 sq ft, bringing the company's total production and warehousing 'footprint' to just under 400,000 sq ft. Cofresh Snack Foods is a long-established Leicester business. Since 1974, it has manufactured traditional and authentic Indian snacks and is now the UK's No. 1 Indian snack brand.
Read more
8. Ricardo powers through engine manufacturing records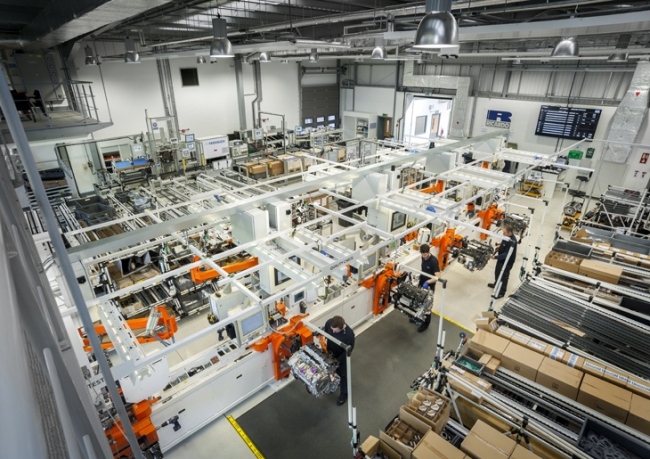 Engine manufacturer Ricardo has produced more than 20,000 engines during the past 10 years – of which over 5,000 were produced in 2018 alone. Ricardo is well known for its manufacturing of high-quality engineered products, from motorsports driveline systems to aerospace components. In 2018, engine manufacturing – from compact, sub 1-litre, 3-cylinder petrol engines to 13-litre diesels for distributed power generation – broke all previous volume records for Ricardo, with the trend continuing in 2019. Engine production by Ricardo in recent years has served a total over 20 major automotive manufacturers and engine suppliers, providing everything from prototypes through pre-production units, to niche volume series production of high-performance products. Of these engine types, the greatest number produced in 2018 were high-performance petrol engines for sports cars and V8 marine diesels.
Read more
9. Huhtamaki opens new manufacturing facility in Northern Ireland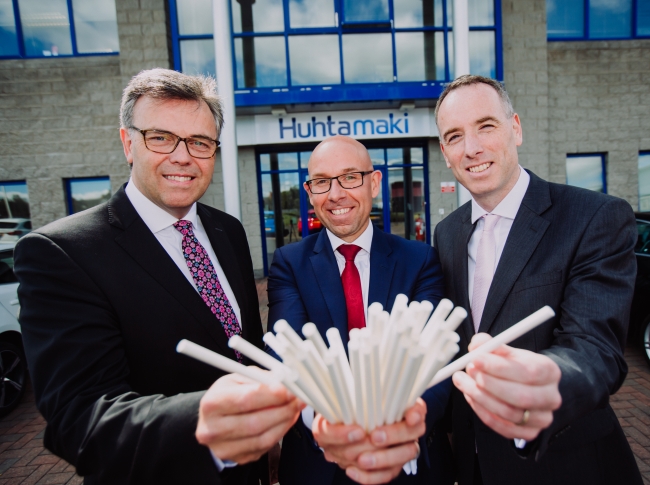 Global food and drink packaging specialist, Huhtamaki, has opened its new, state-of-the-art foodservice packaging manufacturing facility in Northern Ireland. The facility is located in Antrim and is expected to employ approximately 100 people over the next few years. With the new facility, Huhtamaki now has three manufacturing sites in Northern Ireland collectively employing around 560 people. The Antrim facility operates initially as a dedicated paper straw manufacturing site, but going forward, Huhtamaki plans to expand the range of products manufactured at the site to other paper-based product categories. 100% of the paper used for the straws and wrapping comes from sustainably managed forests. Huhtamaki plans to expand paper straw manufacturing to further manufacturing units in Europe during 2019.
Read more
10. Digital Transformation Report: embracing digital adoption but risks remain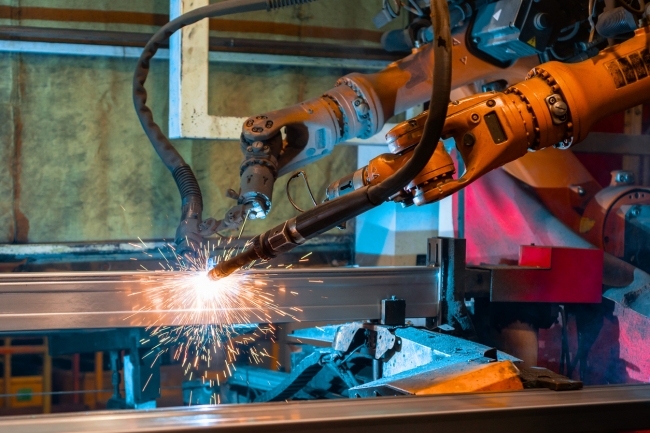 UK manufacturers are making seismic shifts in attitudes and investment intentions but risk falling further behind global competition as skills and Brexit distractions temper digital adoption, says a new report from accountancy and business advisory firm BDO. According to the report, almost half (46%) of manufacturers now have a good understanding of industry 4.0 technologies and digital transformation, marking a seismic shift in attitudes since the 9% reported in 2016. BDO says 10% of manufacturers have already invested £5m or more in the last two years, and another 14% plan to do so over the next five years. The proportion of companies making no investments in digital projects has fallen considerably in the last three years, yet 21% have curtailed spending plans as Brexit uncertainty takes its toll. In addition, despite moves to foster digitalisation, UK manufacturers remain hamstrung by the skills set of its current workforce. The vast majority (84%) say the Government must do more to deliver skills for manufacturing digitalisation, with 78% stating the education system is failing to deliver the right STEM skills for the future.
Read more
Click the banner below to read more across our site