The Friday Roundup – 07/09/2018

Every Friday, we round up our top 5 most popular reads from the week, along with sharing some of our favourite finds from around the web.
This week's roundup includes a £100m investment boost for Britvic's Rugby facility, Aston Martin enjoys its largest ever apprentice and graduate intake, plus Starbucks finally dares to open its first Italian outlet…
Our top 5 most read this week
1. Manufacturers expecting growth as output & order balances remain firm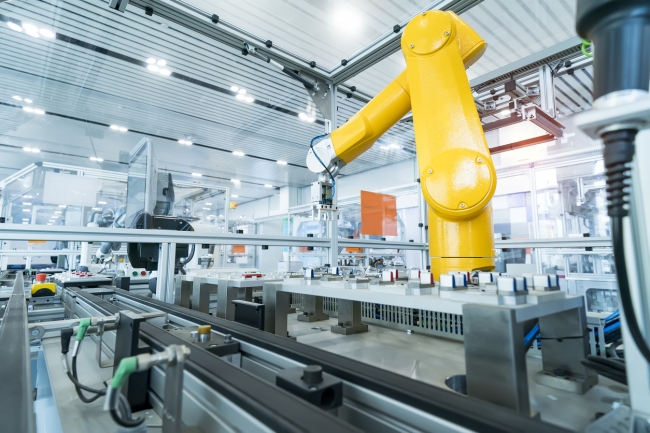 Manufacturing output and new order intake held firm over the past quarter with companies expecting this positive picture to be sustained into the final months of this year, according to a major new survey published by EEF, and accountancy and business advisory firm BDO LLP. Continued growth in the global economy continues to provide the backdrop for another quarter of positive survey readings from Britain's manufacturers. Adding to this solid demand environment is the pick-up in domestic construction activity, providing a modest boost to domestic new orders. These factors have supported buoyant output balances in the past three months – marking the eighth consecutive quarter where a net balance of companies has reported expanding production levels, a trend which is predicted to continue to the end of the 2018. The survey also points to some recovery in profit margins, which is contributing to another quarter of increased recruitment and a revival in investment intentions. While these headline results are positive, it is important to drill down into the fortunes of different manufacturing sub-sectors. Strong global investment trends mean boom time for the UK's electronics manufacturers and emerging capacity constraints put this sector firmly in the driving seat for increased investment. In contrast, sectors in the automotive supply chain are looking at a weaker order intake and more subdued investment plans. The full report can be read on the link below:
Read more
2. Britvic invests £100m redeveloping Rugby factory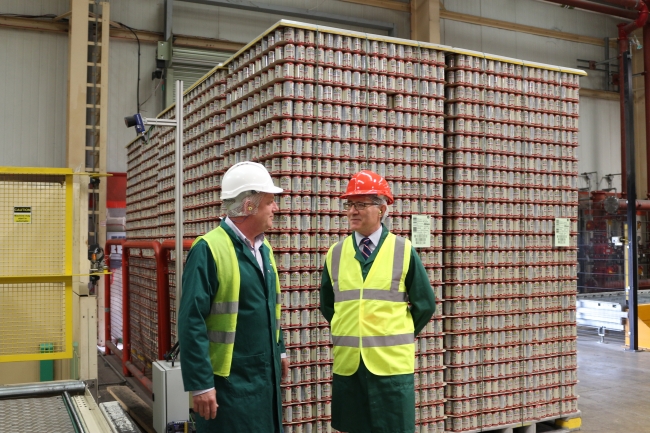 Leading soft drinks manufacturer Britvic is investing more than £100milllion redeveloping its facility in Rugby as part of a broader £240m three-year investment programme in its GB manufacturing capability. The investment, announced by the company in 2015, is designed to step-change the speed and flexibility of its production lines, whilst delivering environmental benefits through greater efficiencies. As part of the investment in Rugby, Britvic has installed three new PET bottling lines, a new on-site warehouse and an aseptic line to manufacture preservative-free drinks, which will improve logistics planning and reduce road miles, helping the company to reduce its carbon footprint. In addition, the company has introduced three new can lines which are amongst the fastest in Europe, collectively producing up to 6,000 cans per minute. The state-of-the-art design has led to a reduction in waste, significantly increased production, and gives greater flexibility meaning cans can now be made from aluminium or steel on the same line. This year, Britvic's steel can formats have also moved to aluminium cans, enabling Britvic to reduce the amount of metal it uses annually by 8,000 tonnes. Britvic also announced earlier this year, the creation of around 80 new jobs at the site, which includes technical operators, engineers and team leaders.
Read more
3. Aston Martin welcomes largest ever apprentice & graduate intake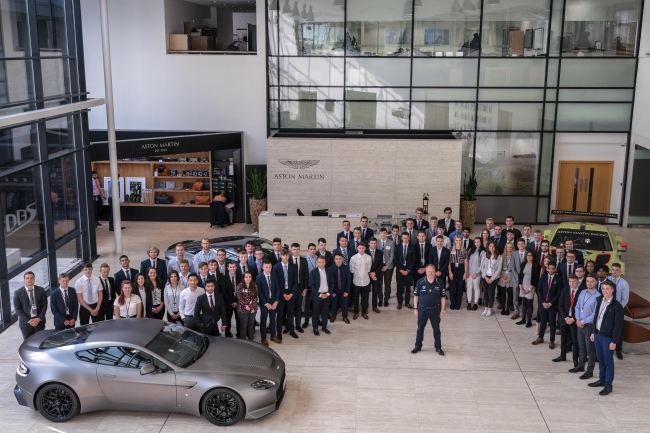 Aston Martin welcomed its biggest ever intake of apprentices and graduates this week, all ready to start work for the world's fastest-growing auto brand. With 50 apprentices and 26 graduates reporting for duty at Aston Martin's Global Headquarters at Gaydon in Warwickshire, this investment in the future workforce underlines the manufacturer's focus on remaining a competitive and agile business for many years to come. Dr Andy Palmer, Aston Martin President and Chief Executive Officer, who started his own career as an apprentice, was at Gaydon to greet the new starters. He said: "It's a source of great pride for me to welcome our biggest ever intake of apprentices and graduates. It's important to bring fresh talent into the business and these new starters will play a key role in the continuing success of Aston Martin."
Read more
4. Liberty begins multi-million-pound Newport investment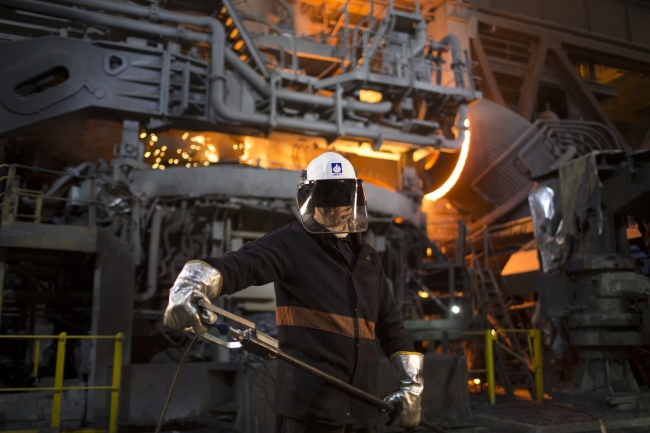 Liberty Steel Newport, part of Sanjeev Gupta's global GFG Alliance, has begun a planned £15m investment in new and upgraded equipment as it continues a drive to win bigger UK market share for hot rolled coil, used in industries such as construction, automotive and pipe manufacture. The 180-worker South Wales plant, re-opened by Liberty in 2015 following closure by previous owners, is doubling coil production this year to nearly 370,000 tonnes and is targeting further growth in 2019, aiming to displace foreign imports that currently take around 50% of the domestic market. Next week. the firm is completing the first phase of the investment which is the installation of advanced descaling equipment to further improve the surface quality of the product, along with additional automation to increase process efficiency. There are plans to install further equipment in the coming months to achieve greater product quality and internal efficiency improvements. Operations director Tony Halbert said: "We're greatly encouraged by the progress we've been making at the mill and these investments will put us in an even stronger position to serve existing and new customers in the UK and overseas." Sanjeev Gupta, executive chairman of the GFG Alliance added: "Newport was the group's first steel producing asset so it's very satisfying to see it continuing to make great strides forward as a highly-valued part of the global GFG business. We're looking forward to delivering our big ambitions for the site."
Read more
5. Biocatalysts announce £6 million plant investment

Speciality enzyme company, Biocatalysts Ltd, celebrates being 35 years young this year with a major investment into its future manufacturing capacity. Over £6million will be invested in total, comprising an 11,000 sq ft extension to the existing building which has just been completed. The next step is to fit out the building with cutting-edge equipment, including a 10m3 fermenter and down-stream processing machinery. It will all be controlled by state of the art software to maximise capacity and enhance efficiencies, guaranteeing world class support and service. The new production area, also offers future expansion capacity too, negating the need for the company to move. Biocatalysts' expanding technical and production teams will be key during this transition period, providing high end technical skills and project management support to ensure that the right first time philosophy of the company is upheld. Daren Bryce, Commercial Director at Biocatalysts, said, "This represents a very exciting time in the speciality enzyme field. The unique breadth of offering, from discovery right through to large scale production, that Biocatalysts has to offer will allow previously in-accessible novel enzymes at commercial scale to our customers."
Read more
---
Our favourite #GBmfg & #UKmfg tweets of the week
Toyota to build new Corolla Touring Sports model at its Burnaston factory in Derbyshire https://t.co/AcZQLvGrNg #ukmfg #GBmfg🇬🇧 pic.twitter.com/sqredQWUYg

— Jefferson Group (@Jefferson_MFG) September 4, 2018
As it's #ReadABookDay we'd recommend the 2017/2018 Manufacturing Review. It's packed full of facts, figures & information on different sectors of #GBmfg & #ukmfg articles on #IndustrialStrategy #I40 & more…

If you're in #Manufacturing then this is a must read 👍😉🇬🇧🏭 pic.twitter.com/UxzszHj1po

— Howdon Power #🇬🇧🏭 (@HowdonPower) September 6, 2018
Global pharma firm creates 63 jobs in Loughborough | https://t.co/Y7p9BmI43F https://t.co/F5he5i38Co via @tbdeastmidlands

— Tom Mongan (@TmonganTom) September 5, 2018
Number of Scots whisky distilleries grows to highest level in 70 years – there are now 128 distillers across Scotland's five whisky regions with record exports worth £4.37bn to over 180 countries fuelling the boom https://t.co/CEIjGIDN2v #Whisky #ukmfg #GBmfg pic.twitter.com/wkaqhQRvWr

— Jefferson Group (@Jefferson_MFG) September 5, 2018
Engineers from @TheAMRC @sheffielduni have been filmed for a new video by @EngWomen to celebrate the student society's inspirational work, why we think it's important they have our support and shout about #engineering being a great career option for women. @TUOSWomenEng @WES1919 pic.twitter.com/txoRSUMpkR

— Advanced Manufacturing Research Centre (@TheAMRC) September 4, 2018
---
Recommendation roundup
Our picks of the best manufacturing and business related content that caught our attention this week.
1. One year in, the real work begins for Uber's CEO / via @WiredUK
It's the first anniversary for Dara Khosrowshahi as CEO of iconic ride-sharing company Uber, but as much as Khosrowshahi has cleaned up the company's culture and addressed some of its emergencies, Uber is far from the market leader it was two years ago. It's clear Khosrowshahi has a vision for what Uber can be and a strategy for how he hopes to get there. But if the first year involved fixing the dramatic problems of Uber's past, his second year must be dedicated to charting a course for its future. For Khosrowshahi to grow Uber into a company that is worth the figure at which it is valued, and that can make good on its promise to be the de facto transportation application for bikes, buses, scooters, and any other here-to-there alternative, he will need to confront some significant challenges in the year to come:
Read more
2. Lister LFP SUV revealed – world's fastest SUV? / via @CARmagazine
At what's purportedly the world's fastest SUV – The Lister Motor Company has revealed its latest Jaguar-tweaked model: the new Lister LFP. Essentially a Jaguar F-Pace given a serious makeover by rejuvenated tuning firm Lister, it has a claimed 200mph top speed and acceleration to out-drag many supercars. The Lister Motor Company is Britain's 'oldest surviving racing car company' with 65 years of continuous heritage. It was bought by father and son combo Andrew and Lawrence Whitaker in 2013. The company says interest is strong and it's moving its head office to new premises in the north west of England as it continues to expand.
Read more
3. Stop working on your commute – it doesn't benefit anyone/ via @ConversationUK
Our journey to and from the office has been taken over by work. Rather than reading a book, catching up with the news, or just relaxing, our commute time is now increasingly spent reading and replying to work-related emails. The transport we use to get to and from our jobs has become another venue for work. Research shows how workers fit work into commute time, in part, to ease the burden of work. Answering emails on route to work can help to save time once you're at work. Equally email can be answered on the way home from work to ease the pressure of work during the next working day. Work can also be done on the move that could not be finished at work. New technology enables us to connect with our work, beyond normal hours. Laptops and iPhones mean we have instant access to our work and workplaces. Wifi on trains and buses has helped to turn commuting into work time. But technology itself does not explain why work is performed outside of regular hours. For that we need to look at organisational culture. Similarly, all this extra work seems to be bringing few economic benefits. Productivity remains low in the UK despite workers working all hours. Commuters are no more productive for answering emails on the go. Indeed, productivity is likely to be lower due to the stressed out and exhausting nature of long commute and work schedules. Research continues to show the negative health effects of long hours of work. 
Read more
Professor of Economics and Political Economy at the University of Leeds, explores more in this opinion piece.
---
And finally, some bonus picks to add to your reading list this weekend:
1. I tried the Titan Key, the security fob used by 85,000 Google workers / via @fastco
Imagine unlocking your computer the same way you do a car. That's right, you have a little fob, and you push the button. And presto! It's unlocked. Developed internally, and now in the hands of more than 85,000 Google employees, the Titan Key has eliminated phishing at the company, according to Google. And now you can buy one yourself for $50. So what is the Titan Key? It's kind of like a password you can hold in your hands. Similar to the two-factor authorization that you might use with your phone, when you log in to Google services like Gmail you can type your password then plug in the key for the second wave of verification–no texting or codes required. In theory, it's a great idea–so how does the Titan Key work in practice? Fast Company's Mark Wilson tested the device to find out.
Read more
2. Starbucks opens first outlet in Italy / via @BBCNews
Italy is synonymous with drinking coffee, yet after taking more than two years to build, Starbucks will finally open its first Italian outlet. The company's Milan roastery goes far beyond the usual latte production line. The marble-floored store will offer a "theatre of coffee roasting, brewing and mixology", as well as cocktails, pizza, bread and ice cream. About a third of a football pitch in size, it inhabits the historic Poste building near the cathedral in Piazza Cordusio, and is the third of Starbucks' new concept "roasteries" (the first two are in Shanghai and Seattle). Traditional Italian coffee shops are designed for a quick pit-stop, where customers can knock-back a mouthful of espresso without even stopping to sit down. Starbucks is hoping to offer something different. Customers are invited to witness the bean-to-cup process: green coffee being poured out of burlap sacks, going through the roaster, and reaching "a dramatic crescendo" as the six-and-a-half metre bronze cask they're processed in "unfolds like a blooming flower". Not content with taking on Italian coffee-drinkers, Starbucks is also offering pastries, bread and pizza from a wood-fired oven, and an affogato station where you can finish off your ice cream with a liquid nitrogen quick freeze and a dose of espresso…
Read more
Spot something you think we should see? Share with us! Email hello@zenoot.com and we may feature it in an upcoming post.