The Friday Roundup – 17/05/2019

Every Friday, we round up our top 5 most popular reads from the week, along with sharing some of our favourite finds from around the web.
This week's roundup sees McLaren celebrate its 20,000th car milestone, work on Unilever's new Norfolk-based mustard and mint facility gets underway, plus stories from Triumph, Gore-Tex, Lotus and more…
Our top 5 most read this week
1. Polestar establishes new electric vehicle R&D centre in Coventry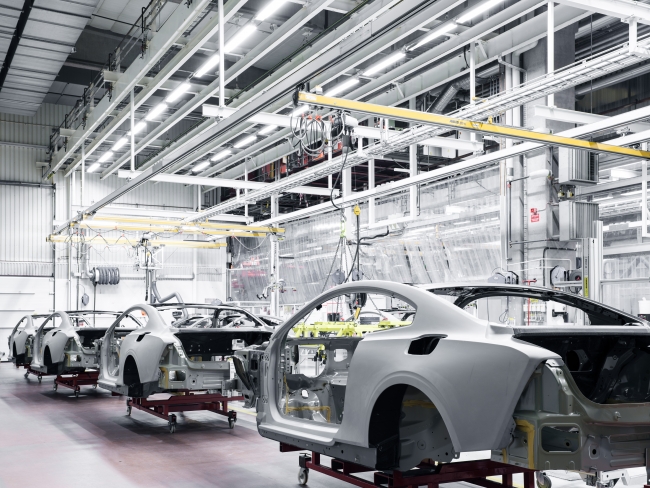 Polestar has significantly expanded its research and development capacity with the establishment of a new UK R&D centre. Situated in Coventry, the new facility will allow Polestar to increase its own R&D capabilities, and further strengthen the brand's ability to engineer its future electric performance vehicles. Polestar's UK engineering operation will initially employ around 60 engineers. Hans Pehrson, responsible for Research and Development at Polestar, said: "Polestar's role as a technology spearhead requires new and developing skills in low-volume, light-weight, multi-material performance car engineering, and the new UK operation will allow us to take the next steps towards our future cars. The team that will kick start the new UK R&D subsidiary is already well-versed in Polestar engineering philosophy, and we will expand the initial team further during the course of 2019. These engineers will be a great complement to our existing R&D team based in Sweden, and other supporting teams around the world."
Read more
2. Triumph announces partnership to develop an electric motorcycle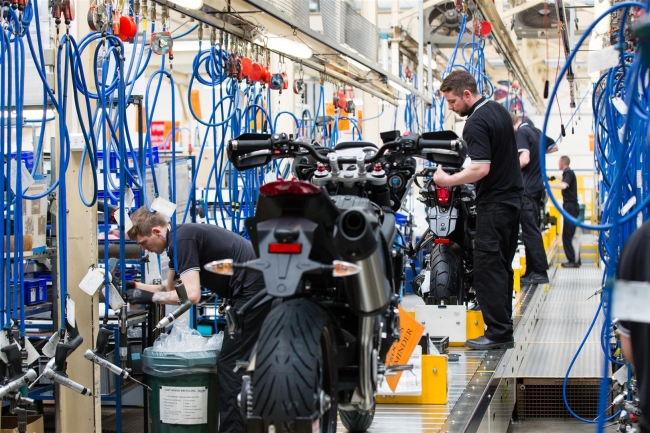 Triumph Motorcycles has announced a unique collaboration with UK industry experts, academic leaders and Innovate UK, to develop specialist electric motorcycle technology and innovative integrated solutions. The two-year project, in partnership with Williams Advanced Engineering, Integral Powertrain, and WMG, at the University of Warwick, will provide significant input into potential future electric motorcycle offers from Triumph. Nick Bloor, Triumph CEO, said: "This new collaboration represents an exciting opportunity for Triumph and its partners to be leaders in the technology that will enable the electrification of motorcycles, which is driven by customers striving to reduce their environmental impact, combined with the desire for more economical transportation, and changing legislation. Project Triumph TE-1 is one part of our electric motorcycle strategy, focused on delivering what riders want and expect from their Triumph, which is the perfect balance of handling, performance and usability."
Read more
3. New partnership launched to drive uptake of STEM careers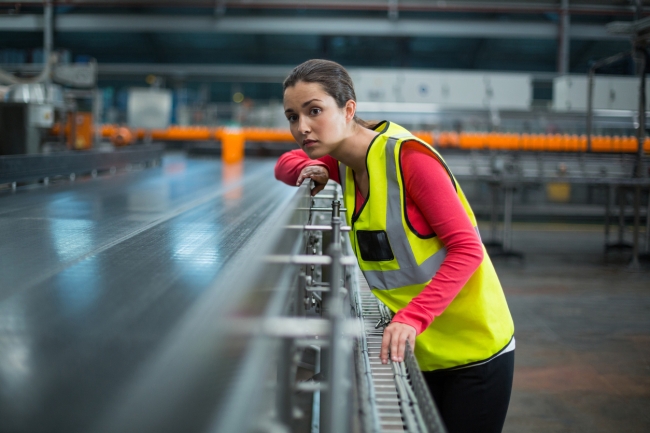 STEM Accord, a new partnership created to provide co-ordinated action to inspire more young people, and particularly girls, to study science, technology, engineering and mathematics (STEM) has been announced at the 2019 WISE annual conference. STEM Accord has been created by WISE, the ERA Foundation, STEM Learning, Design and Technology Association (DATA) and The Smallpeice Trust, working in alignment with the Royal Academy of Engineering, Engineering UK and the IET and guided by the recommendations of the Perkins Review. Dr Jo Kennedy, Board Member of the ERA Foundation, said: "As far as we are aware this will be the first multi-organisation initiative to deliver STEM outreach to schools in line with the recommendations of the Perkins report, Engineering UK and the Royal Academy of Engineering. This collaboration is vital to provide more cohesive support to students, teachers and parents across the UK to ensure that as many young people as possible and particularly girls are inspired and understand the potential STEM careers that could be open to them."
Read more
4. Work starts on new condiment milling facility near Norwich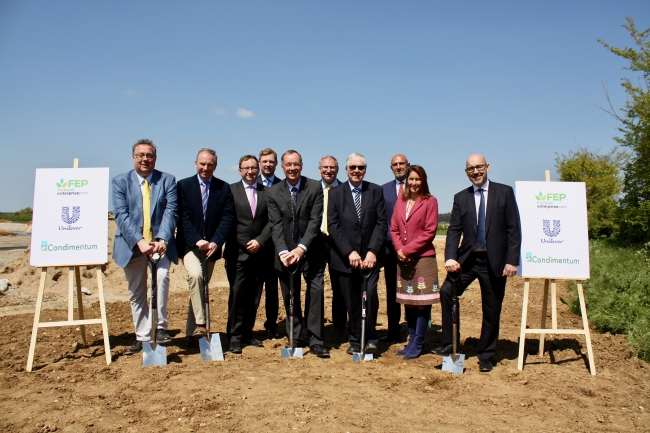 Unilever and Condimentum, a newly formed consortium of mint and mustard growers in Norfolk, have confirmed their long-term partnership with a ground-breaking ceremony at a new facility close to Norwich. This unique partnership means that Unilever will support the establishment of Condimentum with an initial 10-year supply agreement and significant capital investment into their new state-of-the-art mustard and mint milling facility at the Norfolk Food Enterprise Park at Honingham Thorpe near Norwich. The facility's construction is due to be completed by the end of 2019. The new facility will supply milled mustard flour and blended mint for Colman's condiments and pack their mustard powder into various packs in the range. Unilever will continue to source mustard and mint from growers in the local area, as it has done for more than five generations. With the support of Unilever's investment, Condimentum will equip the purpose-built facility with state-of-the-art manufacturing equipment helping to attract future investment and support growth of the local farming economy.
Read more
5. McLaren Automotive marks building its 20,000th car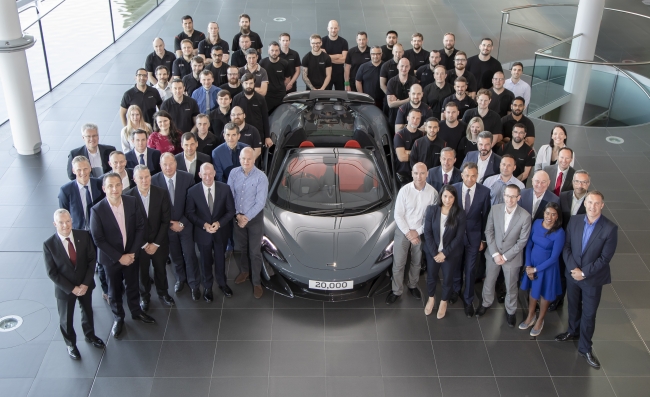 McLaren Automotive has celebrated the 20,000th car to be hand-assembled at its McLaren Production Centre (MPC) in Woking, Surrey. The 20,000th car built was a right-hand drive 600LT Spider in Chicane Grey from the brand's Sports Series line-up. Launched only last summer as the next chapter in the McLaren 'Longtail' story, all production slots for the Coupe variant have already been filled. This latest milestone represents a further significant achievement for the British marque and comes eight years after the first McLaren road car left the Production Centre in July 2011. While McLaren's production reached just over 4,800 cars in 2018 to meet rising global demand, output will be maintained at around 5,000 a year into the next decade. McLaren Automotive now employs over 2,300 people and contributed a significant proportion of McLaren Group's overall £1.2bn of revenue in 2018. The introduction of a second production shift in 2016 to meet rising global demand for McLaren vehicles has seen production double from around 10 cars to over 20 a day. Over 90 per cent of vehicles built in Woking are exported to more than 32 markets around the world.
Read more
---
Our favourite #GBmfg & #UKmfg tweets of the week
Today we have published our new 2019 Industry Facts & Figures, launched to coincide with our annual #ADSApprentices Parliamentary Reception this afternoon. Take a look at the economic contribution of our sectors to the UK #ADSfacts: https://t.co/6pDtyIGn2i pic.twitter.com/JZTMbcWmaw

— ADS Group (@ADSgroupUK) 14 May 2019
Global demand for British goods and services at an all-time high – the 2018/19 financial year was a record-breaking one for exports as they reached £639.9bn, a £18.5bn increase on the previous year https://t.co/c3eDSFutuS #UKmfg #GBmfg #ExportingisGREAT🇬🇧 pic.twitter.com/6eQ1M7P1Og

— Jefferson Group (@Jefferson_MFG) 13 May 2019
Our #Azuma may look Japanese…but underneath it is very British! 🇬🇧

Over 70% of parts fitted in our factory are sourced from nearby our Newton Aycliffe, County Durham facility 👷‍♂️👷‍♀️ pic.twitter.com/jLzE0bijxu

— Hitachi Rail Limited (@HitachiRailEU) 14 May 2019
20 July 2019 marks 50 years since humans first walked on the surface of the Moon. If you're looking for ideas on how you can develop a STEM day themed around the moon landing, check out the latest edition of the secondary and FE STEM Learning magazine https://t.co/Me8ub7Hx2D pic.twitter.com/GJnPKGH7gY

— STEM Learning (@STEMLearningUK) 12 May 2019
FILTON | Today we held an 'Inspiring Girls into Aerospace' event to encourage more girls to pursue a career within the Aerospace Industry.
One attendee told us that "I am interested in maths, today has made me feel motivated to work hard and use my interest to make a difference." pic.twitter.com/NU6k6xl4MT

— Airbus In The UK (@AirbusintheUK) 15 May 2019
---
Recommendation roundup
Our picks of the business and manufacturing related content that caught our attention this week.
1. Lotus Cars to recruit 200 more staff / via @BBCNews
Lotus Cars, based at Hethel, Norfolk, is recruiting 200 additional staff as part of its expansion programme. The British-based sports car manufacturer said it was taking on the additional workforce to help "grow the brand". In 2018, it recruited 289 more staff. It also plans to open an engineering office in Warwickshire.
Read more
2. The Gore-Tex eye: Maker of Gore-Tex experimenting with an artificial cornea / via @BW
W.L. Gore & Associates, the manufacturer best known for Gore-Tex, the waterproof membrane used in high-end outerwear, is building artificial corneas, and reinventing itself in the process. This is Gore's first foray into the eye, and success would provide a new market, a new mission, and, hopefully, new momentum. The company also makes air filters, headlight vents, heart stents, guitar strings, and more. Its membranes help batteries power electric cars, and its specially coated cables connect the electronics on the International Space Station.
Read more
3. Airbus to look at buying Bombardier Belfast plant / via @guardian
Airbus is considering buying Bombardier's Belfast wing production operation, after the Canadian firm said it was looking to offload the struggling plant. Guillaume Faury, who started as Airbus chief executive in April, said taking over the Belfast plant was an option, although he stressed there were "many alternatives" to a bid and that the assessment was at a very early stage. "We'll be looking at it," Faury said during a visit to London. "We will make sure that whatever happens preserves our interest." Faury said Airbus would also be open to the plant continuing to be run by a third-party supplier.
Read more
---
And finally, some bonus picks to add to your reading list this weekend:
1. How Airbnb took over the world / via @guardian
In just 11 years, it has grown from nothing to a $30bn firm. Airbnb's site lists more than six million rooms, flats and houses in more than 81,000 cities across the globe. On average, two million people rest their heads in an Airbnb property each night – half a billion since 2008. But critics say Airbnb's rise has come at a huge cost to urban life – and cities across the planet are trying to find ways to rein it in.
Read more
2. Hawksmoor wine mistake: How is any bottle worth £4,500? / via @BBCNews
Wine lovers reacted with shock, and perhaps some envy, after it was revealed this week that a customer at a Manchester restaurant was given a £4,500 bottle of wine – instead of the £260 one they ordered. How does some wine become so eye-wateringly expensive though? Would most people notice a huge difference from their normal bottle? And the bottom line – is it worth it?
Read more
Spot something you think we should see? Share with us! Email hello@zenoot.com and we may feature it in an upcoming post.