The Friday Roundup – 18/05/2018

Every Friday, we round up our top 5 most popular reads from the week, along with sharing some of our favourite finds from around the web.
This week's roundup includes BAE's submarine contract win, a super teacher sending a quarter of his students into engineering degrees, plus is £26k on royal sausage rolls money well spent…?
Our top 5 most read this week
1. BAE Systems wins £2.4bn submarine contract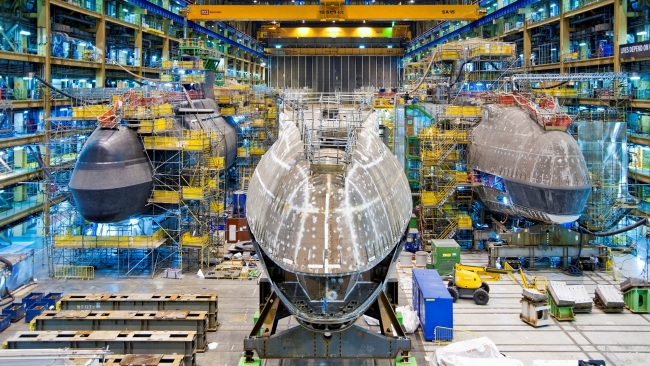 BAE Systems has been awarded a £1.5bn contract for delivery of the seventh Astute class submarine and a further £900m for the next phase of the Dreadnought submarine programme. The Secretary of State for Defence, Gavin Williamson, announced the contracts during a visit to the company's submarine site in Barrow-in-Furness, Cumbria. He also formally opened a new state-of-the-art manufacturing facility, marking the latest development in a major infrastructure investment programme at the company's Barrow site. The Defence Secretary said: "This multi-billion-pound investment in our nuclear submarines shows our unwavering commitment to keeping the UK safe and secure from intensifying threats." Cliff Robson, BAE Systems Submarines Managing Director, added: "Securing this latest funding for our submarines programmes is excellent news for BAE Systems and the 8,700 people in our Submarines business, as well as our local community in Barrow and the thousands of people across our UK supply chain who help deliver these nationally important programmes for the Royal Navy. We continue to make progress on these highly complex and technical programmes and today's announcements will allow us to move forward with greater certainty and stability."
Read more
2. Industry urged to boost investment in workforce wellbeing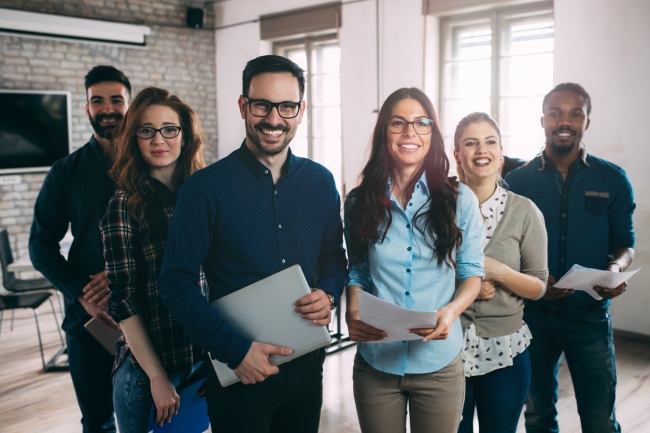 Britain's manufacturers are being urged to grasp the opportunity of greater investment in the wellbeing of their workforce and reap significant rewards of improved productivity and performance, according to a major study published by EEF and Westfield Health. The survey coincides with the launch of Mental Health Awareness Week and results show that the overall mental health and wellbeing of employees is inextricably linked to motivation, engagement and performance in the workplace. In particular, it shows that good wellbeing can bring significant benefit to those companies employing lean manufacturing processes, especially if the focus is on good mental health, resilience, autonomy and involvement at work. According to the study this can bring productivity improvements of up to 10%. By contrast, the study highlights that poor wellbeing can increase costs, reduce motivation and employee engagement and take up management time dealing with issues such as absence and occupational health costs. A significant number of companies (80%) do see improving productivity as a reason for investing in wellbeing measures, but just 8% see it as the most important reason for doing so. Furthermore, fewer than a third of companies invest in healthy living programmes for their employees, this is despite evidence showing that employees in good health are up to three times more productive.
Read more
3. Multi-million-pound expansion for Wavin UK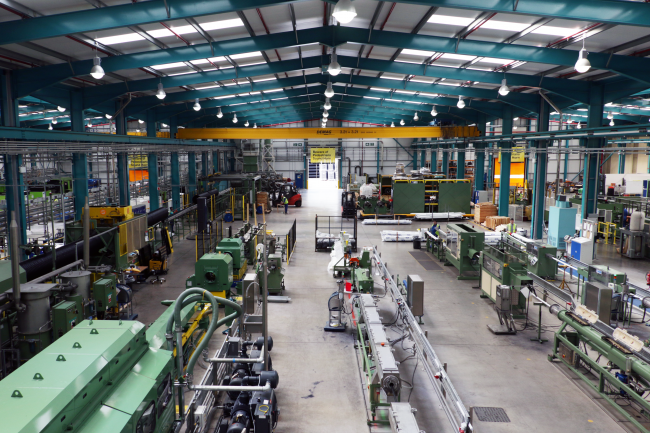 Following a multi-million pound investment by parent company Mexichem, the expansion of Wavin's Chippenham site has been officially opened by His Excellency, Ambassador for United Mexican States, Julián Ventura Valero. The development of the facility ensures that the company, UK & Ireland's leading manufacturer in water management, plastic drainage, plumbing & underfloor heating solutions, continues to remain highly responsive and competitive in a rapidly changing market. The expansion is comprised of four new bays, which will drive productivity improvements in the factory. The enhanced capabilities at the site will also enable Wavin to better respond to the changing needs of the market and its customers in a more flexible and efficient way. The development is set to create a significant number of job opportunities in the factory, yard and warehouse departments, supporting not only the long-term growth plans of the business, but also the community and local economy.
Read more
4. AMRC leads the way in Collaborative Robotics research to help SMEs transform into 'Factories of the Future'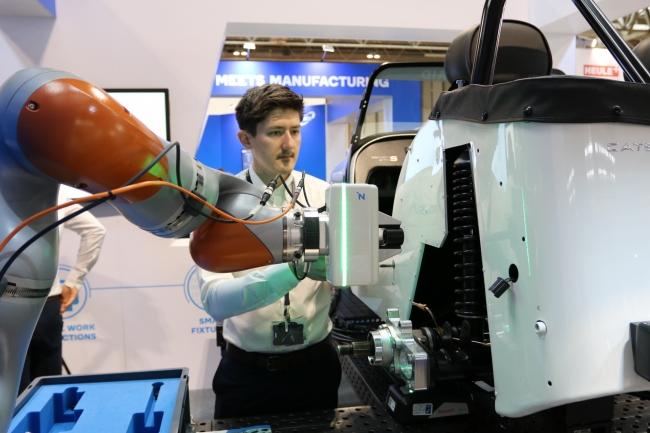 Engineers at the University of Sheffield Advanced Manufacturing Research Centre (AMRC) are leading the way in Collaborative Robotics research in a drive to help SMEs integrate the technology onto factory floors. Collaborative robots – also known as cobots – differ from conventional industrial robots in that they feature technology that allows them to operate safely alongside human workers in a shared area. Phil Kitchen has been leading on a Catapult-funded Collaborative Robotics research project for the Integrated Manufacturing Group at the AMRC's Factory 2050. The project began in May last year and completed in March this year with the aim of developing a gold standard in cobot safety that could increase confidence among SMEs to integrate the technology onto their factory floors and transform production lines by increasing the rate at which a process is done, as well as the uniformity and quality of finish on a product. Phil said: "There are a number of benefits of collaborative robotics for SMEs – improved quality, improved rate, so the rate at which they are making their products – and if they improve rate they can potentially sell more and expand, helping them to grow through the use of collaborative robotics." Phil also believes it has the capacity to significantly ramp up manufacturing production in the UK, leading to the creation of more jobs, including roles for skilled workers needed to maintain collaborative robots. Cobots are suited to any industry that involves assembly – ranging from aerospace and automotive to pick and place and inspection.
Read more
5. "Super teacher" puts 25% of his students into engineering degrees

A physics teacher from Sutton has won a £5,000 prize for his school by promoting engineering and sending a quarter of his students into engineering degrees and courses. Jamie Costello, head of science at Sutton Grammar School, has won a prize organised by the ERA Foundation (ERAF) for his "exemplar performance" in promoting engineering to school students, including running voluntary projects like designing and making an ocean drifter device and founding Sutton's branch of the Big Bang Fair, an education outreach event. "I am absolutely thrilled to win this award from the ERA Foundation," Costello said. "I have designed and built high altitude balloons, an ocean drifter, a solar storm detector, and I also run the regional Big Bang Fair for EngineeringUK in Sutton. The next one is on 13 July – which all are invited to, of course." The Big Bang Fair franchise he started recorded 1,000 visitors last year and expects the same number in July.
Read more
---
Our favourite #GBmfg & #UKmfg tweets of the week
Pilots from the reformed 617 Squadron (Dambusters) will fly the new F-35 fighter jets expected to arrive at RAF Marham in June (and the Lockheed Martin jets are more British than you may think..) https://t.co/HPw7fzFBQe #GBmfg🇬🇧 pic.twitter.com/TVT7VLOuPz

— Jefferson Group (@Jefferson_MFG) May 17, 2018
Busy start today with a large export order going to Africa.
125k of each hand run off on one progression tool at the same time. For all your Manufacturing needs pressing,mouldings, tube manipulation,welding and assembly's. #MIMFamily #ukmfg #UKManufacturing #TWP pic.twitter.com/EmjhqRsLw0

— ThreewayPressings (@threewaypress) May 16, 2018
#castingthursday at @hargreavesfndry #architectual #art and #engineering #ironcasting #ironworkthursday #madeintheuk🇬🇧 #ukmfg https://t.co/L1JVfuyajX pic.twitter.com/eT77LqNAtF

— Andy Knight (@artfoundryman) May 17, 2018
JCB awarded multi-million dollar U.S. government contract https://t.co/OnwFHAKtiE #GBmfg🇬🇧 pic.twitter.com/fVZMa2P7uq

— Jefferson Group (@Jefferson_MFG) May 15, 2018
What is #ukmfg? A great statement presented by @IfMCambridge at today's #ifmbd2018 @EEF_Insights pic.twitter.com/Ewzxc0YvR6

— Charlotte Horobin (@EEF_CHorobin) May 17, 2018
---
Recommendation roundup
Our picks of the best manufacturing and business related content that caught our attention this week.
1. Award-winning graduate engineer shares her story / via @telegraph
How can you spot whether an aircraft wing is safe without stress-testing it? Whether metal has any hairline cracks or if an engine is bearing up? This is the world of non-destructive testing: examining materials and structures without affecting their function, and former apprentice Judith Mair is a dab hand at it. After being named the Best of British Engineering at the Semta Skills Awards this year, she's also clinched Apprentice of the Year from Semta. Multi award-winning Judith Mair shares how she's working to improve diversity in engineering, and why, at just 21, she's set herself up for a strong STEM career.
Read more
2. How do great companies secure sustainable growth in a crowded market place? / via @tony_prouse
It's fascinating how Rolls Royce and Bentley have managed to carve out their own niches despite both belonging to the "luxury car market". Rolls Royce and Bentley have found viable business models. But this was not always the case. Up until the late 1980s, the cars were very much competing for the same customers, with Bentley effectively a rebadged Rolls Royce. Now, Rolls Royce and Bentley have developed their own very distinctive identities, such that their offerings now hardly overlap. As a result, they are both prospering and growing. And most importantly – competing on their own terms. So how can we secure sustainable growth in a crowded marketplace?
Read more
3. Bisto and Mr Kipling makers Premier Foods' shares boosted by sales growth / via @independent
Shares in Premier Foods, the owner of household brands such as Bisto, Mr Kipling and Hovis, rose more than 5 per cent in early trading after the group reported increased sales and profit for last year. The company said it performed ahead of expectations in terms of revenue, trading profit and debt in the year to 31 March. Revenue rose 3.6 per cent, with profit growing by 5.1 per cent, while the group shrank its debt to £496.4m from £523.2m. Premier boss Gavin Darby said the drivers of the group's positive performance were "innovation, our international business and our strategic partnerships with Nissin and Mondelez International". The group formed an alliance with Nissin in 2016 after fending off a takeover bid from US firm McCormick, and last year agreed to a five-year cake deal with Mondelez-owned Cadbury. Mr Darby also said that Premier's Batchelors brand is now the fastest growing in the company's portfolio, in a marked turnaround from three years ago when it was in decline, with sales of Super Noodles jumping past the 13 million mark last year.
Read more
---
And finally, some bonus picks to add to your reading list this weekend:
1. What Prince Harry and Meghan Markle's wedding can teach us about the economics of partying / via @ConversationUK
The cost of Prince Harry and Meghan Markle's nuptials has been estimated at £32m by one wedding planning company. The cost to the public, however, will be far less than his brother William's marriage to Catherine in 2011, largely because this brought with it a bank holiday. It can be justified, however, if the benefits outweigh the costs. For this to happen with the latest royal wedding – or any mega event that's being staged – the most important thing is that the money involved has a long-term positive impact. One of the big arguments for events is "what goes around comes around". This sums up what economists call the "multiplier effect". Take a simple example. The same company that estimates the wedding will cost £32m accounts for £26,000 being spent on sausage rolls, which will be given to the 2,640 members of the public that are attending. This will boost the profits and pay packets of the sausage roll company that's providing them. And this, in turn, will likely be poured back into the wider economy. Over a year, this £26,000 could add extra benefits totalling much more than the original outlay. So is £32m too much to spend on a party? How about £26k on sausage rolls? Here's how it could end up paying off:
Read more 
2. Ashton Kutcher's simple yet brilliant email strategy / via @thrive
Television and film actor, venture capitalist, philanthropist and producer Ashton Kutcher, considers email to be "everyone else's to-do list for you." And he has a straightforward strategy for keeping his inbox from overwhelming him. "When I wake up…I spend the first hour of my work not looking at email, and actually just writing out what it is that I want to accomplish in a given day," Kutcher said. "And then before I go through my emails, I'll do all my outgoing, outbound stuff, which is what I want everyone else to do for me. And then I'll go and get reactive to whatever's going on." Kutcher said that before he adopted this strategy, he found himself spending two hours of his morning responding to email. "It became an impossible hole to get out of, all I was doing was other people's work all day long, and I never actually got to the things that I wanted to accomplish."
Read more
Spot something you think we should see? Share with us! Email hello@zenoot.com and we may feature it in an upcoming post.