The Friday Roundup – 18/10/2019

Every Friday, we round up our top 5 most popular reads from the week, along with sharing some of our favourite finds from around the web.
This week's roundup sees the new Nissan Juke enter production in Sunderland, JCB's new electric digger secures its biggest fleet deal to date, plus Bentley Motors welcomes 93 new trainees to its Crewe headquarters.
Our top 5 most read this week
1. New Nissan Juke goes into production in Sunderland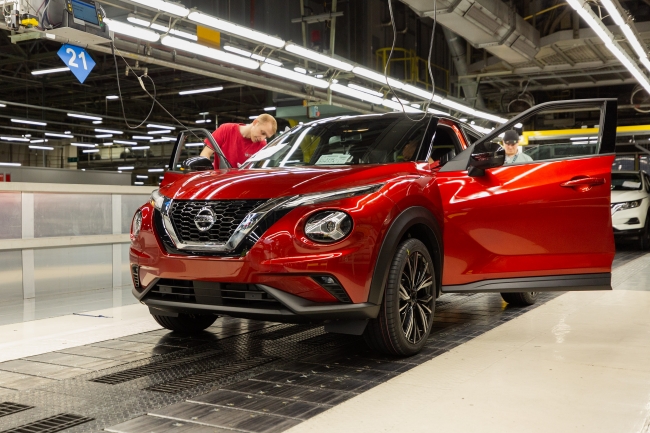 Production of the new Nissan Juke has begun at its Sunderland plant, following a £100m investment. Designed, engineered and manufactured in the UK, the new Juke has been developed specifically for European markets, with Sunderland the only production location for the second-generation compact crossover. Seventy percent of Juke production will be for the EU markets, with two thirds of its suppliers based in the EU. Its launch comes almost 10 years after the original Juke's daring styling broke the mold in the B-segment. In addition to more than 5,000 hours of training which has been delivered to the plant's highly skilled and experienced team to support the launch, the factory has required new investment upgrades to deliver the new Juke's suite of advanced technology and high levels of interior and exterior personalisation.
Read more
2. Morgan accelerates recruitment and factory site investment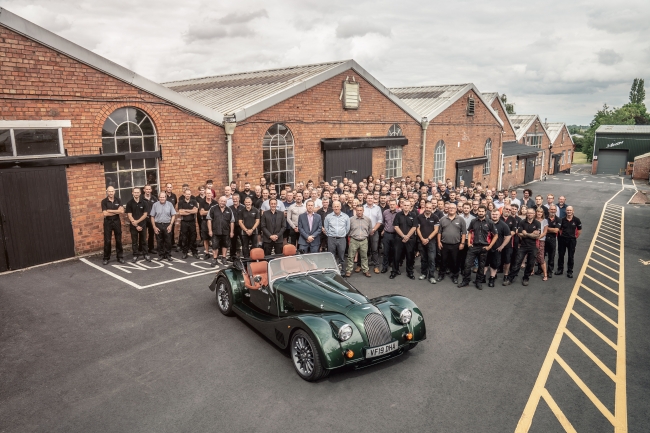 The Morgan Motor Company, which this year celebrates its 110th year in business, is driving forward with its recruitment programme and site investment, which has so far seen over 40 new roles created this year, with 10 open job vacancies currently available across various departments and levels of the business. After starting 2019 with 204 employees, the company projects a workforce of 240 by the end of the year. The increase in recruitment coincides with improvements to infrastructure at Morgan's factory in Malvern Link, which has been home to the sports car manufacturer for the last 105 years. A seven-figure sum has been set aside for continued improvements to the historic factory site, while a new Technology Centre and Visitor Centre are currently in discussion. The company currently employs 12 apprentices across a range of core craft areas as it looks to continue training and educating the next generation of craftsmen and women.
Read more
3. JCB wins order for new UK-built electric digger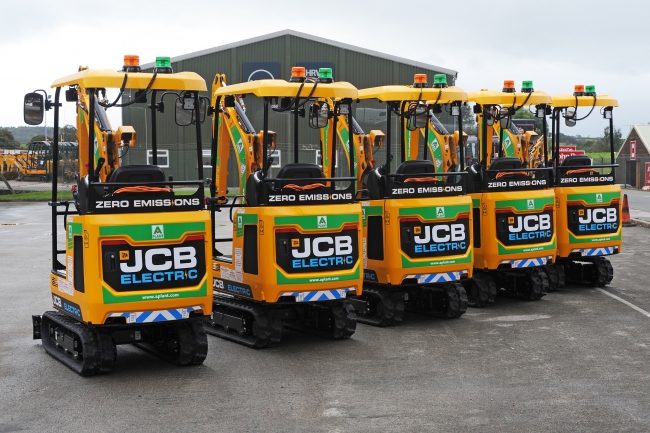 JCB has secured its biggest fleet deal to date for its brand new electric mini excavator – just weeks after going into full production. The 19C-1E models – JCB's first-ever electric diggers – are coming off the assembly line at JCB Compact Products in Cheadle, Staffordshire, with orders rolling in from customers from across Europe and North America. The company announced that A-Plant – one of the UK's leading equipment rental companies – has invested in a fleet of 10 of the electric machines in a deal worth more than £350,000. A staggering five times quieter than its diesel counterpart, the model is expected to be a big hit with companies working inside buildings and in emissions and noise-sensitive inner-city areas. Fully charged, the 19C-1E can put in a typical full day's shift for a mini excavator.
Read more
4. Mazak makes major UK factory investments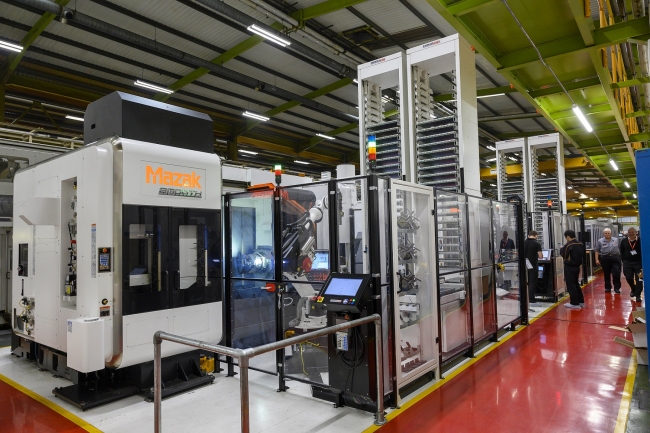 Yamazaki Mazak has made a series of major investments at its UK-based European manufacturing plant in Worcester. Driving productivity and efficiency improvements, the investments include two new state-of-the-art manufacturing cells making component parts for new Mazak machines produced at the Worcester facility. Each cell is equipped with an INTEGREX i-Series machine from Mazak's flagship Multi-Tasking solutions range, and RoboJob automation. Specifically, the RoboJob Tower automation system is designed to deliver extended periods of unmanned running from a small footprint. The 4.6m-high tower system is equipped with twin-elevator storage trays, with one feeding a robot for transferring workpieces to the machine tool, while the other allows the operator to replenish parts. An extension has also been added to the factory, creating more floorspace for the building of new machines.
Read more
5. Bentley Motors welcomes 93 new trainees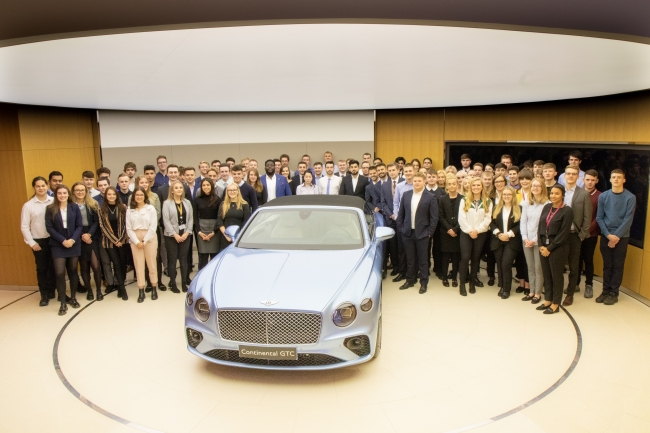 As Bentley Motors celebrates its centenary year, the company has welcomed 93 new recruits to the business, consisting of apprentices, undergraduates and graduates, who will be working across commercial areas such as sales and marketing, people and digital, finance and purchasing, as well as Bentley's long-established engineering and manufacturing departments. Of the 93 new recruits, 46 apprentices will start training at the company's headquarters in Crewe, bringing the current number of apprentices in the business to over 130. Supporting the digital transformation of the company, 16 of the 46 are focusing on future digital technologies. The additional 47 new recruits will consist of 14 graduates who will follow a two-year development programme, meanwhile, the undergraduate scheme, with 33 new recruits, will offer a 12-month development programme focused on degree students looking to complete a year out as part of their studies.
Read more
---
Our favourite #GBmfg & #UKmfg tweets of the week
UK | The wait is over! @Airbus #Apprenticeship applications in the UK are now open. Retweet if you know someone who may be interested in applying #Airbus #futureskills #careergoals pic.twitter.com/f0Kv9PmheG

— Airbus In The UK (@AirbusintheUK) 14 October 2019
🎉We're celebrating! It's been 21 years since we moved into our current #manufacturing site in Bude.

We're proud to have experienced growth & expansion during this time – watch our film to learn more! >>> https://t.co/OrOdudlcUW#UKmfg #WayBackWednesday #worksmartbott pic.twitter.com/2XciR3dawd

— bott UK (@Bott_Ltd) 16 October 2019
the #electrification of deliveries.#automotive #engineering #manufacturing #ElectricVehicles #MorrisLivesAgain A new, #sustainable slant on #ecommerce #EVs #ukmfg #GBmfghttps://t.co/b02NGv1PKG

— Ruari McCallion (@RuariJM) 15 October 2019
More than 50,000 students across the UK are expected to take part in the @Tomorrows_Eng @BigAssembly live video stream during #TEWeek19, which will showcase inspiring stories of engineers on a mission to make the world a better place. Register now. pic.twitter.com/BVPh80lpti

— Tomorrow's Engineers (@Tomorrows_Eng) 14 October 2019
Renewable electricity overtakes fossil fuels in UK for first time thanks to new offshore windfarms🥰 https://t.co/ARJkiUJlOK#renewables #ZeroCarbonTransition

— Catapult (@Catapult_UK) 14 October 2019
---
Recommendation roundup
Our picks of the business and manufacturing related content that caught our attention this week.
1. The history of the ski factory in Mittersill, Austria / via @skimagonline
The Blizzard ski factory in Mittersill, Austria, has been responsible for making some of the best-performing—and best-selling—skis of the past decade. SKI Magazine journeys deep into the Alps to find out why.
Read more
2. European automotive sector facing unprecedented change / via @TheEngineerUK
The automotive industry is facing a period of unprecedented change. Whether it be the digital revolution sweeping through every corner of industry, the environmental challenges which are becoming ever-more urgent or the emergence of new rivals from outside of the sector, there has never been a time like the one we currently find ourselves in. Bjoern Klaas, vice president and managing director of Protolabs Europe, talks to The Engineer about findings from its recent survey on the European automotive sector.
Read more
3. You're hired: Apprenticeships make comeback / via @thisismoney
Apprenticeships are making a comeback with increasing numbers of young people opting to learn while they earn, research suggests. Only half of those aged 16 to 18 see university as the best route to a career, down from 86 per cent six years ago. Attitudes among parents are also shifting, with 41 per cent saying an apprenticeship is the best option for their child.
Read more

---
And finally, some bonus picks to add to your reading list this weekend:
1. Carlsberg unveils 'world's first' paper beer bottle / via @teamdb
Carlsberg has unveiled two prototypes for what it claims is the world's first paper beer bottle. Both are made from sustainably sourced wood fibres and have an "inner barrier" allowing the bottle to hold beer. One uses a thin recycled PET polymer film barrier, while the other has a bio-based PEF polymer film barrier. The bottle forms part of Carlsberg's Together Towards Zero initiative, which includes a commitment to reach zero carbon emissions and a 30% reduction in its "full-value-chain carbon footprint" by 2030.
Read more

2. A Q&A with Beth Moses, Virgin Galactic's first ever passenger / via @CNNBusiness
Beth Moses is the first person to fly into space as a passenger aboard a commercial spacecraft. Now, it's her job to ensure the 600-plus Virgin Galactic customers who are paying up to $250,000 for the experience enjoy the ride.
Read more
Spot something you think we should see? Share with us! Email hello@zenoot.com and we may feature it in an upcoming post.