The Friday Roundup – 23/08/2019

Every Friday, we round up our top 5 most popular reads from the week, along with sharing some of our favourite finds from around the web.
This week's roundup sees JCB's first-ever electric diggers enter full production, Tangerine Confectionery invests £7.5m in its York factory, plus Diageo adds the world's first distilled non-alcoholic spirits brand to its portfolio.
Our top 5 most read this week
1. JCB's electric mini excavator goes into full production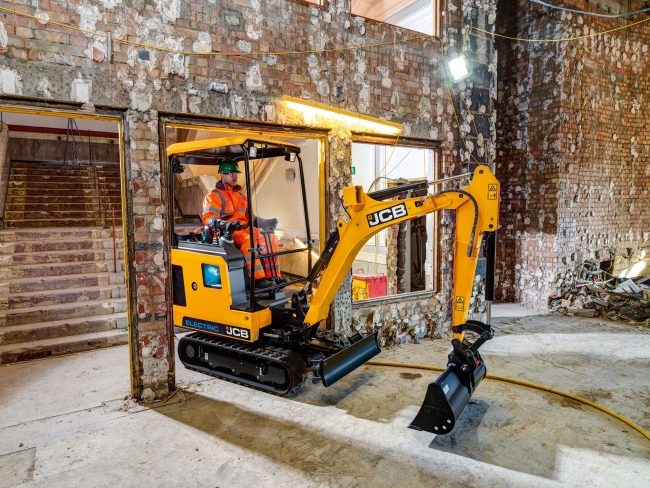 JCB has made manufacturing history by going into full production with the construction industry's first fully electric mini excavator – with more than 50 machines already delivered. The 19C-1E models – JCB's first-ever electric diggers – are now coming off the assembly line at JCB Compact Products in Cheadle, Staffordshire, with orders rolling in from customers from across Europe and North America. The machine is a staggering five times quieter than its diesel counterpart and can be fully charged in under two hours. The model is expected to be a big hit with companies working inside buildings and in emissions and noise-sensitive inner-city areas. Fully charged, the 19C-1E can put in a typical full day's shift for a mini excavator. The 19C-1E will also offer customers great cost-of-ownership benefits, with research highlighting that over the first five years, charging costs will be 50 per cent cheaper for customers who would otherwise be using red diesel. Servicing costs are also expected to be up to 70 per cent lower compared to the diesel model.
Read more
2. WMG develops new robotic measuring system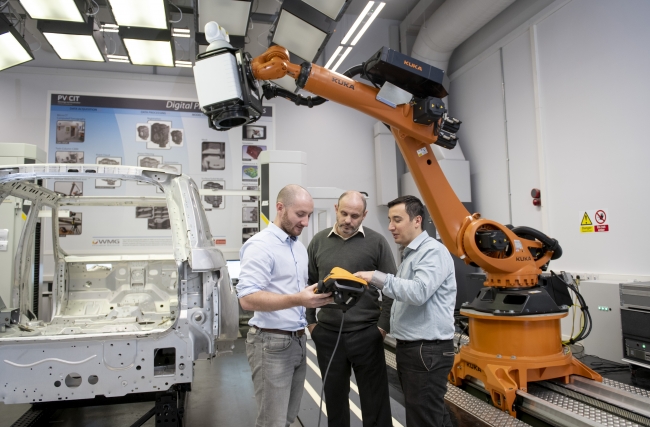 Engineers at WMG at the University of Warwick have developed and installed a new, robotic measuring system, capable of accurately and repeatedly measuring large objects on the production line, such as car body-shells, in a fraction of the time traditionally taken to measure them on co-ordinate measuring machines (CMMs). The system, installed in WMG's International Manufacturing Centre, comprises of a large long reach robotic arm – supplied by Kuka – mounted on a 5m track, and is designed to accept a range of different, non-contact measurement technologies. The Nikon Metrology's Laser Radar, which is a long stand-off laser measurement system, is the first of such technologies to be trialled. It is capable of accuracies better than a hundredth of a millimetre, over distances of several meters. The two technologies combined, offer a fast and accurate solution for automotive quality control, with particular relevance to car body-shell measurement, whether in a metrology lab or, as is becoming increasingly desirable, on the actual production line itself.
Read more
3. Kensa Group to build new factory & create new jobs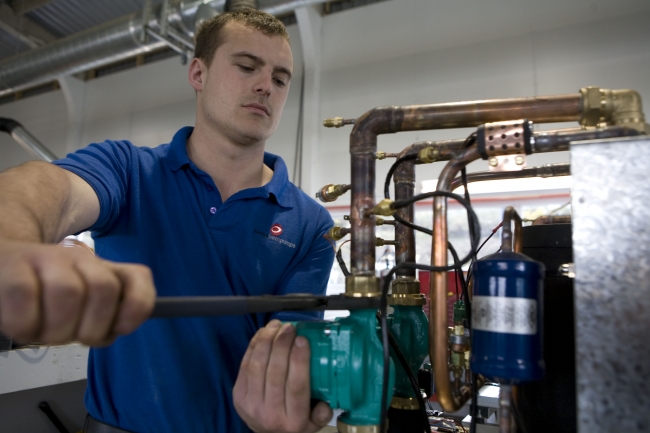 British ground source heat pump manufacturer, Kensa Heat Pumps, has commenced construction of a new 900m2 manufacturing and office facility on its current site in Cornwall. Coinciding with its 20th year anniversary, the new premises will see Kensa produce 30,000 ground source heat pumps every year, providing carbon savings equivalent to taking 60,000 cars off the road. The privately-funded expansion will make Kensa the largest low carbon business in Cornwall, providing at capacity 150 jobs. With an existing market share of near 50%, Kensa forecasts annual growth of around 50% as Government introduces regulations to outlaw the use of high carbon fossil fuels, particularly in new build housing in just six years time; ground source heat pumps offer lower-cost heat than mains gas, and are the lowest carbon heating technology. Kensa's new heat pump facilities are due for completion in January 2020.
Read more
4. Purex International invests £1m in new manufacturing facility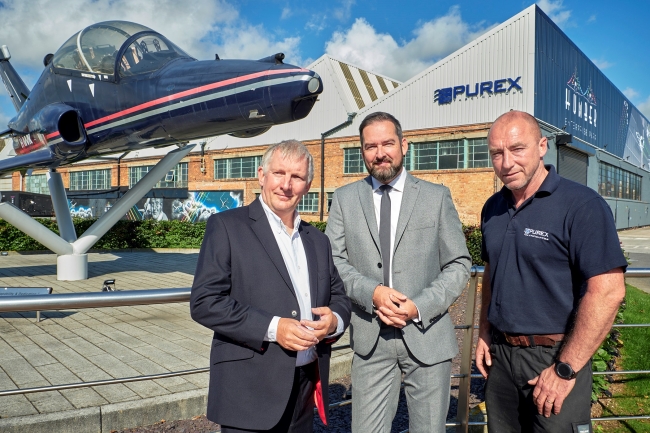 Yorkshire-based Purex International has opened a new business unit with support from Barclays to ensure the continued expansion of the business. Purex International is an established and experienced manufacturer of fume extraction systems in the laser printing and engraving, electronics, pharmaceutical and dental sectors. Barclays support includes a significant asset finance facility to support the purchase of new machinery needed for the business to manufacture the extraction cabinets in the UK. The company was formed in 2004 and quickly gained a track-record of providing good service and cemented themselves as an expert in the fume extraction field. Purex International employs over 50 people locally, including many recruited locally post redundancy. Turnover for the year is expected to exceed £12m with the business benefitting from an improved supply chain as it embeds the new manufacturing capabilities.
Read more
5. Tangerine Confectionery invests £7.5m to increase capacity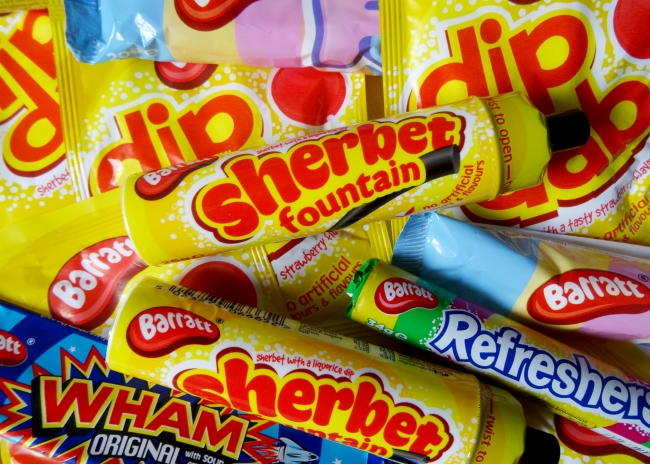 Tangerine Confectionery has invested £7.5 million into its York factory to increase production capacity by 30% and create 90 new jobs. The investment follows Valeo Food's 2018 buyout of Yorkshire-based Tangerine Confectionery – the maker of well-known sweet brands including Barratt and Henry Goode – and its subsequent merger with Leicester-based Big Bear Confectionery, to create Valeo Confectionery UK. As part of the merger, production of Big Bear's popular brands Fox's and Poppets will move to the York site, already the home of well-known sweet brands Jameson's Caramels, Coconut Ruffles and Taveners. The investment will also allow for an additional 2,000 tonnes of retailer own-brand confectionery to be produced at the factory. An additional two production lines will be created as part of the expansion, with around 90 jobs generated for the region, including roles in engineering, site management, maintenance and production. The expansion is already well underway with the new lines expected to come into operation from October 2019.
Read more
---
Our favourite #GBmfg & #UKmfg tweets of the week
Speciality chemicals manufacturer @CrodaPlc set to create 200 jobs at new £7 million global distribution hub in Goole https://t.co/AVG5w0UvRa #UKmfg #GBmfg #ExportingisGREAT🇬🇧

— Jefferson Group (@Jefferson_MFG) 19 August 2019
It's coming! @astonmartin DBX pic.twitter.com/MdIuk7dR1N

— Dr. Andy Palmer (@AndyatAston) 19 August 2019
One half of the First-of-Class Type 26, GLASGOW, is now in build, and we have just cut steel on the Second-in-Class, CARDIFF. Across our Supply Chain, we have placed contracts in excess of £1bn and have all major equipment and kit suppliers on contract. #Type26 #Cardiff #Glasgow pic.twitter.com/pa4YWRlRKD

— BAE Systems Maritime (@BAES_Maritime) 14 August 2019
Our £100 million joint investment with @DefenceHQ has completed another milestone, with the hangar doors fitted into place at @RAFLossiemouth. The hangar will be the home of UK #P8A from 2020. pic.twitter.com/cq9N9C14wm

— Boeing UK & Ireland (@BoeingUK) 15 August 2019
BAE Systems invests £90m annually in skills and at any given time, there are 2,500 apprentices & graduates in training across its UK business. This year, the British engineering giant expects to recruit 700 apprentices, a 30% increase on last year #STEM #UKmfg #GBmfg🇬🇧 pic.twitter.com/Qcow6MtnF0

— Jefferson Group (@Jefferson_MFG) August 23, 2019
---
Recommendation roundup
Our picks of the business and manufacturing related content that caught our attention this week.
1. Diageo acquires majority shareholding in Seedlip / via @Diageo_News
Diageo has announced the acquisition of a significant majority shareholding in Seedlip, the world's first distilled non-alcoholic spirits brand. Seedlip was launched by Ben Branson in 2015 to solve the dilemma of 'what to drink when you're not drinking®'. Ben set out to change the way the world drinks and continue his family's 320-year-old farming legacy. Headquartered on a farm in The Chilterns, Seedlip is the first non-alcoholic brand acquired by Diageo through Distill Ventures (a Diageo-backed accelerator programme). In the last three and a half years, Seedlip has grown from Ben's kitchen to a presence in more than 25 countries.
Read more
2. Sir Jim Ratcliffe close to deal to build new 4×4 in Bridgend factory / via @BizMattersmag
Sir Jim Ratcliffe is on the verge of striking a deal to make his new Land Rover Defender-style vehicle in South Wales, officials say. It was revealed in June that Ineos Automotive, a subsidiary of chemical producer Ineos, was considering a deal to build a new 4×4 in a plant next to Ford's Bridgend factory which is due to close next year. Now the Welsh Government says talks with Ineos about building the car in Wales are 'very advanced', raising hopes that hundreds of jobs could be created. Ineos, which plans to start production in 2021, confirmed it is 'looking for a site capable of producing at least 25,000 cars a year to an extremely high standard'.
Read more
3. How shorter workweeks could save Earth / via @BBC_Worklife
If everyone in the world consumed the same levels of fuel, food, clothes and building materials as Europeans, we would require 2.8 planet Earths. If everyone led a US lifestyle, it would require five planet Earths. Somewhere in between commuting, making money and spending money, we are undeniably living unsustainably. And just last month, 29 July became the earliest 'Earth Overshoot Day' on record: the day on which humanity's demand for ecological resources exceeds what Earth can regenerate in a year, according to Global Footprint Network, an international research organisation. But there's a novel idea that could turn this around: we work less, thus slowing down the global economy and curbing our seemingly endless appetite to consume more stuff. Is that feasible – and would it really save the world?
Read more
---
And finally, some bonus picks to add to your reading list this weekend:
1. What3words: The app that can save your life / via @BBCNews
Police have urged everyone to download a smartphone app – what3words – they say has already saved several lives. What3words essentially points to a very specific location. Its developers divided the world into 57 trillion squares, each measuring 3m by 3m (10ft by 10ft), with each having a unique, randomly assigned three-word address. It was born out of company founder Chris Sheldrick's postal-related problems growing up in rural Hertfordshire. The company started in 2013 and now employs more than 100 people at its base in Royal Oak, west London. Mongolia has adopted what3words for its postal service, while Lonely Planet's guide for the country gives three word addresses for its points of interest. Mercedes Benz has also included its system in its cars and what3words is now being used in 35 languages.
Read more
2. Swedes are switching from planes to trains — here's why / via @NBCNews
Pär Holmgren can be forgiven for looking haggard as he steps off the train in central Stockholm. After all, he's withstood a 24-hour commute from his job in Strasbourg, France — some 850 miles away from his home. Since getting elected into the European Parliament in May, Holmgren has made the gruelling round-trip journey to either Strasbourg or Brussels, the two cities where the Parliament sits, every week. "The alternative of going by plane doesn't really exist in my mind," he said. The TV personality-turned-politician is part of a growing wave of Swedes who've given up flying because of carbon emissions produced by air travel. In fact, almost 1 in 4 Swedes chose not to fly over the past year, a recent survey commissioned by the WWF Sweden conservation group has found. But while the science behind the damaging effects of flying on the global climate has been available for a while, it appears a number of factors have coalesced to create a greater awareness in Sweden over the past year.
Read more
Spot something you think we should see? Share with us! Email hello@zenoot.com and we may feature it in an upcoming post.