The Friday Roundup – 29/06/2018

Every Friday, we round up our top 5 most popular reads from the week, along with sharing some of our favourite finds from around the web.
This week's roundup includes a giant investment for Staffordshire's JCB, a look inside AkzoNobel's £100m paint factory, plus why crumpets in your local supermarket may be in short supply this weekend.
Our top 5 most read this week
1. JCB announces £50m investment in new British plant
JCB has announced an investment of more than £50 million in a new British plant which will create hundreds of jobs and double production of cabs used on its machines. Work is underway on a 350,000 sq ft facility for JCB Cab Systems adjacent to the A50 in Uttoxeter, Staffordshire, next to two existing JCB plants. The hi-tech factory will have the capacity to produce around 100,000 cabs a year. It will include a computer controlled production line, fully-automated painting facility and robotic welding and will create more than 200 new jobs by 2022. JCB CEO Graeme Macdonald said: "This new factory will be the most advanced and productive cab facility in the world and will bring even greater levels of efficiency to the business. The investment is one of the biggest in the company's history and underlines our commitment to manufacturing in Britain and in our home county of Staffordshire." JCB Cab Systems currently employs more than 400 people at its existing site in Rugeley, Staffordshire. The new plant is scheduled to open in the summer of 2019.
Read more
2. See Inside: The AkzoNobel £100m Dulux paint factory in Ashington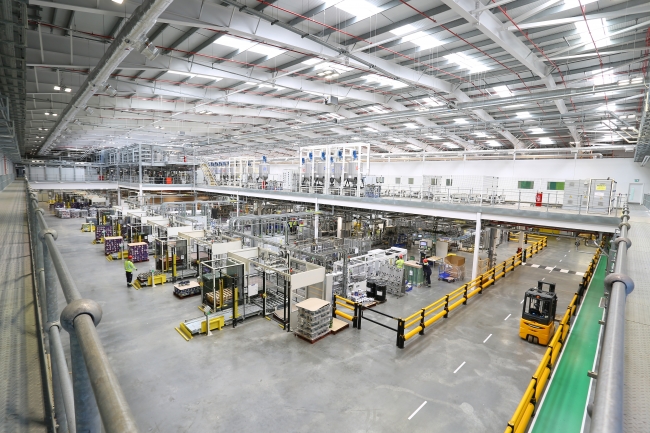 In 2017, AkzoNobel opened their new Dulux paint factory at Ashington in Northumberland. In a new feature, we take a look inside through the power of pictures and explore some of the key facts & figures behind the site.
Read more
3. Encirc invests £40m in world's largest glass container furnace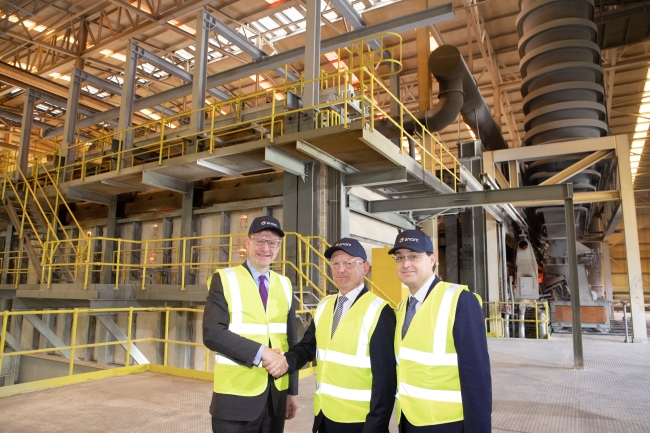 The Rt Hon Greg Clark MP – Secretary of State for Business, Energy and Industrial Strategy – has opened Encirc's record-breaking new furnace at its facility in Elton, Cheshire. During his visit to the glass container manufacturer and bottler, the Business Secretary toured Encirc's industry-leading factory, where he announced the official firing of what is now the largest glass container furnace in the world – and is expected to boost Elton's melting capacity by around 100 tonnes per day. Based out of two state-of-the-art facilities in Elton, Cheshire and Derrylin, Northern Ireland, Encirc is responsible for producing around a third of all glass containers in Britain and is considered to be the most sustainable manufacturer of its kind. The business employs more than 1,200 people and is renowned in the industry for its forward-thinking approach to sustainability and use of innovative production processes. Encirc, which is celebrating its 20th year of operation, was acquired by Spanish-based glass company, Vidrala, in 2015. Adrian Curry, Managing Director, Encirc, added: "We were delighted to welcome The Rt Hon Greg Clark to our Elton plant. At a time when some are uncertain about the outlook of UK manufacturing, the investment in our new furnace represents a very strong commitment to our future by our Spanish-based parent company."
Read more
4. New projects to harness UK's Digital Manufacturing potential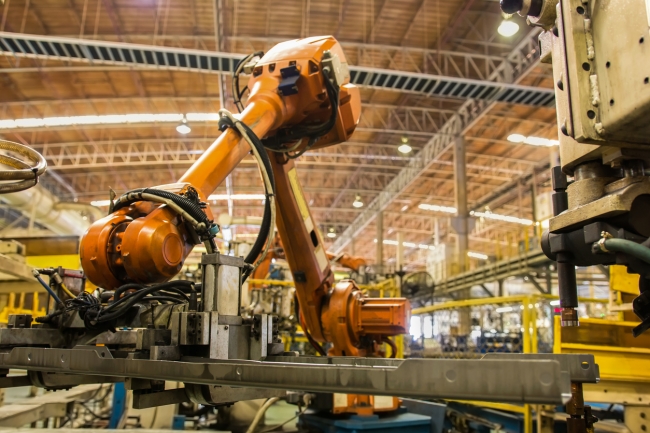 Digital, autonomous and intelligent technologies are transforming global manufacturing, and the industry-led Made Smarter review, chaired by Siemens Chief Executive Juergen Maier, stated that industrial digitalisation could be worth as much as £455 billion to UK manufacturing over the next decade. Embracing digital capabilities to transform industries across the UK economy was emphasised in the government's modern Industrial Strategy, with Artificial Intelligence (AI) being one of the Grand Challenges in which the UK can lead the world in years to come. The Engineering and Physical Sciences Research Council (EPSRC) has awarded £11.4 million to seven projects which aim to create novel digital tools, techniques and processes that will support the translation of digital capabilities into the manufacturing sector. Working with a wide range of industrial partners, the projects will tackle different challenges in this space, including the improvement of processes in the chemical and pharmaceutical industries; developing methods to capture and predict impact from the introduction of digital technologies for improved manufacturing performance; the integration of revision control in digital-physical models; and the development of low-cost digital tools for SMEs. This article looks further at the seven EPSRC projects and how they are aiming to support UK manufacturing in the years to come.
Read more
5. Strong UK aerospace growth continues

Strong aircraft order figures this year continued in May, which saw 98 orders placed, pushing the 2018 total to 567, the largest number at this point in the year since 2014. Wide-body aircraft have particularly benefited from the high-level of international demand, seeing 162 orders in the year to date. These orders – the largest number in any year by the end of May for 10 years – will provide an economic boost to the UK of up to £8bn. May also recorded 122 aircraft deliveries worth up to £2.5bn to UK industry, taking the total deliveries for 2018 so far to 528. The total puts delivery numbers four aircraft ahead of the number achieved at the end of May 2017. ADS Chief Executive Paul Everitt said: "This year is again seeing strong demand for modern, efficient aircraft from customers around the world. UK industry stands to benefit from billions of pounds worth of economic value as a result, if we can protect our hard won competitiveness through the Brexit process. The global aerospace industry is now looking ahead to next month's Farnborough International Airshow, where more than 1300 companies from all around world will gather at the most important event of the year."
Read more
---
Our favourite #GBmfg & #UKmfg tweets of the week
UK #Manufacturing contributes to £546 billion at home & abroad. 43% of the #ukmfg demand is #exports, or around £235bn (only 16% of wider #economy). #GBmfg is still sought after for quality & remains competitive in global markets. @mta_uk report here: https://t.co/oob1JiruYD pic.twitter.com/532ETOWmyq

— TomChapell (@TomChapell) 28 June 2018
Inward investment creates nearly 1,500 new jobs every week – UK is the top destination in Europe and third in the world for foreign direct investment https://t.co/0TfAEsMD8u #investment #jobs #GBmfg🇬🇧 pic.twitter.com/FJXPORcSA5

— Jefferson Group (@Jefferson_MFG) 26 June 2018
Manufacturing conglomerate Liberty Engineering and @frogbikes, the children's bicycle maker which demonstrated its commitment to UK manufacturing by re-shoring operations to Wales, were among the big winners at the Made in the UK Awards 2018. https://t.co/qzCmHREHZn #ukmfg #GBmfg pic.twitter.com/eo4I5Yw0Nu

— Made Here Now (@madeherenow) 22 June 2018
Jaguar Land Rover to increase the range of engines manufactured at its Wolverhampton factory as part of wider £20bn five-year investment programme https://t.co/mJXYgPkMpz #GBmfg🇬🇧 pic.twitter.com/vjRDS7WVlJ

— Jefferson Group (@Jefferson_MFG) 26 June 2018
Just a week left to go until our #STEM students submit their designed product for the @ExpressandStar STEM Challenge. It's been a pleasure working with these amazing minds the past 8 months and we've got our #fingerscrossed to bring home a winning trophy for them! #ukmfg #gbmfg pic.twitter.com/lK4f9hKXlC

— Petford Group Ltd (@PetfordGroupLtd) 28 June 2018
---
Recommendation roundup
Our picks of the best manufacturing and business related content that caught our attention this week.
1. Let's #SmashStereotypesToBits / via @WomanthologyUK
On Thursday 21st June 2018, ahead of International Women in Engineering Day, the Institution of Engineering and Technology (IET) launched a new campaign designed to 'smash stereotypes to bits', as new research suggests that there is still a disparity between boys and girls, as well as other demographic groups, considering a career in STEM. Jo Foster, Diversity & Inclusion Manager, oversees the IET's Women's Network, which aims to support women in engineering and inspire the next generation. In her role she is responsible for the IET Young Woman Engineer of the Year Awards, which celebrate today's most successful female engineers working in the UK, encouraging them to become role models to inspire more girls to become engineers and help address the gender imbalance in engineering and science. A poll of 13-23 year-olds conducted ahead of the campaign launch showed that just 26% of girls are considering a career in STEM compared to 43% of boys. With only 12% of young people surveyed saying that their current studying of STEM made them want to pursue it. The #SmashStereotypesToBits campaign is one of the ways that can help spread the message that engineering is a cool and recognised career choice for women and show girls they have what it takes to thrive in these roles.
Read more
2. BP buys UK's largest car charging firm Chargemaster / via @BBCNews
Oil giant BP is buying the UK's largest electric charging network, Chargemaster, for £130m. BP runs 1,200 petrol forecourts, but said earlier this year it expected renewable energy to be the fastest-growing fuel source. The move echoes one made last year by rival Shell, which bought car charging company NewMotion. All leading car manufacturers are moving into electric vehicle production. Volkswagen, the world's biggest carmaker, has said it will offer an electric version of all its 300 models by 2030. Chargemaster, which will be rebranded BP Chargemaster, currently has 6,500 charging points and also sells electric vehicle charging points for home use. For a global giant like BP, £130m is small change. But the acquisition of Chargemaster could turn out to be lucrative. Electric cars aren't yet a very common sight – but they're expected to become much more so. BP itself thinks there will be 12 million on UK roads by 2040 – and they'll need access to chargers. Meanwhile, BP has a network of 1,200 service stations – and those service stations are also retail outlets. If a third of drivers no longer need to visit them, they'll become a lot less profitable. That's why BP says a major goal of the deal is to step up the deployment of fast and ultra-fast chargers on UK forecourts. It will give those millions of drivers a reason to keep on visiting – and help keep the tills ticking over.
Read more
3. Morrisons' paper bag switch is bad for global warming, say critics / via @guardian
Damned if you do and damned if you don't for Morrisons, it seems. Experts have criticised Morrisons' decision to switch from plastic to paper bags for fruit and vegetables, branding it a retrograde step for efforts to tackle climate change. The supermarket ditched transparent plastic bags in favour of recyclable paper ones, in a move it said was prompted by customers' worries over pollution. But the step is likely to have unintended consequences and trade one environmental challenge for another. The Environment Agency found that paper carrier bags, across their lifecycle of production, use and disposal, had a greater global-warming impact than plastic ones. The agency's study found paper ones were only better than plastic if they were used four or more times, but that was unlikely due to the durability of paper bags. However, Friends of the Earth said that it welcomed Morrisons' switch and that green issues other than climate change should be factored in. Julian Kirby, a campaigner at the group, said: "The thing about climate change is because it's such a huge worry it has eclipsed other very serious environmental and health concerns, and that would include … pollution. With a paper bag, if it escapes into the environment it will biodegrade very soon. That is not the case with a plastic one." The supermarket appeared aware of the trade-off, saying it had weighed the environmental impact of paper against the potential pollution from plastic. "We have listened to customers and they are telling us that the overuse of plastic is the most important environmental issue for us to deal with," a spokesperson said.
Read more
---
And finally, some bonus picks to add to your reading list this weekend:
1. Euphoric Mexico fans search out South Korean ambassadors after Germany upset / via @independent
It may just be a game, but South Korea's win over Germany, again demonstrated the power of sports in bringing people together. Hundreds of Mexican football fans gathered outside the South Korean embassy in Mexico City on Wednesday to rejoice at South Korea's unlikely World Cup victory over the World and Confederations Cup champions, Germany. South Korea's 2-0 win against Germany – which saw two goals in the final minutes of the game – secured Mexico a spot in the knock-out stages of the World Cup, despite Sweden beating them 3-0. New York Times reporter James Wagner shared a video of the Korean consul general to Mexico, Byoung-Jin Han, revelling with Mexican fans before drinking tequila. Waving the flags of both countries and sporting sombreros, a loud group of fans partied on an old fire truck, honking its horn and pouring tequila off the roof into the open mouth of a local waiter who had come to join the celebrations. Mr Bjoung-jin, the consul general at the embassy, said, "There's no distinction between Mexicans and Koreans today. We're celebrating together." Memes were disseminated across social media including one of the Mexican and Korean flags combined as one. Mexican airline Aeromexico also announced a 20 per cent discount on its Korean flights – tweeting "we love you, Korea!"
Read more 
2. Production halted at Warburton's crumpet plants due to CO2 shortage / via @BBCNews
Crumpets have become the latest casualty of the carbon dioxide (CO2) shortage hitting the UK's food and drink industry. Warburtons, the UK's largest producer of crumpets, has halted production at two of its four plants – with the CO2 scarcity already forcing beer, fizzy drink and meat firms to curb production. Warburton's supplies 1.5 million crumpets a week to UK consumers, packaged using carbon dioxide to give them longer shelf life and prevent mould. Just one of its plants in Eastwood, Nottinghamshire has been operating normally. But plants in London and Burnley have run out of CO2 and supplies at the company's Stockton site are intermittent. "We have had quite big shortfalls," said Tearmh Taylor, a spokeswoman for Warburton's. "We're probably running at about 50% of what we can normally make," she said. Meanwhile, the British Beer and Pub Association (BBPA) said brewers were "working their socks off" to keep the beer flowing, and Scotland's biggest abattoir is closed, with other meat producers considering adapting their products to use less CO2. The shortage comes at the same time demand for food and drink is soaring. "The football, the weather, the BBQs have created the sort of demand for beer we only see at Christmas," one big UK brewing company told the BBC. When can the industry expect more supplies? The industry trade journal Gas World, which first reported the news that CO2 was running short, said that two tankers full of liquid CO2 from mainland Europe have been delivered to ports in the UK in the past couple of days. A number of European plants are beginning to increase supplies, while another factory that had closed because of technical issues rather than maintenance, is due to come back online in mid-July.
Read more
Spot something you think we should see? Share with us! Email hello@zenoot.com and we may feature it in an upcoming post.
SaveSave