3 minute read
The women breaking the mould in a male-dominated industry
Only 8% of engineering apprentices are female, continuing a trend that dominates the industry. Engineering is rewarding, well-paid and shapes the world around us. The gender gap in its workforce means that not only are women missing out on promising careers, but also that there isn't enough female talent at the forefront of an industry that builds our cities, develops our technology and solves challenges in everything from healthcare to the environment.
But against this backdrop, a number of employers are fighting to reverse the trend, showing how a commitment to engaging with girls and young women can help them realise their potential in and industry that needs their skills. 2018 is the Year of Engineering – a government-led campaign that's bringing together more than 1,000 partners to inspire the next generation of engineers.
Here's how three Year of Engineering partners – EDF Energy, Siemens and the RAF – are challenging the status quo and leading the way in recruiting more female engineering apprentices.
EDF Energy
Last year EDF Energy saw a 14% boost to their female engineering apprenticeship intake – 35% of those who joined the scheme were women, way above the industry average. The company runs female-only workshops at special events throughout the UK and opens its visitor centres for engagement events also aimed directly at women. Through its Pretty Curious programme, they joined forces with Star Wars: The Last Jedi to inspire more girls to think about where a career in Science, Technology, Engineering and Maths (STEM) could take them.
Georgina Hines
Georgina completed a four-year engineering maintenance apprentice scheme with EDF Energy after her AS Levels, gaining experience at a nuclear power plant and on the HMS Sultan training centre. Now a permanent member of the team, Georgina says "I've always preferred to be hands-on rather than learning through lectures. I used to help my dad around the house on small DIY jobs, and loved learning new skills on the apprenticeship scheme."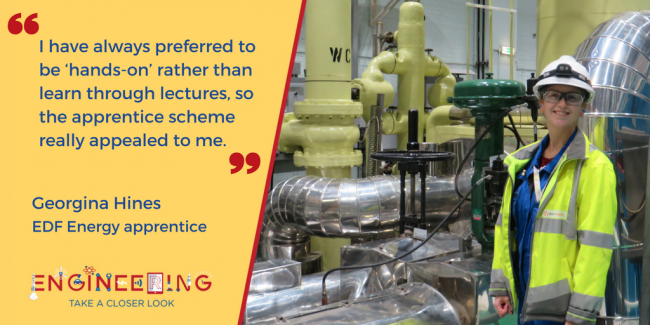 Siemens
Siemens has set a target for 20% female apprentices by 2020. Activities include running the SeeWomen careers roadshow, activities in schools, targeted recruitment focused on areas of its business with the lowest female representation, and raising the profile of its female apprentices.
Helen Brindley
Struggles with meeting A-Level Physics grades didn't stop Helen from finding a different route to her dream career. Her passion for engineering was sparked at the age of seven, inspired by her brother who studied the subject at university. By Year 10, Helen was learning CAD design at a local firm and repairing robots at Jaguar LandRover on placements. Determined not to be held back by her Physics grades, Helen was encouraged to join an apprenticeship scheme at the Siemens Finance and Commercial Academy. Helen said "My brother studied aeronautical engineering at university, and would show me drawings explaining why a change of a few millimetres in the angling of the wing meant that the plane wouldn't fly. This ignited my passion for engineering, and I was lucky that Siemens look for passion and a willingness to learn, meaning my less-than-perfect A-Level Physics score didn't hold me back."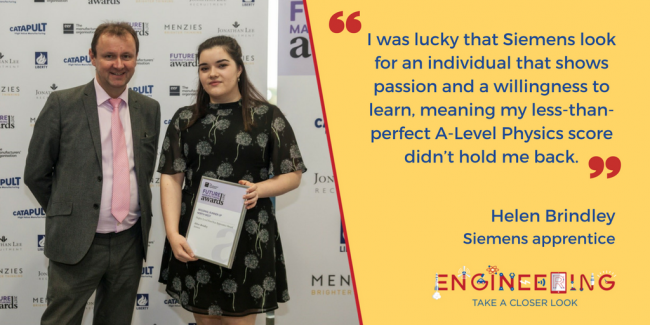 RAF
Addressing a lack of diversity in the sector has been a longstanding commitment for the RAF, which is backing the Year of Engineering as part of its centenary celebrations this summer.
The organisation has seen a significant rise in its female recruits, thanks to:
• targeted engagement with schools with strong potential among their female students
• a mentoring programme to help applicants
• aroadshow that reaches 400 schools a year with diversity and inclusion activities
Senior Aircraftwoman Megan
Megan has always had a love of aircraft, ever since childhood trips to the Imperial War Museum in Duxford. Joining the RAF after school, she did specialised training in survival equipment and now works on maintaining essential kit which keeps pilots safe when flying and in the case of accidents. As part of her role, she services everything from oxygen masks and helmets to night-vision goggles and life preservers. Her work has also given her the chance to travel to Norway and the United States.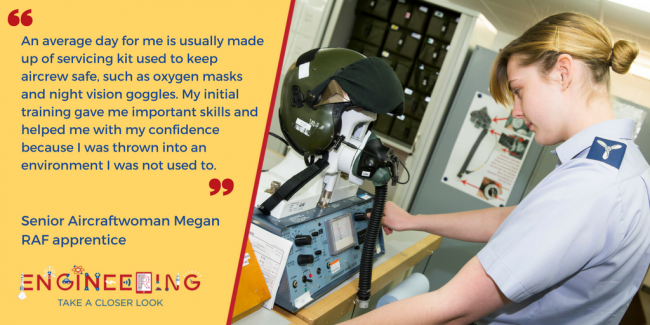 How can your business get involved?
To find out more about the Year of Engineering, visit the website or follow the campaign on Twitter and Instagram.