5 minute read with link to UKMR website
UK Manufacturing Review of 2019, outlook for 2020
The latest, 220-page edition of the annual UK Manufacturing Review (UKMR) – the Fifth annual edition – has been published and provides in-depth coverage of 14 industrial sectors, 11 regions, seven technologies and highlights 21 innovative and progressive companies; 12 under the 'Trailblazers' banner and nine who have embraced digitisation and are identified as the Future of British Manufacturing, in a section sponsored by Autodesk.
2019 was undoubtedly challenging; forecasts for 2020 and beyond are mixed; economic indicators point in different directions, depending on the activity being measured.
If there is one clear fact to emerge in reports from industry experts, reporting specialists and insiders is that, from textiles to electronics, materials to automation, food and drink to flight and pharmaceuticals, it is that UK Manufacturing is remarkably resilient, resourceful, innovative and adaptable.
Something positive to end the decade is that the uncertainty of the past few years, which has been a millstone round the neck of productive industry, is something we can now begin to emerge from. Whatever anyone's feelings about the outcome of the December 2019 General Election, it has at least installed a government with a stable majority, one that should be able to get its business through Parliament.
Sectors and Technologies
Although they are not the largest sectors, Aerospace and Automotive are the high-profile bellwethers for manufacturing, and they appear to be heading in different directions.
Aerospace finished the year with record deliveries and order books, although new orders have declined and some companies had less positive news than others.  US company Spirit Aerostructures seems to have secured the future of the Canadian-owned Bombardier Aerospace plant in Belfast, although the deal had not completed by the end of January 2020. Spirit used to be owned by Boeing; there was talk of it expanding its presence in Sheffield. The wings from Belfast are destined for what is now the Airbus A220, which is made in Quebec, Canada, and Alabama, USA.
Earlier in the year, outgoing Airbus CEO Tom Enders warned that the company might pull out of post-Brexit Britain; it ended with reassurance from new chief Guillaume Faury, who welcomed the Withdrawal Agreement and talked of expansion.
By contrast, Professor David Bailey of Birmingham Business School reported on an automotive sector suffering the effect of a 'triple whammy' of declining sales in China, the world's largest car market; a massive shift away from diesels in the wake of the VW 'Dieselgate' scandal; and Brexit uncertainty.
The shift towards hybrid and electric vehicles (EV) has thrown the entire industry into turmoil. The positive side has seen Jaguar's highly-regarded iPace EV grow to 10% of its sales, from a standing start. EVs generally saw their market share rise to over 10% of monthly sales towards the year end. However, UK investment in electric production capacity, especially battery production, is lagging competitor countries.
Both sectors have initiatives in place to address the key issues of productivity and technological advance. Sharing in Growth is a £240 million, aerospace industry-led programme that has already benefited over 60 companies and secured more than £4.4bn of contracts. In the auto sector, UK investment in electric production capacity, especially battery production, is lagging competitor countries; Tony Harper, Faraday Battery Challenge Director, UK Research and Innovation, explains the challenges of the switch to EV and ways in which the government and industry are dealing with them.
The largest manufacturing sector is Food and Drink, which demonstrated its capacity to surprise with some remarkable innovations. The biggest story is the explosion of interest in, and catering for, veganism. High street bakery favourite Gregg's rocked the market with the launch of a meat-free sausage roll. It was immediately a hit and was quickly followed with a meat-free steak slice. Other non-meat options are to follow.
Elsewhere in the book, experts and specialists report on the UK's steel industry (which had a year to forget); a recovering Leisure Marine sector; the Life Sciences Industrial Strategy in pharmaceuticals, which aims to tap the UK's strength in academic research in fields such as biology and chemical and bio-engineering and to keep innovative manufacturing processes on home soil and thereby capture maximum value. UKMR also covers rail, electronics, advanced materials, textiles, energy, and the low profile but world-class space and satellites sector, and report on developments in additive manufacturing, advanced materials, metrology, 'cloud manufacturing', and robotics and automation.
A consistent theme is the need to improve, in terms of productivity, efficiency and technology.
Electronics technology cuts across all industrial sectors and is at the heart of changes in Industry 4.0, Connected Autonomous Vehicles, Collaborative Robots and Test & Measurement Systems. Collaborating with other technology suppliers is a key theme in the current electronics and electrical manufacturing landscape.
This year's UKMR carries a special, 10-page section on the Future of British Manufacturing Initiative (FoBMI). It describes the achievements of nine companies, ranging from small, family owned organisations to a global electronics firm, which have improved their performance through embracing digitisation.
In parallel, under the heading of Trailblazers, UKMR celebrates a selection of companies who demonstrate that the British legacy of innovation is alive and kicking.
Regions
How the ebbs and flows of manufacturing impact upon the different nations and regions of the UK is covered in depth, by reporters very familiar with the areas. One issue that raises itself is the resurgence of manufacturing in London and the South-East. It's not just a financial services centre; while high land values squeezed out traditional manufacturing, high added value activities, from electronics to food and drink and other skills-heavy activities have seen it return to a leading position in productive activities.
Whatever the activity, whatever the issue, wherever it is happening, the UK Manufacturing Review has it covered.
For more analysis of 2019 and forecasts for this year, visit the UK Manufacturing Review website by clicking the link below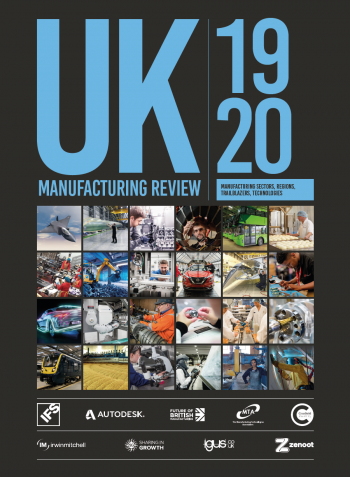 ---
This content is copyright of Zenoot Ltd and its originator. You can use extracts, share or link to this page and you may draw the attention of others to content posted on our site. Bulk copying of text is not permitted. You can view our Terms of Use here.