The best of British manufacturing | June 2019
Each month we summarise the very best of British manufacturing by showcasing the most popular content featured on our site during the previous month. An even more convenient way to read the best news and insight from the manufacturing sector.
Don't forget, you can sign up to our advert-free newsletter here to keep up to date with all the positivity from across the sector each week: Love Manufacturing?
Highlights in June 2019 included:
• Wren Kitchens announcing plans for a huge £120 million investment that will create up to 1,200 new jobs
• Coventry-based NP Aerospace securing an MoD contract worth £63 million
• production starting at Aston Martin's new plant in Wales and Nissan reaching a record-breaking milestone of its ten millionth vehicle manufactured in the UK
• a fruitful Paris Air Show that could lead to £8 billion of value to the UK if all commitments and intent agreements are confirmed
•  FDF confirmed that British food & drink exports saw the biggest Q1 on record
• £11 million investment announcements from both GKN Aerospace and AMC Group
• BAE Systems released a white paper on skills for the digital revolution and Industry 4.0
• Sharing in Growth announced its competitiveness programme has, to date, helped aerospace firms to secure more than £4 billion in contracts and 7,000 jobs
• other investment news included a new £5 million announcement from Pfizer and Mondelez International investing in its R&D facility in Reading
Some fantastic highlights and thanks as always for your support, let's keep sharing the positivity.
Top 12 manufacturing highlights in June 2019
1. Ten millionth vehicle built at Nissan Sunderland plant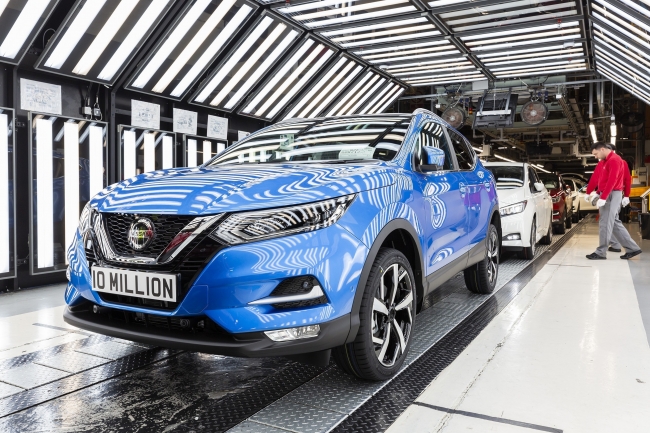 Nissan Sunderland is celebrating another record-breaking milestone as the ten millionth vehicle rolls off the production line. It has taken the plant 33 years to reach the ten million mark – making it the fastest car factory in the UK to the landmark figure. It also means that, on average, a new car has been built in Sunderland every two minutes since production started in 1986. The ten millionth car was a Vivid Blue Nissan Qashqai Tekna, complete with ProPILOT technology, which controls the steering, acceleration and braking in a single lane on highways during heavy traffic congestion and high-speed cruising. The pioneering crossover is also the most produced model at the plant, contributing more than 3.4 million to the overall figure. Micra is the second most produced car, with close to 2.4 million being built in Sunderland.
Read more
2. Production starts at new Aston Martin factory in Wales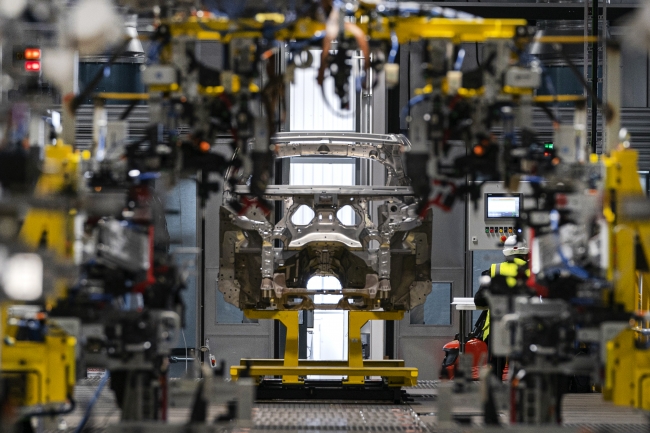 Aston Martin Lagonda's second UK manufacturing plant has started to produce cars, as the latest pre-production models of the luxury British carmaker's first SUV, the Aston Martin DBX, are built. The 90-acre former Ministry of Defence site at St Athan in Wales was announced as the second UK plant for Aston Martin Lagonda in early 2016 and since then the whole site, including three 'Super Hangars', has been transformed into a modern manufacturing facility for hand-crafted British cars. Forming part of Aston Martin's continued investment in the UK, the opening of St Athan has so far created 200 jobs and is expected to create up to 550 more. St Athan will be the sole production facility for the Aston Martin DBX. Andy Palmer, Aston Martin Lagonda President and Group CEO, said: "This is an exciting time for Aston Martin Lagonda. Our second luxury manufacturing facility is now producing cars and is ready to go into full production in H1 2020." The Aston Martin DBX will be unveiled at the end of 2019.
Read more
3. BAE Systems calls for nationwide effort to develop skills for Industry 4.0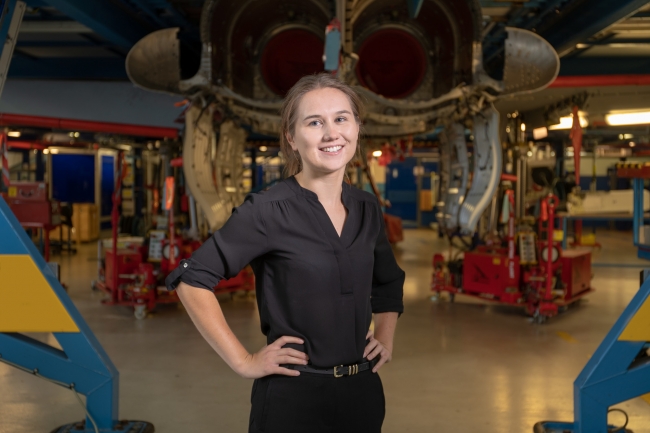 BAE Systems has called for a concerted and co-ordinated effort by industry, government and the education sector to ensure the UK can fully benefit from the digital revolution and Industry 4.0. Nigel Whitehead, Chief Technology Officer at BAE Systems, stated that defence, aerospace, engineering and manufacturing sectors need to work together and prioritise investment in digital and 'soft skills', upskilling and retraining, and supporting supply chains and SMEs to respond to the expected levels of complexity in industrial and business systems and unprecedented demand from technologies such as artificial intelligence. In its white paper – 'Future Skills for our UK Business' – BAE Systems sets out six guiding principles for the development of skills in the UK in an environment of rapid technological change and fierce global competition. The whitepaper can be downloaded on the link below. BAE Systems invests £90m annually in skills in the UK, providing world-class training facilities for its employees and education to ensure its current and future workforce are trained to the highest standards. At any given time, there are approximately 2,500 apprentices and graduates in training across its UK business.
Read more
4. Wren Kitchens announces plan for new £120m manufacturing facility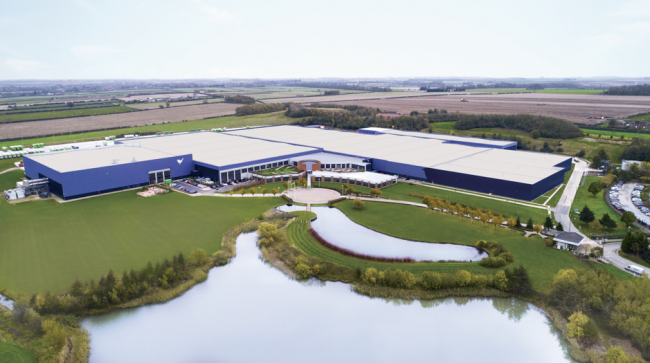 Wren Kitchens has announced plan to create up to 1,200 new jobs at its Barton-upon-Humber headquarters as it prepares to invest over £120 million in its fourth manufacturing facility in the Humber region. The firm is submitting a planning application for a new 910,000 sq. ft. facility to be built behind the existing factory on part of its 180-acre site. More than 1,500 people are currently employed at its headquarters in Barton, with another 1,000 employed at its sites in Scunthorpe, Howden and in Hull.
Read More
5. Aerospace sector remains strong after fruitful Paris Air Show
Aircraft deliveries in 2019 remain close to the rate set in a record 2018, with a total of 515 deliveries to the end of May, just 13 behind last year. The value to the UK of these deliveries is estimated at between £10bn and £11.5bn, helped by 11 more higher value wide-body aircraft being delivered in May 2019 compared to 2018. The order backlog at the end of May fell below 14,000 aircraft for the first time in 18 months, but at 13,828, these will be worth an estimated £214bn to the UK aerospace industry as these aircraft are manufactured in coming years. Last week saw the global aerospace industry come together for the Paris Air Show, with more than 70 UK companies exhibiting. Manufacturers announced orders, commitments and intent agreements for 861 new aircraft across the single aisle, wide-body, regional aircraft and turboprop categories. These could be worth up to £8bn to the UK if all commitments and intent agreements are confirmed, while 115 firm orders are expected to be worth £1.2bn to £1.4bn.
Read more
6. GKN Aerospace announces £11m investment in Cowes site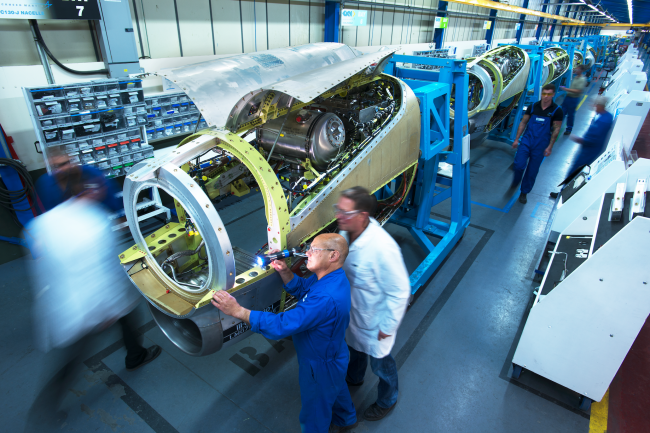 GKN Aerospace, the largest private employer on the Isle of Wight, has announced an £11m investment in its Cowes facility over the next two years. The investment will enhance the site's position as a Centre of Excellence for advanced composite structures, with a focus on automated manufacturing processes, high volume and complex products, across both commercial aerospace and strategic military work. The site has been a fixture on the Isle of Wight for 100 years and it has been owned by GKN Aerospace for the past 25 years. This new investment in buildings and layout, smart technologies and engineering equipment represent a significant commitment to remain on the Island for decades to come. GKN Aerospace also confirmed that it will transform its Composite Research Centre (CRC) on the Island into a Technology Insertion Centre (TIC) for the Cowes site, in order to speed up the time from technology breakthroughs to high-rate production.
Read more
7. British food & drink exports see biggest Q1 on record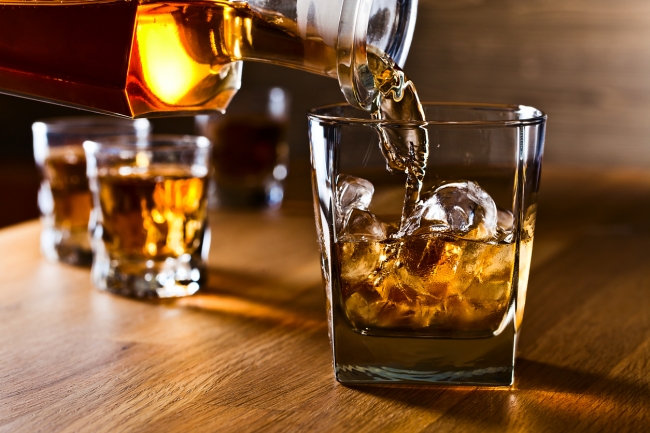 Published analysis from the Food and Drink Federation (FDF) shows that in Q1 2019, food and drink exports increased by 10.7% to £5.8bn, almost twice the growth rate of Q1 2018 and the biggest first-quarter sales value on record. Growth of more than 20% was recorded in six of the UK's top 20 food and drink export markets, with Japan recording the highest growth rate at 52.5%. Exports of all of the top 10 products increased by value in Q1 2019, the strongest being salmon with growth of 40.9%. Over the past 10 years, UK branded goods exports have increased by 110%. In Q1 2019, exports to the Netherlands (13.5%) grew the quickest out of the top five markets for branded goods. FDF's industry ambition is to grow exports of branded food and non-alcoholic drink by a third, from a 2014 baseline, to reach £6bn by 2020. Sales to Saudi Arabia rose by 198% from Q1 2009 to Q1 2019. Between January and March 2019, exports grew by 28.6%, moving the country into the UK's top 20 exports markets. Saudi Arabia was also the 11th biggest buyer of UK branded goods, recording growth of 82%, driven by exports of breakfast cereals, chocolate and sweet biscuits.
Read more
8. NP Aerospace secures £63m MoD contract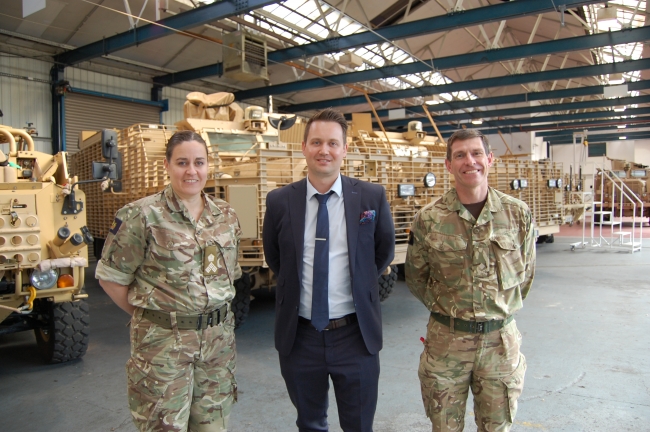 NP Aerospace, a leading armour technology manufacturer and vehicle integrator, has been awarded a major UK Ministry of Defence contract worth £63m. The contract, known as PMETS (Protected Mobility Engineering & Technical Support) covers the MoD's fleet of 2,200 Protected Mobility Vehicles until 2024. The vehicles covered under the contract include the Mastiff, Wolfhound, Ridgback, Buffalo, Choker, RODET, Foxhound, Jackal, Coyote and Husky. The contract will support approximately 100 jobs in Coventry and 250 jobs across the UK supply chain until 2024. A further 50 jobs will be created at NP Aerospace's HQ in Foleshill and associated suppliers and contractors. NP Aerospace has years of experience leading complex military vehicle integrations, robust testing and battlefield certification, together with class-leading capability in composite armour. The company designed, manufactured and installed the full multi-hit CAMAC™ platform armour for the Mastiff, Wolfhound, Ridgback and Buffalo vehicles used to protect army staff on UK MoD operations.
Read more
9. New £11m AMC Group production facility creates 100 jobs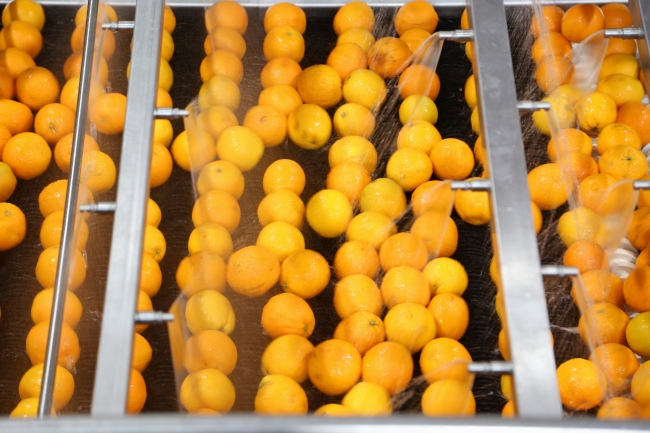 AMC Group has unveiled its first purpose-built factory for freshly-squeezed juice and a variety of plant-based and free-from products in Skelmersdale, Lancashire. The new 55,000m² site has created over 100 jobs and aims to supply the growing demand for healthier food options. Build on the £11 million facility started in February 2018 and production of dairy-free products, baby food and soups started in August last year. The new juice facility, which has the capability to provide the whole of the UK with freshly-squeezed juice, came online in April 2019, with the bespoke plant able to squeeze 960 oranges per minute, delivering 50% of the fruit weight as juice via six juice extractors. Now fully operational, AMC Group has secured Sainsbury's as its first customer for freshly-squeezed juice and has just started production of a number of premium lemonades for Waitrose's Truly Scrumptious summer range. In addition to juice, the site is producing dairy-free and allergen-free yoghurt for Rebel Kitchen, and healthy, plant-based soups for brands including Bol. AMC Group is based in Spain and has sites across 50 countries including the UK.
Read more
10. Pfizer to invest £5m to grow manufacturing capabilities in Kent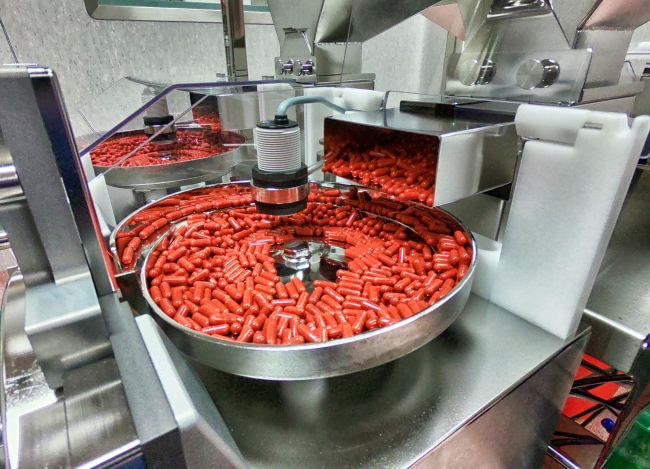 Pfizer has announced a £5 million investment in its Discovery Park site in Sandwich, Kent, which will enhance Pfizer's patient-centric design and manufacturing capability for paediatric medicines in clinical trials. The sum will cover the cost of a highly-specialised novel manufacturing technology enabling scientists to explore innovative ways to make medicines more palatable with flexible dosing for children. This investment is the latest in a series of investments Pfizer has made in advanced manufacturing technology at its site in Sandwich, totalling £36 million since 2018 and leading to renewed growth and 80 new scientific jobs. The local economy is also set to benefit. An additional £5 million of funding has been unlocked from Kent County Council through the East Kent Growth Fund which was established in 2012 to help investors grow businesses and create new jobs in the area. At the site, the Pharmaceutical Science group is home to Pfizer's only small molecule pilot plant that manufactures medicines for use in clinical trials worldwide. In addition, the Regulatory Submissions hub supports 50% of Pfizer's global submissions to 175 countries.
Read more
11. Sharing in Growth nets more than £4 billion for UK aerospace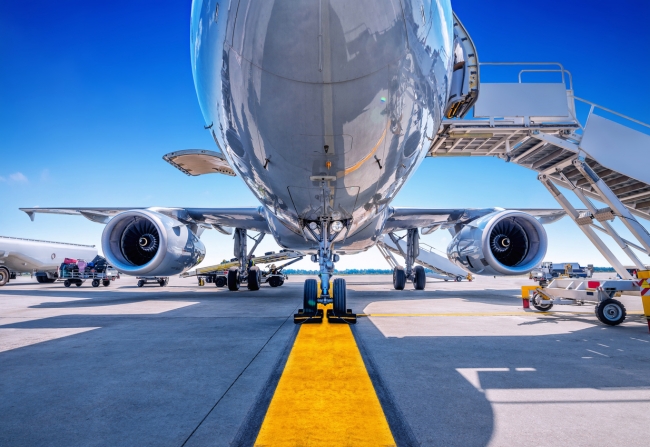 Sharing in Growth has announced that its competitiveness programme has helped UK aerospace manufacturers and engineering businesses to secure more than £4 billion in contracts and 7,000 jobs. The announcement was made ahead of the International Paris Airshow where more than 50% of the programme's 60 beneficiaries will be pursuing even more business and export opportunities. Minister for Business and Industry, Andrew Stephenson MP, said: "Sharing in Growth is helping the UK advanced manufacturing supply chain compete on the world stage, creating high value jobs and helping companies grow by five times the industry average." A not-for-profit organisation, Sharing in Growth is supported by the Regional Growth Fund and by more than £150 million in private investment. Among those taking their competitive offer to the Paris Airshow are CW Fletcher of Sheffield, Cumbria-based Oxley Group, and JJ Churchill of Market Bosworth, Leicestershire.
Read more
12. Mondelez invests £4.7m at its R&D Centre in Reading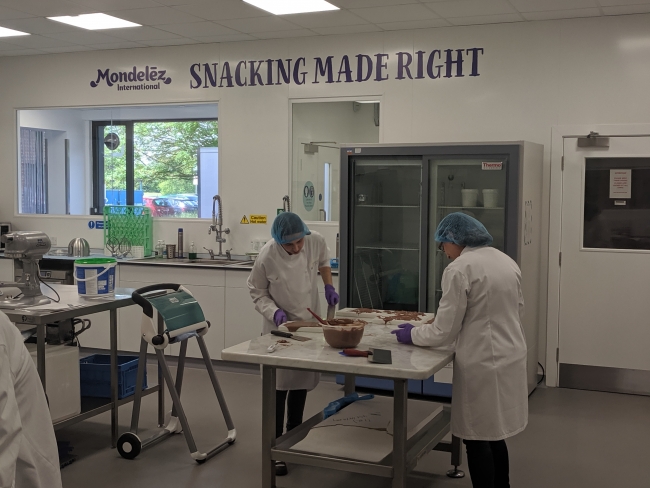 Mondelez International, the manufacturer of brands including Cadbury Dairy Milk, Green & Black's, OREO, Maynards Bassets, Trebor and Ritz, is investing £4.7 million into its UK food research and development programme. The investment at the company's Reading Science Centre will support the development of new and improved chocolate, biscuit and candy products for over 150 different countries. The Reading Science Centre is currently home to over 290 scientists, chemists, food technologists and other specialists. A further 50 highly skilled food science and engineering jobs will be created over the next five years. The announcement is aligned with the company's strategy to develop a global network of state-of-the-art technical hubs strategically positioned around the world. These technical centres accelerate Mondelez growth and innovation, and helps the business to recruit, retain and develop talent across a range of science and technical disciplines.
Read more
Click the banner below to read more across our site