The Friday Roundup – 12/10/2018

Every Friday, we round up our top 5 most popular reads from the week, along with sharing some of our favourite finds from around the web.
This week's roundup includes a look inside one of Europe's leading UK-based steel manufacturers, Vauxhall Luton celebrates Vivaro milestone, plus McDonald's becomes the latest restaurant to join the fight against plastic pollution…
Our top 5 most read this week
1. Rolls Royce announces 200 new jobs at Goodwood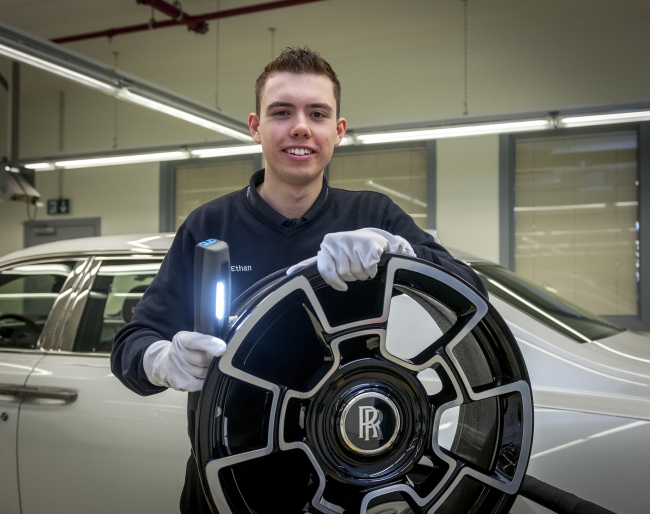 Rolls-Royce Motor Cars has announced that it is recruiting for 200 new positions, all based at the company's head office and manufacturing plant in Goodwood, West Sussex. The new roles will bring the total workforce to over 2,000 for the first time, a six-fold increase on the original total when the company first opened at Goodwood, in 2003. The new roles are available across all skilled production areas, including wood, leather, assembly, test & finish, paint and logistics. The successful applicants will undergo extensive training before hand-building the company's model family members, including Phantom, Ghost, Wraith, Dawn and Cullinan. Torsten Müller-Ötvös, CEO, Rolls-Royce Motor Cars, said, "I am delighted to announce our new recruitment programme. This reflects not only the success of Rolls-Royce Motor Cars to date, but also our confidence in the future of our business. Rolls-Royce continues to strive for long-term sustainable growth and we remain fully committed to luxury manufacturing at our home here in Great Britain."
Read more
2. See Inside: British Steel's headquarters in Scunthorpe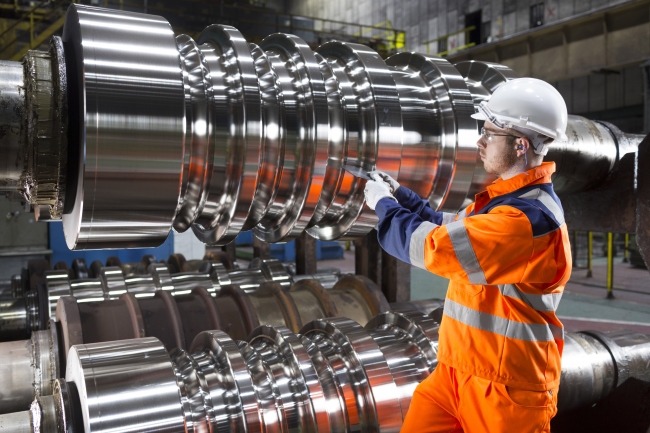 As one of the leading steel manufacturers in Europe, British Steel produces around 3 million tonnes of quality steel products every year. In the latest instalment of 'See Inside', we take a look around the plant and explore some of the key facts & figures behind the 2,000 acre site.
Read more
3. Manufacturing growth props up UK business output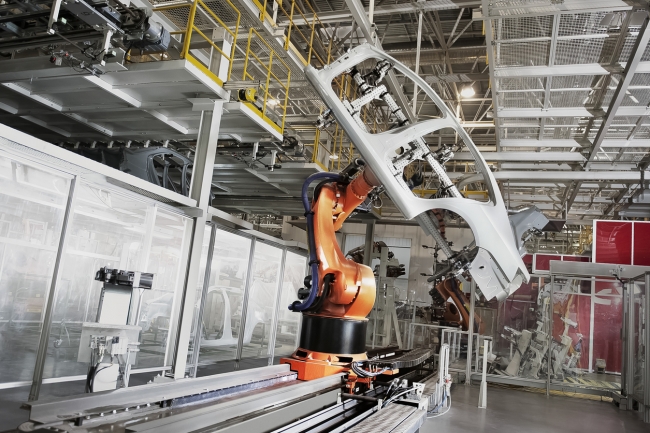 British business output growth is being propped up by the resilient performance of the manufacturing sector, according to the latest Business Trends Report by accountants and business advisors BDO LLP. BDO's Output Index, which measures UK business output growth, held steady at 97.78 points in September from 97.72 last month – a promising increase from 95.34 in July. While this remains below the long-term trend of 100, September's performance shows that UK business growth is slowly picking up despite persisting political and economic uncertainty. Having risen for a third consecutive month, increased output from the UK's manufacturing sector is the sole driving force behind this growth. BDO's Manufacturing Output Index now stands at 103.26, up from 102.06 last month and 100.16 in July. This also marks a significant uplift from last September, when growth within the sector sat 5.69 points lower at 97.57. Business optimism declined marginally in September, falling 0.06 points to 101.47. However, BDO's Optimism Index, which shows how firms expect their order books to develop in the next three to six months, still remains above the long-term growth trend of 100.
Read more
4. Vauxhall plant in Luton celebrates 250,000 Vivaro van milestone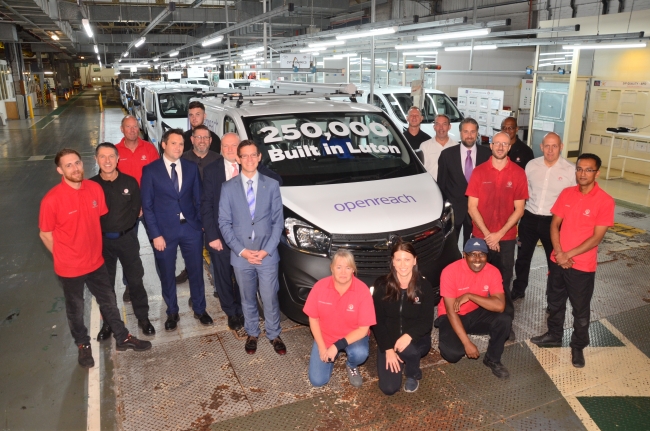 Vauxhall's manufacturing plant in Luton has built its 250,000th second generation Vivaro, since its production started in 2014. The milestone Vivaro vehicle was handed over to BT Fleet Solutions, Vauxhall's biggest Vivaro customer. Vauxhall is the UK's number one commercial vehicle manufacturer, a position it has held for 17 years, since Vivaro production first started. The total Vivaro build, including the first generation model, is 1.2 million, since production began in 2001. Of these, 274,020 Vivaros have been sold in the UK, including over 14,000 so far this year. Earlier this year, Groupe PSA, which produces vehicles under the Peugeot, Citroën, DS, Opel and Vauxhall brands, announced its plan to produce a brand new, next generation Vivaro at Luton next year. Groupe PSA's plan includes investment in the plant to increase its production capacity to 100,000 vehicles per year.
Read more
5. 80% of manufacturers agree skilled workers are important for supply chain quality

The skills shortage in UK manufacturing is causing uncertainty around the future of the industry, new research from the professional division of Miele, a manufacturer of commercial laundry and dishwashing appliances, has found. 80% of British manufacturers agree that skilled workers are the most important factor for achieving quality across the supply chain: ranking higher than technology, testing procedures and financial investment. Yet almost half of respondents said they find it difficult to develop these skills amongst their workforce, with many predicting the problem to worsen over the next five years. With access to skilled workers causing the biggest barrier to quality for one in five UK manufacturers, many are turning to in-house training rather than sourcing talent from further education. 46% of respondents said they prefer to train staff on the job rather than recruit using apprenticeships (26%) or universities (11%). You can read the full Miele Quest for Quality report on the link below:
Read more
---
Our favourite #GBmfg & #UKmfg tweets of the week
Spanish train manufacturer @TalgoGroup to create 1,000 jobs at new factory in the UK – six locations being assessed with a decision to be announced next month https://t.co/cc1J9Iyd6A #UKmfg #rail #GBmfg🇬🇧 pic.twitter.com/EpsGHRBgr0

— Jefferson Group (@Jefferson_MFG) 9 October 2018
Happy #AdaLovelaceDay! Here's to all #WomenInSTEM worldwide for being trailblazing role models – and here's our playlist of inspiring women in engineering to help you get celebrating! https://t.co/bKa85jqkec #InspireAnEngineer #ALD18 pic.twitter.com/KnpqvGYFLJ

— Year of Engineering (@YoEgovuk) 9 October 2018
Did you see about #Hyperbat? A new @WilliamsAdvEng & @UnipartMfg joint venture inspired by APC funded project H1PERBAT. The new company will be the UK's largest independent battery manufacturer, with the new Coventry facility opening in 2019. Learn more: https://t.co/mwrpuaeeF2 pic.twitter.com/CqNReYwcZq

— Advanced Propulsion Centre UK (@theapcuk) 8 October 2018
Nevermind #TheApprentice we invest in real #apprenticeships to keep our traditional #metalspinning and #metalfabrication #UKMFG skills alive. #manufacturing https://t.co/ugUCAdEz3w pic.twitter.com/w5WDNYelGa

— Shaw Metal Solutions (@ShawMetal) 10 October 2018
Ceres Power to create 60 jobs at new £7m fuel cell manufacturing plant in Redhill, Surrey https://t.co/v5794brJkG #ElectricVehicles #UKmfg #GBmfg🇬🇧 pic.twitter.com/zumNPziMvR

— Jefferson Group (@Jefferson_MFG) 8 October 2018
---
Recommendation roundup
Our picks of the best manufacturing and business related content that caught our attention this week.
1. AB InBev opens robo-warehouse in Wales / via @LogisticsManagr
AB InBev has opened an automated warehouse with space to store 23 million pints of beer at its largest UK brewery in Magor, South Wales. It plans a global roll-out of the warehouse technology, making Wales the starting point for the technology expected to cut its carbon impact. The 80,000 cubic metre warehouse will enable AB InBev to meet growing UK demand for beer brands, including Stella Artois, Budweiser, Bud Light and alcohol-free Budweiser Prohibition. Robotic cranes operating across six stories and nine miles of racking will be able to retrieve any one of the stored pallets in under 60 seconds. The technology is expected to reduce the brewery's carbon footprint by 605 tonnes of CO2 by reducing transport between warehouses.
Read more
2. The Industrial Strategy roundtable: manufacturing sustainability / via @edie
The UK Government has promised a sector-specific Industrial Strategy which will increase productivity, drive innovation-led growth, and accelerate the transition to a sustainable economy. But, in a future world that is projected to have limited resources and be 'carbon-constrained', how will the strategy translate into longer-term, concrete action? At a roundtable event held in London last month, edie and Centrica Business Solutions welcomed senior energy and sustainability leads from a spread of UK manufacturing organisations to explore what impact the Industrial Strategy has had so far on the industry, and what must happen next to ensure the strategy delivers environmental, social and economic value.
Read more
3. Ada Lovelace Day: we should never forget the first computer programmer / via @Independent
The second Tuesday of every October marks Ada Lovelace Day, a day founded in 2009 by technologist Suw Charman-Anderson, to celebrate the achievements of women in STEM careers, and was created in memory of one in particular: Ada Lovelace, the first computer programmer. It's well documented that the male-dominated STEM industries are difficult environments for women, who make up just 23 per cent of the workforce. Daughter of romantic poet Lord Byron, Lovelace was tutored in mathematics and science – subjects often forbidden for girls at the time –  at the insistence of her mother. At seventeen, she met the mathematician Charles Babbage, inventor of the mechanical calculator, who was to become her mentor. Lovelace was soon commissioned to translate a French article about Babbage's latest machine. While doing so, she went one step further, supplying her own commentary on it. She theorised that Babbage's machine had the potential to translate music, pictures and text into digital form. Her notes were respected and published in 1843, but the theory within was so revolutionary that it took over a century for it to be recognised as the first computer algorithm and Lovelace as the first computer programmer. Lovelace died, aged 36, in 1852 and has since received a multitude of posthumous accolades. In 1980, the US Department of Defence also named a computer language after her.
Read more
---
And finally, some bonus picks to add to your reading list this weekend:
1. Google+ shutting down after users' data is exposed / via @BBCNews
Google is shutting down much of its social network, Google+, after user data was left exposed. It said a bug in its software meant information that people believed was private had been accessible by third parties. Google said up to 500,000 users had been affected. Google+ was launched in 2011, quickly becoming known as a failed attempt to compete with Facebook. Now, after several years of speculation that it was going to be shut down, Google is bringing Google+ for consumers to an end. Google said it would continue to offer private Google+ powered networks for businesses currently using the software. "It has not achieved broad consumer or developer adoption, and has seen limited user interaction with apps," wrote Ben Smith, Google's vice president of engineering, in a blog post. In the past, the company had been reluctant to share data on how often Google+ was used, but now, facing the fall out of exposed data, the firm appears keen to play down its importance. "The consumer version of Google+ currently has low usage and engagement: 90% of Google+ user sessions are less than five seconds."
Read more
2. McDonald's to scrap plastic straws in UK and Ireland / via @CNNMoneySmBiz
McDonald's has joined the fight against plastic pollution by switching to paper straws at its restaurants in the UK and Ireland. The change, which will begin to take effect in September, follows trials of paper straws at select locations. McDonald's uses 1.8 million straws each day at its 1,361 restaurants in the UK and Ireland. The company said the changeover would be complete in 2019. Plastic straws are the sixth most common type of litter globally, according to Litterati, an app that identifies and maps trash. Only 1% are recycled, largely because they are made of a mixture of polypropylene and polystyrene. Several large UK restaurant chains such as Pizza Express and Wagamama have already stopped using plastic straws. And a group of more than 40 companies including Coca-Cola, Nestle, Unilever and Procter & Gamble pledged earlier this year to slash the amount of plastic they use and throw away in the UK.
Read more
Spot something you think we should see? Share with us! Email hello@zenoot.com and we may feature it in an upcoming post.