The Friday Roundup – 24/08/2018

Every Friday, we round up our top 5 most popular reads from the week, along with sharing some of our favourite finds from around the web.
This week's roundup includes a look ahead as preparatory work begins on new major manufacturing hub, apprenticeship encouragement from one award-winning female engineer, plus a glimpse inside Tesla's famous Fremont car factory…
Our top 5 most read this week
1. Work starts on £400m International Advanced Manufacturing Park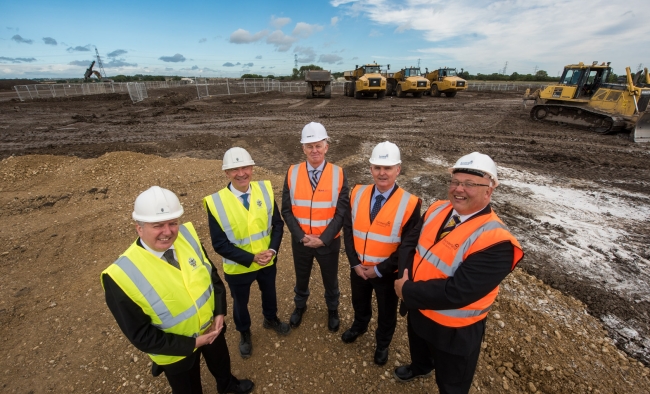 Work that will pave the way for one of the most significant national development sites at the heart of the North East is now underway. Planning permission was granted for the development of phase one of the International Advanced Manufacturing Park (IAMP) in May, and now preparatory work has started on-site, ahead of an expected announcement of a flagship investor. The IAMP is being built on a 150-hectare area of land, north of Nissan that sits between Sunderland and South Tyneside authority areas. The councils are working together, alongside development partner, Henry Boot Developments, and will move forward with phase one of the site, which will see 50 hectares of the estate transformed into a manufacturing hub, with phase two expected to follow soon after. Over the next ten to 15 years, the park will support more than £400m of private sector investment, creating over 7,000 jobs. Councillor Iain Malcolm, Leader of South Tyneside Council, said: "Over the coming weeks, people will start to see a lot more activity around the site – the first signs of what will be a truly game-changing manufacturing district. IAMP will be a world-leading advanced manufacturing hub, creating thousands of jobs, and will be truly transformational for the North East economy." Plans for the IAMP emerged after Sunderland and South Tyneside local authorities signed a City Deal agreement with the UK Government in 2015. The site has attracted more than £41m investment through the North East LEP's Local Growth Fund towards infrastructure including new roads, bridges and environmental enhancements to support the development.
Read more
2. Female engineer urges young people to consider apprenticeships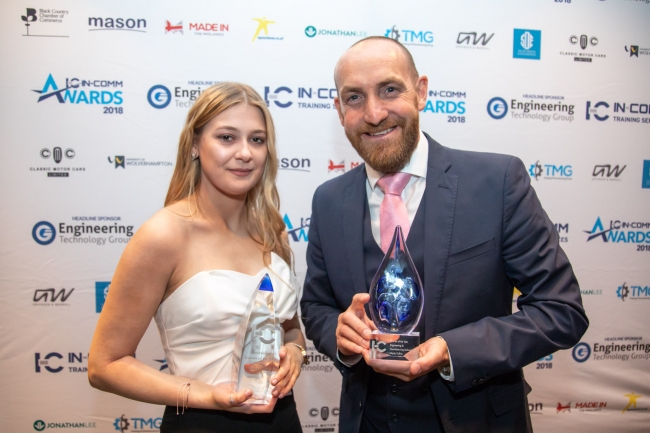 An award-winning female apprentice has urged young people to consider the vocational learning route when they receive their GCSE and A-Level results over the next week. Maria Collins, who works at the Fradley site of Birmingham-based IMI Precision Engineering, believes that apprenticeships offer school or college leavers a fantastic way to accelerate their careers and earn whilst they are learning towards a possible degree. Maria has just completed a three-year apprenticeship in Mechanical Engineering and is now setting her sights on securing a degree whilst developing her practical skills at the world leader in fluid power and motion controls. "I saw a lot of my older friends get their degrees and then struggle to find jobs so I thought I'd take a look at doing something vocational that would have a position at the end of it," explained Maria. "It has been a great decision. I'd completed some part-time work in manufacturing alongside my A-Levels, so knew that was the career I wanted and was fortunate enough to be accepted by IMI to complete an apprenticeship." Sarah Middleton, Communications Manager at IMI Precision Engineering, concluded: "We need the right people in the business and the best way of achieving this is to develop young people. We work with them to attain the skills they need and create a nurturing culture from the outset. Apprenticeships and our graduate programme are a fantastic way to achieve this, whilst balancing the age demographic across our workforce. Also the sky is the limit – a number of our senior international management team started with us as apprentices and subsequently have gone on to play a major role in the running of the global business."
Read more
3. Manufacturing output and orders remain robust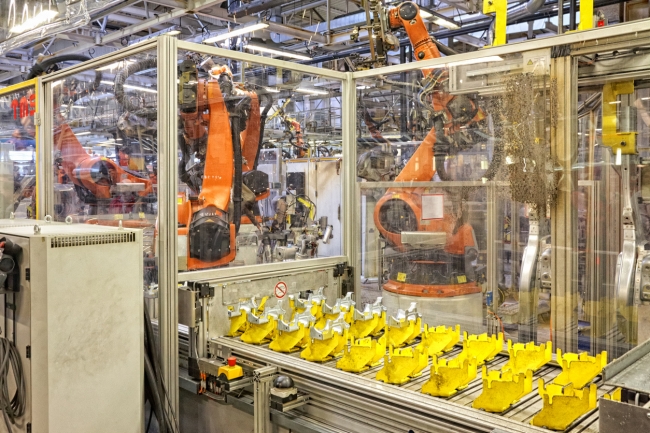 According to the latest monthly CBI Industrial Trends Survey, a survey of 379 manufacturers revealed that output growth slowed slightly in the three months to August but remained well above the long-term average. Output growth remained broad-based, with 13 out of 17 sub-sectors reporting growth, driven by the food, drink and tobacco sector. Manufacturers expect output growth to continue at a similarly firm pace over the next three months. While total order books faded slightly compared with the previous month, they were still comfortably above the long-run average. Export orders remained strong and well above the long-run average. Meanwhile, expectations for output price inflation remained steady, and broadly similar to those seen over the past six months. Anna Leach, CBI Head of Economic Intelligence, said: "Manufacturing growth remains strong, supported by the lower level of sterling and strong global economy. But risks to that growth remain high in light of international trade tensions and the uncertainty caused by Brexit. Firms will be keen to see urgent progress on the Withdrawal Agreement to lock in transition, which is crucial to continuing frictionless trade as the UK leaves the EU."
Read more
4. £7m expansion at SDC Trailers creates 50 new jobs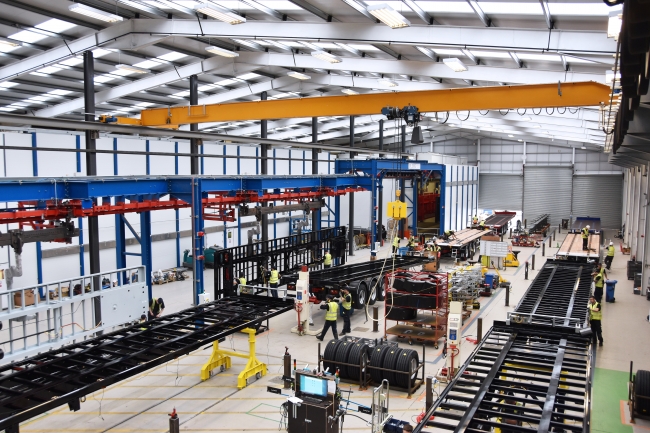 SDC Trailers has completed a £7m expansion to their manufacturing headquarters in Toomebridge, creating 50 new skilled jobs and improving production capability and output. Officially opened in August, the project has created employment opportunities for Trainee and Experienced Painters, Welders, Engineers and Material Handlers and will bring the team at SDC to over 900 people, making it one of Northern Ireland's largest private sector employers. Enda Cushnahan, CEO of SDC Trailers, said: "The opening of the new facility at Plant 1 in Toomebridge is an example of SDC's proactive strategy to meet the growing demand for innovative trailers as required by customers in markets at home and abroad. The expansion will revolutionize our manufacturing process and gives us the ability to increase output of trailers by 50% on a weekly basis." Achieving an effective ergonomics process was one of the most important objectives for Cal Carmichael, Operations Officer at SDC, he added, "Our main objective was to create the best manufacturing working environment in Northern Ireland, enhancing job satisfaction and increasing output of trailers by improving ergonomics. The new working environment now utilises 50% natural light in large open spaces and introduces technology in a new semi-automatic paint line. There is also spacious changing rooms and a subsidised canteen."
Read more
5. Thomas Dudley continues its £10m investment programme

Thomas Dudley's multi-award winning foundry has announced the installation of a new Disamatic moulding line as part of a major new investment in excess of £10 million that will see a brand-new foundry constructed alongside the existing foundry in Tipton, a stone's throw from the Dudley operation. The major investment will enable significant business benefits to be delivered to existing and prospective customers. The new moulding line will increase manufacturing capacity by 50% and castings produced will have twice the cooling time, reducing stress relief to the mould and optimising ductile iron integrity. The firm said the new Disamatic moulding facility will further enhance Thomas Dudley's capability to engineer high-quality castings to extremely tight tolerances whilst delivering higher quality and an even better service. The firm was keen to highlight that extraction and ventilation is of key importance, as air quality within a foundry needs to be of the highest standards. With this in mind, Dudley Foundry has provisioned extremely stringent procedures in place regarding its filtered air extraction, therefore a new extraction system is to be fitted throughout the foundry. Mick Cramphorn, Foundry Director at Thomas Dudley Foundry said: "We have now invested over £25million in the last 10 years in our foundry capabilities. This third new Disamatic moulding line will produce approximately 425 moulds per hour within a fully integrated facility. It gives us a competitive advantage as this investment combines safety, quality and productivity into a world-class manufacturing technological and flexible foundry solution." 
Read more
---
Our favourite #GBmfg & #UKmfg tweets of the week
A hero of British manufacturing, for twenty years this gentleman has been my rock in our tool room & today he has retired at a grand age of 65. We thank Ramesh and wish him a great retirement and good health. It's not often l have a tear in my eyes but today is one of those days. pic.twitter.com/1UKWa4dHds

— ThreewayPressings (@threewaypress) 17 August 2018
Spanish automotive trim & components manufacturer Grupo Antolin further expands in the UK with opening of new 113,000 sq ft Staffordshire factory https://t.co/rFphDQXjXi #ukmfg #GBmfg🇬🇧 pic.twitter.com/m9NSMY4OlM

— Jefferson Group (@Jefferson_MFG) 17 August 2018
New @EEF_Insights fact card: Manufacturing pay is £3,358 higher than whole economy & £4,188 higher than services, at £32,467 for #mfg – all manufacturing sub-sectors except food & drink have higher average wages than service sector https://t.co/e7Shw1uXtq #ukmfg

— Will Stirling (@WRStirling) 21 August 2018
Dyson's electric vehicle project edges closer to production as it trademarks 'Digital Motor' – the British manufacturer currently has 400 people working on the programme but is creating 300 jobs at its new Hullavington Airfield campus https://t.co/B3pcsi4PDD #ukmfg #GBmfg🇬🇧 pic.twitter.com/CmGMOO7N1a

— Jefferson Group (@Jefferson_MFG) 21 August 2018
Young people across the UK are facing some big #whatnext questions today with #gcseresultsday2018. If you know any young aspiring #engineers then why not help them explore a #ukmfg future with an #apprenticeship? https://t.co/Hco1K1rsWw pic.twitter.com/3qxgU4DE9Y

— EEF Insights (@EEF_Insights) 23 August 2018
---
Recommendation roundup
Our picks of the best manufacturing and business related content that caught our attention this week.
1. Will my grandsons ever drive a car? / via @linkedin
When automobiles first entered American roads, many pedestrians swore they were seeing horseless carriages. Now the future is driverless cars. And while US drivers do remain nervous about trying autonomous vehicles, they don't doubt that they'll soon be a reality. As Wired wrote early this year, in little more than five years, autonomous driving has gone from '"maybe possible" to "definitely possible" to "inevitable" to "how did anyone ever think this wasn't inevitable?'" As Barbara Humpton, CEO of Siemens USA explains, growing up in a small town, getting to drive my own car on open roads made the world feel bigger. Earning my driver's license was a powerful rite of passage from childhood to adulthood. But buckling my 1 and 2.5-year-old grandsons into car seats recently got me thinking: Will they ever even drive a car themselves?
Read more
2. Liam Fox to offer UK firms help to export more after Brexit / via @guardian
Liam Fox is to unveil a plan intended to increase Britain's exports after Brexit to 35% of GDP as his cabinet counterpart Dominic Raab heads to Brussels for the latest round of divorce talks with the European Union. The international trade secretary believes there are 400,000 UK businesses that could export but do not, and will try to target them with better loans, guarantees and support – and ask businesses to spell out what barriers to trade they face. The Federation of Small Businesses said the export strategy to be unveiled by Fox was "strong on aspiration", but added that support from government was urgently needed after a summer in which ministers have said the UK may need to stockpile food and medicines. Exports totalled £615.9bn last year, according to ONS statistics, with the EU accounting for £274bn, or 44%, of the total. The US was the largest single country for UK exports, followed by Germany and France.
Read more
3. Why corporate team-building events can be terrible / via @BBCNews
Nothing quite strikes fear into the heart of employees like the words "team-building event" – especially for those who have attended enough of these events to know how downright bizarre they can sometimes be, says author Alison Green, and creator of the workplace advice column Ask a Manager. Team-building events are, ostensibly, designed to boost the cohesion of a team and increase communication, co-operation, and morale. Those are all worthwhile business goals, but in practice, many such events involve things like rope-climbing courses, humiliating dance performances, and other endeavours where the connection to those business goals isn't quite clear. Often employers schedule team-building events without putting real thought into how they'll produce better results. As a result, these events can be tremendously annoying to employees and – the opposite of raising morale – they can actually lower morale, especially if they're a response to deep-rooted, problematic team dynamics that require more serious solutions. Real team building isn't about one or two events per year. Instead, it's about how a team runs, day to day. Good managers prioritise communication, co-operation, and morale year-round, not just for the duration of a team-building event. And good managers build strong teams by having people work together on projects with clear goals, clear roles, and appropriate feedback and recognition. In other words, what builds strong teams is… good management, day after day after day. That may not be as entertaining as dance performances or rope courses, but it's what works.
Read more
4. Alcohol firms would lose £13bn if drinkers in England stuck to limits / via @guardian
Revenue from alcohol sales in England would plummet by £13bn if customers complied with the recommended drinking guidelines, according to a study that condemns the drink industry's role in regulation. Academics from the Institute of Alcohol Studies (IAS) and the University of Sheffield's Alcohol Research Group say their analysis shows the scale of the conflict of interest afflicting producers and retailers and that they should not be allowed to influence government policy on risky drinking. The researchers found that if everyone stuck to the recommended limit of 14 units a week, alcohol sales revenue would decline by 38%. To claw that back they would face increasing the average price of a pint of beer in a pub by £2.64 and the average price of a bottle of spirits in supermarkets by £12.25. The researchers say such significant prices rises, which would take the cost of an average pint to £6.15 and the cost of an average bottle of spirits to £26.68, are unrealistic, meaning revenues and profits would be significantly hit.
Read more
---
And finally, some bonus picks to add to your reading list this weekend:
1. Coffee delivery drone patented by IBM / via @BBCNews
A coffee-delivering drone that can detect when people are tired and bring them a drink has been patented by technology company IBM. The patent describes a drone that can identify the "cognitive state" of office workers and lower cups of coffee on an "unspooling string". Technology companies frequently patent products even if they have no intention to sell them in the near future. IBM has not revealed whether it plans to produce the coffee drone. The patent, filed in the United States, where the process can cost thousands of dollars, describes several variations of a drink delivery drone. In one example, coffee is dispensed from the drone directly into a worker's mug. Another option describes hot drinks delivered in a sealed bag, to prevent any scalding drips. IBM suggests the drone could be equipped with technology to detect blood pressure, pupil dilation and facial expressions and judge whether people are drowsy. Alternatively, people in an office could be able to summon a cup of coffee with a hand gesture.
Read more
2. Tesla factory tour with Elon Musk / via @YouTube
Curious to see inside the much talked about Tesla factory? Tech influencer and YouTube star, Marques Brownlee, had the opportunity to visit the Tesla factory and tour the plant alongside Elon Musk. Take a glimpse inside in the video below:
Spot something you think we should see? Share with us! Email hello@zenoot.com and we may feature it in an upcoming post.