The Friday Roundup – 03/08/2018

Every Friday, we round up our top 5 most popular reads from the week, along with sharing some of our favourite finds from around the web.
This week's roundup includes a £4m UK expansion for Délifrance, new delivery records for the high-flying aerospace sector, plus a look at the official and ceremonial vehicles transporting world leaders from A-to-B…
Our top 5 most read this week
1. First half of 2018 sees aerospace sector set new record
The first half of 2018 saw a strong performance by the aerospace sector, setting new records for deliveries and the total order backlog. Deliveries have set new records for the month of June at 165 aircraft, Q2 with 383 aircraft deliveries and first half year at 693 aircraft. Engine deliveries also saw a record June and second quarter with 362 in total, an 11 per cent increase over 2017. June's figures also made this the best first six months for wide-bodied aircraft on record with 241 orders in total, a 47 per cent increase on 2017 orders. The industry sees both the largest backlog of engine orders with 26,068 on firm order and the largest backlog of aircraft orders on record with 14,327, which beats the backlog for December 2017 of 14,324. ADS Chief Executive Paul Everitt said: "It is hugely encouraging to see the continued growth in demand for new aircraft and engines. This month at Farnborough International Airshow we saw deals worth $192 billion announced helping to give the UK supply chain the confidence to invest in new capability and capacity. The UK aerospace industry is working closely with Government to ensure we remain a globally competitive location for production, research and innovation. The Aerospace Growth Partnership and the Aerospace Technology Institute are playing important roles in securing new investment, despite Brexit headwinds."
Read more
2. Délifrance expands UK factory with £4m investment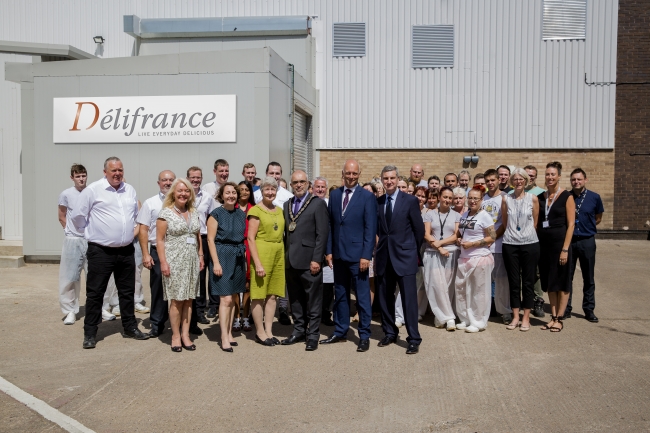 Délifrance, producer of bread, viennoiserie, pâtisserie and savoury products for the foodservice, retail and bakery sectors, has unveiled a £4 million evolution of its production facility at Wigston in Leicestershire, doubling the site's capacity. The advanced, more environmentally-friendly facility sits alongside the current Wigston site and will produce more fresh viennoiserie to accommodate growing UK consumer tastes. Délifrance has been producing a wide array of products, from frozen baguettes to fresh croissants, at its Wigston site for 20 years, but this year marks the tenth anniversary of the site's fresh viennoiserie line opening. The UK's passion for exceptional viennoiserie has grown exponentially over the past decade, leading to the need for the fresh viennoiserie production facility to expand. The production facility produces two types of viennoiserie products: thaw & serve, and fresh pre-packed. This includes a range of Délifrance favourites – croissants, pains au chocolat, pains aux raisins and chocolate twists. While thaw & serve products are more common-place across Europe, fresh pre-packed products are quite unique to the UK market. The site features a brand new finishing room, giving the experienced Délifrance team the opportunity to fill and decorate products. Eye-catching colours and product variety are two of the biggest trends of the year, and with this trend set to continue into 2019, this room gives Délifrance a competitive edge.
Read more
3. Manufacturers are boosting 4IR investments but progress needed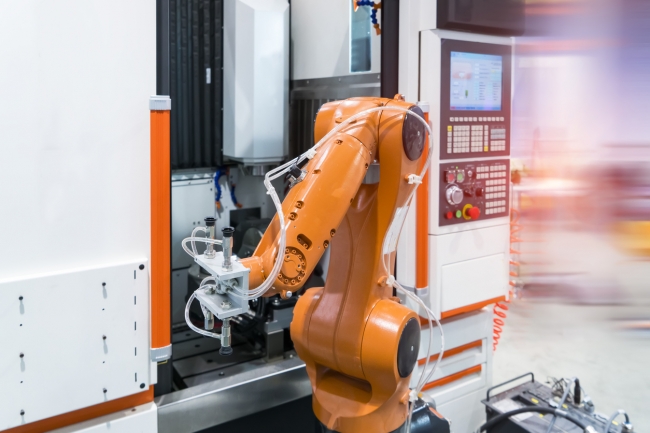 Manufacturers are boosting investment in fourth industrial revolution (4IR) technologies with new evidence that many companies have moved beyond the initial 'conception' phase and into the 'evolution' phase where they are seeing real benefits from their investments. This is according to a new EEF 4IR fact card, based on a survey of manufacturers. According to the survey, almost two thirds of companies (64%) say they are familiar with the concept of 4IR, which compares to 42% in 2016. This progress is also highlighted by the fact 43% of companies have moved beyond the initial 'conception' phase examining how 4IR may help and what others are doing, to the 'evolution' phase where current business practice is optimised with new technologies. The survey also shows the move to a more advanced form of 4IR investment for companies is seeing significant benefits being expected or realised in terms of improved labour efficiency (35%), improved machine utilisation rates (34%) and increased production flexibility (32%). You can read the full EEF 4IR fact card on the link below:
Read more
4. Strong growth for SME manufacturers as skills shortage bites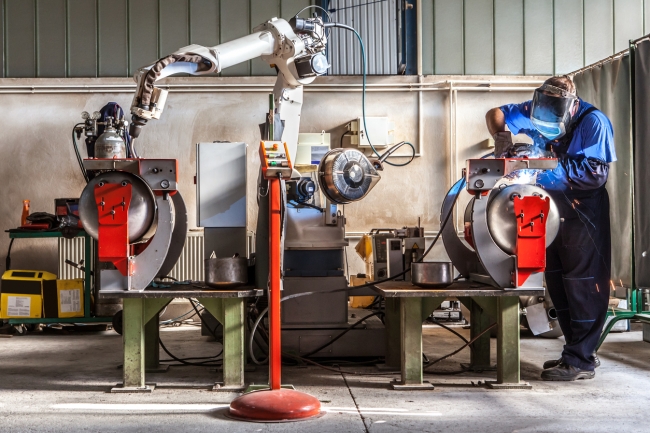 Output and new orders growth among the UK's small and medium-sized (SME) manufacturers picked up considerably in the three months to July, according to the latest quarterly CBI SME Trends Survey. The survey of 324 respondents showed that total new orders rose at their fastest pace since 1995, off the back of strong growth in both domestic and export orders – both surpassing expectations of much weaker growth. Output also rose strongly over the past three months, but SMEs expect to see a significant slowing in the pace of growth for both production and orders over the next quarter, with domestic orders expected to flatten out. Optimism about export prospects in the year ahead also rose at a much slower pace. Investment intentions were also a mixed bag. Firms expect to increase spending on plant & machinery in the year ahead, with investment plans at their strongest in the survey's history (since Oct 1988). But investment on intangible areas – product & process innovation and training and retraining – is expected to fall at a pace unseen since the financial crisis. Numbers employed grew strongly again, matching the record pace seen in the previous quarter. However, concerns over skill shortages rose, with the number of firms citing skilled labour as a factor likely to limit output rising to its highest since 1988. Pricing pressures also remained intense. Average unit costs growth remained elevated, and domestic prices also continued to rise strongly. In the face of continuing cost pressures, firms have been stockpiling, with growth in stocks of both raw materials and work in progress the fastest on record.
Read more
5. Automotive export growth seen beyond Europe

New research has revealed that three out of the top five fastest growing markets for the UK automotive sector are outside Europe. These markets include the USA, Japan and Australia, where UK exports are growing at 4.3%, 3% and 2.6% respectively. The Netherlands and Italy make up the remaining top five where exports are expected to grow at 4.3% and 2.1% per year to 2021. In all, automotive exports to these five markets were worth $17.9bn last year. The projected growth could generate an extra $677.7m a year for UK exports to 2021. Wyelands Bank, set up to help businesses trade, grow and create jobs, commissioned the research to better understand the role of imports and exports in the UK economy. The UK automotive industry is vital to the UK economy and hugely significant within UK manufacturing. The companies in the sector account for £104bn in turnover, created nearly 340,000 direct jobs and a further 814,000 in the whole sector value chain in 2017. Overall, automotive exports were worth $54.7bn in 2017, nearly half a billion more than in 2016. Looking at the regional picture for UK exports, Europe remains the UK's biggest trading partner for exports with a 46.3% share. North America is next with 17.2%, while Asia Pacific (7%), Sub-Saharan Africa (5.4%), MENA (1.8%) and South America (1.2%) follow. However, the fastest growing market is Asia Pacific, where UK exports are expected to grow at 3% a year to 2021 and South America, where this is expected to grow by around 0.5% annually until 2021.
Read more
---
Our favourite #GBmfg & #UKmfg tweets of the week
Now one of Cornwall's biggest employers, we're still creating better working environments after 40+ years. We're proud to be a British Manufacturing success story! #BritishSME #GBmfg #UKmfg #Cornwall #manufacturing 🇬🇧 https://t.co/w9KG6mKlg2 pic.twitter.com/CPkkBqsZkZ

— Bott (@Bott_Ltd) 2 August 2018
NEW FACTORY: Construction underway of automotive trim manufacturer IM Kelly's new 100,000 sq ft HQ and production facility in Kettering https://t.co/ll51LntVss #ukmfg #GBmfg🇬🇧 pic.twitter.com/8fHlWLoHz1

— Jefferson Group (@Jefferson_MFG) 28 July 2018
30 new #jobs on the way at #EastMidlands #manufacturer. Jobs expected to be created over next 12 mths, as #manufacturing work begins at @AutocraftMS Wellingborough facility. With annual turnover of £21.5m Autocraft employs over 200 people #GBmfg #ukmfg https://t.co/xgZYxgHVWS pic.twitter.com/ZhZhann1PK

— TomChapell (@TomChapell) 1 August 2018
British sports car manufacturer @ListerCars to open new HQ facility in Blackburn as part of wider £10m investment programme https://t.co/lpQ3Qw02Ws #Lancashire #ukmfg #GBmfg🇬🇧 pic.twitter.com/2dSkp0VcKf

— Jefferson Group (@Jefferson_MFG) 28 July 2018
PROJECT SWAN – our new automated rim line with robotic technology.
It's definitely worth a second look. Opening for production very soon at our Telford plant. #GKN #wheels #investment #technology #gbmfg #ukmfg
(Part 2 of 3 videos – stay tuned) pic.twitter.com/a3fpfyjm65

— GKN Wheels (@GKN_Wheels) 31 July 2018
---
Recommendation roundup
Our picks of the best manufacturing and business related content that caught our attention this week.
1. Why car designers stick with clay / via @BBC_Autos
Harley Earl, legendary vehicle stylist for General Motors from 1927 through the end of the 1950s, revolutionised the design of mass-produced automobiles by thinking of the car as a work of art — or, at least, fashion — rather than a purely utilitarian product. One of his main weapons in that revolution was clay. A sculpted model helped his clients get a feel for a proposed design in a way that sketches and diagrams simply couldn't communicate. But that was a long time ago, and modern automotive designers now have at their disposal computers, specialised design software, large-scale 3D printing, computerised milling processes, and fancy virtual reality setups. In an age when vehicle styling teams have supercomputers and virtual reality at their disposal, a venerable — and defiantly low-tech — design tool persists.  "Why clay?" laughs Joe Dehner, Head of Ram Truck and Mopar Design for Fiat Chrysler, "I asked the same question when I got here 28 years ago, yet here we are doing the same thing." Lloyd VandenBrink, modelling manager at Ford Truck Studio in Dearborn, Michigan, is a big believer, as well. "Clay has two characteristics that make it good for use. It's easy to change — you just add it, or take it away. It allows you to be creative and come up with something quickly. 3D printing, on the other hand, is just that — printing." "Secondly, it's a great collaborative tool," he continues. "Everyone can get around it, brainstorming three-dimensionally." Read more about this marvellous medium's role in the design process, and why, up to this point, they've never found anything better.
Read more
2. Six things successful women in STEM have in common / via @HarvardBiz
For years, companies, universities and nonprofits have researched the reasons why women are less likely to enter STEM fields — and why, once they enter, they face challenges that frequently push them out. In previous US research, the Center for Talent Innovation (CTI) found that women leave STEM fields in droves: 52% of highly qualified women working for science, technology, or engineering companies leave their jobs. Yet many other women have managed to build highly successful careers with degrees in STEM disciplines. How did they do it? A new research study at CTI uncovers, through a nationally representative survey of 3,212 individuals with STEM credentials, the differentiators of success for women in STEM. To understand how they do it, they examined what differentiates successful women from other women in STEM, and identified six key things. From claiming credit for your ideas, investing in peer networks and building up protégés, this article looks at six strategies that have helped women in STEM achieve success.
Read more
3. Includes video: Industry 4.0 – bringing together IoT and digital culture / via @telegraph
The buzz surrounding Industry 4.0 is omnipresent. Still, many companies are hesitant to embark on the digital transformation journey. They will be missing an opportunity, and even large firms might soon see small but fast market players pass by if they don't act soon, says Paul Mairl, chief digital officer of GKN Powder Metallurgy. GKN Powder Metallurgy started its digital journey years ago. The company serves around 3,000 customers from more than 30 manufacturing sites globally. It has more than 1,500 machines and 800 digitised measuring stations connected to its global manufacturing execution system (MES), and can display all data remotely through a visual shop-floor tool. But with dashboards and wearables increasingly entering shop floors around the world, more and better visualisation can only be the start. If people get the data but do not act on it, it is worth nothing. That is why GKN Powder Metallurgy pays a lot of attention to driving a digital culture in the organisation. "People have to trust in data first – then act on data," says Mr Mairl. A key challenge also for all companies that embark on the Industry 4.0 journey is speed of implementation. "In the past it was true that the big fish eats the small fish," says Mr Mairl. "But now we can see situations where the fast fish will eat the big-but-slow fish."
Read more
---
And finally, some bonus picks to add to your reading list this weekend:
1. The official and ceremonial vehicles of world leaders / via @VisualCap
Transporting world leaders from A-to-B is a complex endeavor, usually accomplished using motorcades, escorts, roadblocks, and all sorts of bullet and bombproof vehicles. Incorporating that level of technological sophistication into a stylish vehicle worthy of transporting any head of state is no easy task. This article and fascinating graphic looks at official state vehicles, from the unparalleled Cadillac One that transports President Trump, to the understated '87 Volkswagen Beetle driven by former Uruguayan president, Josè Mujica.
Read more
2. If you're not spending 5 hours per week learning, you're being irresponsible / via @medium
Why did the busiest person in the world, former president Barack Obama, read an hour a day while in office? Why has the best investor in history, Warren Buffett, invested 80% of his time in reading and thinking throughout his career? Why has the world's richest person, Bill Gates, read a book a week during his career? And why has he taken a yearly two-week reading vacation throughout his entire career? Why do the world's smartest and busiest people find one hour a day for deliberate learning, while others make excuses about how busy they are? The answer is simple: learning is the single best investment of our time that we can make. Or as Benjamin Franklin said, "An investment in knowledge pays the best interest." So, how do we learn the right knowledge, at the right time, and have it pay off for us? The six points explored in this article serve as a framework to help you begin to answer this question.
Read more
Spot something you think we should see? Share with us! Email hello@zenoot.com and we may feature it in an upcoming post.