The Friday Roundup – 19/10/2018

Every Friday, we round up our top 5 most popular reads from the week, along with sharing some of our favourite finds from around the web.
This week's roundup includes new investment for Pom Bear maker KP Snacks, the classic Mini makes a return to the UK, plus who should be the face of the new £50 note…?
Our top 5 most read this week
1. Camlin investing £28m to create almost 300 jobs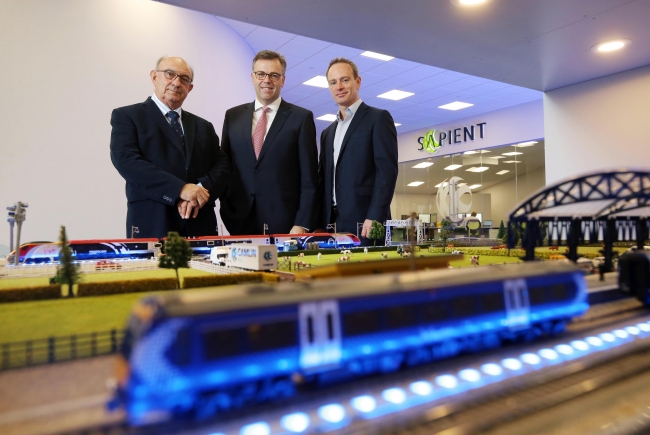 Northern Ireland based engineering business, Camlin, is creating 298 high-value jobs as part of a £28 million expansion at its Lisburn headquarters. Camlin develops and supplies innovative engineering solutions, primarily for the electricity and rail industries. Speaking at the official opening of its new state of the art factory, Invest Northern Ireland Chief Executive, Alastair Hamilton said: "Camlin is a high-tech manufacturer and this significant expansion marks an exciting chapter in the strategic growth of the business. Our offer of £5 million will support the company's multi million pound investment in R&D, skills, property and job creation. The 298 new jobs, 98 of which are already in place, will generate over £9.5 million annually in salaries to the local economy and provide skilled employment locally and across Northern Ireland." The Camlin operation spans over 21 countries across the globe and currently employs 251 people at its Lisburn site. John Cunningham, Camlin's Chief Executive added: "This major investment is part of an ambitious and strategic growth plan designed to help us increase our global sales and market presence. Innovation through new product development and training for our workforce has been a major focus for us as we work to position ourselves competitively to successfully enter new high value markets."
Read more
2. First Mini Remastered model rolls off the production line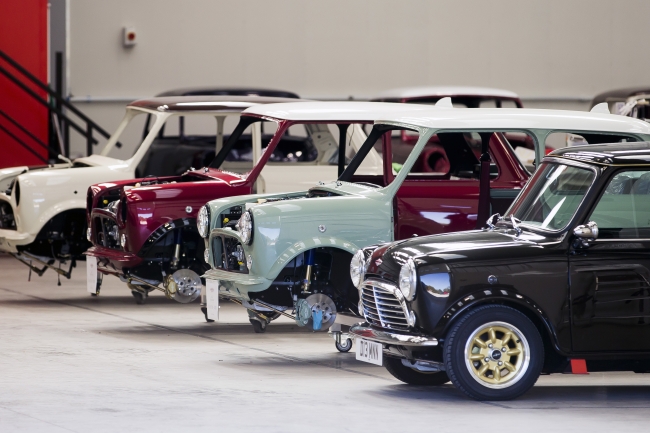 David Brown Automotive's Mini Remastered model has begun to roll off the production line at its Silverstone Park headquarters, just 18 months after the luxury niche vehicle manufacturer relocated to the high tech business estate. The much-anticipated £90,000 car is now finding its way onto roads in the UK but also mainland Europe (left-hand drive versions are available) and even as far away as the USA and Japan. Between 50 and 80 versions per year are expected to be produced inside the company's 18,000 sq ft premises, although there is already a 14 month waiting list. Mini Remastered is a modern take on the iconic Mini car first launched in the late 1950s. From a pre-2000 'donor' vehicle, David Brown Automotive has British Motor Heritage in Witney, Oxfordshire build up all new sub-frames which are then delivered to its workshops at Silverstone Park. There the car, using modern day technologies, is refined into a state-of-the-art vehicle while, crucially, it is also heavily influenced by traditional coach building techniques so as to maintain that vital authentic feel. David Brown Automotive's Sales & Marketing Director, Michelle Gay said: "We retain the vehicle's VIN (vehicle identification number) plate to preserve its classic vehicle status. The engine and gearbox remain original too and undergo remastering, but most of the other elements such as the sub-frames, suspension components, brakes, electronics and engine ancillaries are replaced with new parts."
Read more
3. KGD's £4m expansion creates 50 new jobs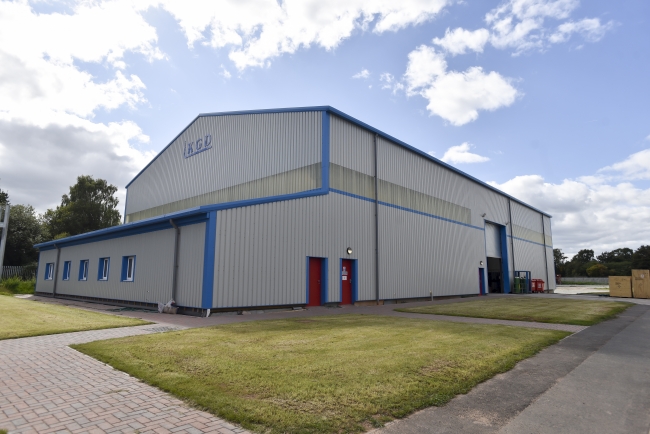 A thriving Hereford-based engineering company is creating 50 new jobs through a £4 million investment. KGD Industrial Services is developing an extra new purpose-built facility on a five-acre site at Hereford Enterprise Zone as part of a long-term expansion drive which it says will see its turnover rise to £20m over the next five years. The company, which was founded by Ken Davies in 1982 and employs 120 people, is developing a new research and development centre at Skylon Park: to consist of an assembly, testing, shot-blasting and painting plant and new offices. Mr Davies said the development – part of which is already complete – would allow the firm to undertake bigger projects for its global customer base and win contracts with new clients. Mr Davies said: "We have expanded consistently since 1982 but that has meant we are being asked to build bigger and bigger packages and we need more space. Skylon Park has given us a blank canvas to build exactly what we need, including workspace with 12 metres of headroom and overhead crane capacity of 120 tonnes. Some of our existing customers have already given us more – and bigger work – as a result of the development because they can see that we are now equipped to deal with much heavier systems." KGD's customer base includes Heineken, Special Metals Wiggin and Lucozade Ribena Suntory in this country and global industrial companies Linde, Dresser-Rand, GEA Westfalia Separator, Siemens and Ansaldo.
Read more
4. See Inside: Hitachi Rail's train factory in Newton Aycliffe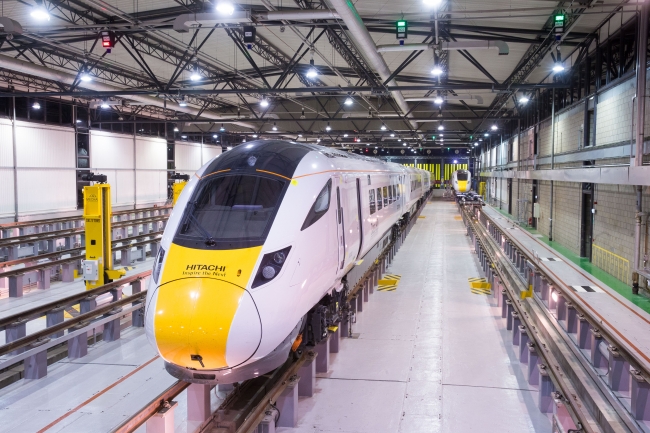 In 2015, Hitachi Rail Europe opened their new train factory at Newton Aycliffe, County Durham. The site is home to 750 employees and has seen over 50 apprentices join and start their manufacturing careers since the plant opened. In the latest instalment of 'See Inside', we take a look around and explore some of the key facts & figures behind the site.
Read more
5. KP Snacks investing £6m at Teeside factory

KP Snacks has announced it is investing £6 million into a new pellet production facility at its Teesside factory in Billingham; home of Pom Bear, Hula Hoops Puft and McCoy's. Construction has begun at the site, with a view to it being fully operational around the end of September 2019. The new facility will produce some of the ingredients used to make Pom Bear and Hula Hoops Puft. Lee Appleby, Factory General Manager at KP Snacks Teesside, said: "This is an exciting time for Teesside, which is KP's biggest site employing over 700 people. The pellet plant will create over 20 new positions in a number of different roles, including production, supply chain, engineering and hygiene at both manager and team member levels. It's a great year for this most recent investment to be taking place as Teesside celebrates its 50th birthday in 2019."
Read more
---
Our favourite #GBmfg & #UKmfg tweets of the week
Derby's Rolls-Royce wins major engine order from Kuwait Airways https://t.co/SeLAcqJGS8 #UKmfg #GBmfg🇬🇧 pic.twitter.com/hJslEyDqoz

— Jefferson Group (@Jefferson_MFG) 16 October 2018
Thanks to @yorkshirepost and @gregwrightYP for highlighting our message about the incredible opportunities available. #leedsmfglive reached many students and we still have tours, talks and visits planned this month to reach more. Get involved! #ukmfg https://t.co/litwelSakI

— Leeds Manufacturing Festival (@leedsmfgfest) 18 October 2018
Toyota set to increase proportion of hybrid cars manufactured at its Burnaston plant to 85% following £250m investment programme and introduction of new Corolla later this year https://t.co/lbNTEjtChk #UKmfg #GBmfg🇬🇧 pic.twitter.com/FfOm6zoNhP

— Jefferson Group (@Jefferson_MFG) 13 October 2018
"Hack to the future" in full flight at the @TheAMRC #RollsRoyceHack go team!! Doing it for the home side! #sheffield #rotherham #ai #4ir #hackathon pic.twitter.com/5og8TvWBSo

— Ben Morgan (@Benj_Morgan) 15 October 2018
Did you know last year the turnover for the UK #space industry grew to £14.2 billion? https://t.co/1ME9HoFMrD #WSW2018 #WednesdayWisdom pic.twitter.com/qSqef6bF6D

— ADS Group (@ADSgroupUK) 10 October 2018
---
Recommendation roundup
Our picks of the best manufacturing and business related content that caught our attention this week.
1. Five things ants can teach us about management / via @bbcideas
They may be tiny, but us humans could learn a thing or two from ants. They live in communities numbering from just a few individuals up to many millions. They conduct diplomacy with neighbouring settlements. And they can even go to war with each other. Dr Edmund Hunt from the University of Bristol explains why ants may be more like humans than you think.
Read more
2. 3Cs point the route to success in 21st century industry / via @PeterMarsh307
The 3Cs – code, collaboration and capability – are the keys to separating the winners and losers in global manufacturing. They grabbed attention at the latest in a series of annual "manufacturing summits" held by the Financial Times in London, in early October. The topics for discussion included autonomous vehicles, artificial intelligence, the internet of things and the challenges of Brexit, as Peter Marsh explains:
Read more
3. Amazon creates 1,000 'highly skilled' jobs in three UK cities / via @BBCNews
Amazon has revealed plans to create more than 1,000 jobs in the UK in Manchester, Edinburgh and Cambridge. At least 600 "highly skilled" roles will be added in Manchester working on software, machine learning and AWS, its cloud computing business. The company will also create 250 and 180 jobs at its development centres in Edinburgh and Cambridge respectively. Doug Gurr, Amazon's UK country manager, described the new roles as "Silicon Valley jobs in Britain". Liam Fox, the International Trade Secretary, said the new positions were an "enormous vote of confidence in the UK". Amazon will have about 27,500 employees in the UK by the end of this year, with 6,500 people in its corporate, AWS and R&D divisions. The new Manchester office will be located across 90,000 sq ft of space in the Hanover Building in the Northern Quarter. They will work on projects including software development, machine learning and R&D and complement existing work at development centres in London, Cambridge and Edinburgh. The development centre in Cambridge has teams working on the next generation of Amazon devices including Kindle and Echo; its drone delivery service Prime Air; and improving its virtual assistant Alexa to help it better understand different accents and handle more complex questions. In Edinburgh, the new hires will bolster Amazon's development centre in the Waverley Gate building, which was the company's first R&D site outside North America.
Read more
---
And finally, some bonus picks to add to your reading list this weekend:
1. Thatcher, Noor Inayat Khan or Del Boy? Battle launched to be face of new £50 / via @guardian
The announcement that the Bank of England is to introduce a redesigned polymer £50 note has sparked speculation as to who might feature on it. Campaigners have already begun backing their favourites with the UK's first female PM, a Muslim war hero and David Jason among suggestions, with a Margaret Thatcher petition already attracting more than 11,000 signatures. The Bank says it will seek public nominations via "a character selection process". Given that this is the nation that voted to name a ship Boaty McBoatface, however, allowing the public to choose the face of the new £50 note is fraught with risk, and social media users have not been slow to come forward with some more leftfield suggestions. The actor John Challis, who played Boycie in Only Fools And Horses, has nominated his co-stars David Jason and Nicholas Lyndhurst in character as Del Boy and Rodney. A campaign to have the England defender Harry Maguire riding a unicorn pictured on the note is also gaining momentum.  However, these are very unlikely to make the final cut as Bank of England guidelines suggest avoiding fictional characters and people who are still living, the latter with the exception of the monarch of course. Fifty-pound notes were first produced in 1725. Production ceased in 1943 and they were only reintroduced into regular circulation in 1981. The Bank is yet to set a date for the new note to go into circulation. It has only said that it will be after the new polymer £20 is introduced in 2020, featuring the painter JMW Turner.
Read more
2. UK scientists turn coffee industry waste into electricity / via @guardian
Scientists have turned coffee waste into electricity for the first time, in research that could help farmers and curb pollution in the developing world. The coffee industry generates a huge amount of liquid waste during the process of turning the raw material of the tree – the coffee cherries – into the 9.5m tons of coffee the world produces each year. Wastewater is generated by farms during the washing of coffee seeds, or beans, and during the water-intensive process of making instant coffee. But now a UK-funded programme, working with Colombian researchers, has proven that it can not only remove the contaminants from the water but make electricity in the process. A team led by the University of Surrey developed a fuel cell that uses microbes instead of chemicals like a fuel cell in a hydrogen car, which eat the waste matter and generate a small amount of energy. Dr Claudio Avignone Rossa, a systems microbiologist at the university, said: "You're not going to light up London with these things, but you're going to put a light where there was none. The farmer will be getting a little bit of energy coming from the waste they are throwing away. So the environment will be cleaner. The finances of the farm will be improved."
Read more
Spot something you think we should see? Share with us! Email hello@zenoot.com and we may feature it in an upcoming post.