CKF Systems
CKF Systems is an established UK robotics and automation systems provider that has been operating for over 30 years. We are based centrally to serve all of the UK in our state of the art facility in Gloucester. We have a wealth of experience transforming the operations of our customers in the manufacturing and logistics industries by increasing throughput, reducing costs, improving safety and maximising space. We specialise in installing palletising systems and have extensive experience designing and installing robotic, layer and gantry palletiser systems in our customer's plants. We have successfully installed systems, and have vast experience, in a wide range of sectors including food & beverage, e-commerce, automotive and pharmaceutical.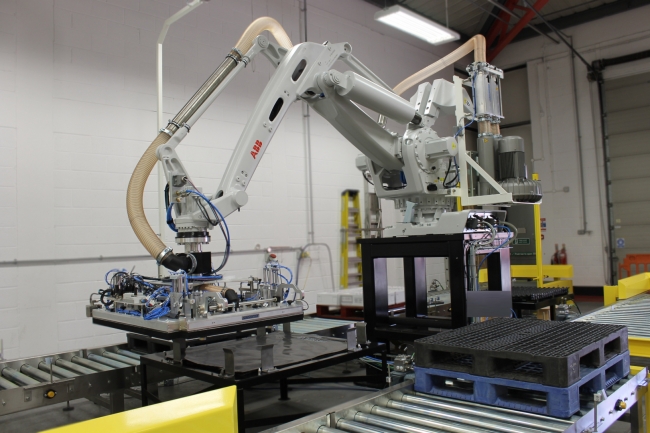 Benefits of CKF Systems robotic and automation solutions
• Flexibility in size of solution according to your budget and requirements
• Dramatic increase in throughput and turnaround time
• Increased safety for your workforce
• Opportunity for better use of your workforce
• Less risk of product damage
• More efficient materials handling and storage
There are many options for your business, whether you want to automate just part, or all of your operations. We take a flexible approach and can produce a solution to meet your budget and requirements with a quick ROI. We have extensive experience of choosing the right palletising systems for our customers and produce a bespoke solution which incorporates one of more types of palletising system. CKF Systems have been a UK based supplier of palletising systems for over 30 years and we look forward to sharing that expertise and experience with you.
Discover how we support UK manufacturing in the articles below: